What Is A Decent City?
The Museum of Modern Art Explores Zoning & Real Estate Development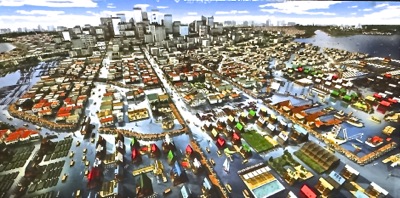 May 11, 2015 / Midtown Neighborhood / Manhattan Real Estate / Manhattan Buzz NYC.
MoMA Exhibit: Uneven Growth: Tactical Urbanisms for Expanding Megacities
I attended a presentation and panel discussion at the Museum of Modern Art [MoMA] on Monday evening. The event was being given in conjunction with an exhibit at the museum entitled: Uneven Growth: Tactical Urbanisms for Expanding Megacities.
The presenters and panel consisted of two political scientists [Ira Katznelson & Margaret Levi], two architects / designers [Marion Weiss & Jose Castillo], one urban planner [Diane Davis] and the curator of the MoMA exhibit [Pedro Gadanho].
The presentations and discussion were - as billed - about what makes a decent city.
Click here to read a short report with photos taken at the Museum of Modern Art in Manhattan at the panel discussion entitled What Makes A Decent City?
---
What Is A Decent City?
The Museum of Modern Art Explores Zoning & Real Estate Development
May 11, 2015 / Midtown Neighborhood / Manhattan Real Estate / Manhattan Buzz NYC. Continued.
Museum of Modern Art Exhibit - Jose Castillo Begins Discussion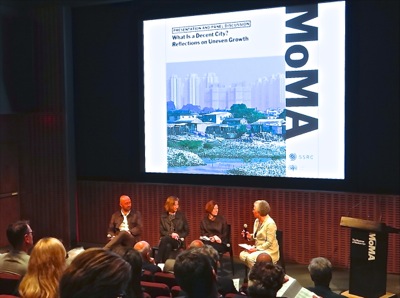 Jose Castillo, the exhibit curator was the first presenter whose presentation I walked into a bit after it began. Jose is an architect from Mexico City and a visiting professor at Harvard University. He is a principal of architectura 911 and the winner of a number of design awards.
Jose talked about the importance of public space and public movement in urban design, which are critical in a free society. He called it "empowerment on the sidewalks". The examples in his presentation spanned the globe, but were largely from developing nations.
Diane Davis Presents Design, Planning & Politics at MoMA in Manhattan
The next speaker was Diane Davis, a professor of Regional Planning & Urbanism at the Harvard School of Design. Diane is the author of Cities and Sovereignity: Identity Politics In Urban Spaces. Diane used Mexico City as an example of the problems caused by rapid, largely unmanaged or undermanaged, urban growth.
She said that in undermanaged urban space buildings sprout up that don't adhere to standards [shanty towns] and that large segments of the population are pushed into small spaces where there are 'ambiguous property rights'.
She told us that people are marginalized when they are segregated into these crowded communities, and they become second class citizens. This situation is oftentimes associated with immigrants from other nations or the country dwellers who come to the city to make a living. She noted that there isn't adequate infrastructure to support the populations living in these communities. That the laws / rules in these communities fall by the wayside, and that crime and fear become the norm.
Diane told us that those in power [the government] allow crime to flourish by maintaining the status quo. She said social relationships are tied to the spatial and physical environment that people live in.
People living in these crowded communities are humiliated and the police become part of the problem by enforcing the status quo. The physical and spatial separation of rich and poor into separate communities paves the way for even greater social indecencies. She said that this becomes particularly true in the case of immigrants who don't have legal status and who thereby become second class citizens who are frequently exploited / abused because they are unable to enforce their civil and human rights. She said that we need to "civilize the infrastructure".
MoMA Exhibit Urban Planning & Design: Speaker Marion Weiss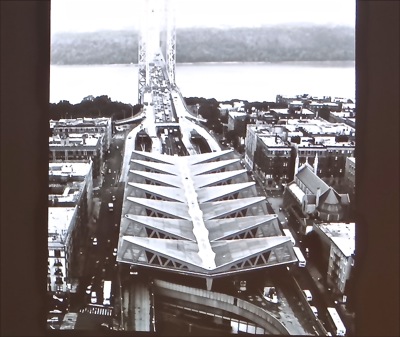 The third speaker was Marion Weiss, a professor of Architecture at the University of Pennsylvania School of Design and co-Founder of Weiss / Manfredi an architectural firm in NYC. Marion talked about how the physical environment can be beautified by building / creating space even in unusual places. She cited the public housing complex above the highway entrance to the George Washington Bridge as an example of creative use of space and a pool in Brooklyn that's also located in an unusual place near a highway. She said public space is an avenue for creating community and fostering democracy.
Museum of Modern Art Panel Discussion: Space & Aesthetics Impact on Behavior
The panel discussion ensued where the speakers talked about how the lower classes get pushed further and further away from the core of a city and spend increasingly long hours commuting to get to work. They talked about how public infrastructure - especially public transit - either helps democratize society or works against it by unfairly taxing lower class commuters in time and payments because they must travel further distances.
Another subject discussed was how the public trust / lands are managed. Sometimes they are managed for the public benefit, and sometimes wealthy private interests are able to legally grab far more than a fair share. Affordable housing arose as an issue, but little new or insightful was discussed.
Ultimately the panel and event concluded with a few summary remarks about what makes a city decent. They said that cities should be built to: 1) grow, 2) be inclusive and 3) be differentiated socially and economically. That the public land trust must be managed for the community to provide them with enough public space for things like playing in the parks, walking the streets and moving around the city in both public and private transit. They said that transit must be managed to make the city work for everyone, not just the wealthy.
It was an interesting panel which featured a number of expert and accomplished speakers who took on a subject that is likely to be discussed more widely in the coming years. The cities of the planet are expected to continue to grow, and so are the social, economic and political growing pains.
Here's a link to a map showing the location of the Museum of Modern Art in Manhattan which also includes a link to a business listing for it with a link to their website.
---
$element(adman,groupad,Catgry Foodwine)$
Manhattan NYC Related Links
Click for Manhattan Restaurants NYC
Click for Manhattan NeighborhoodS NYC
Click for Manhattan Things To DO NYC
Click for Gramercy Park Restaurants NYC
Click for Manhattan Hotels NYC
Click for New Years Parties & Restaurants NYC
Click for Manhattan Furniture Stores NYC
Click for Manhattan Street Fairs NYC
Click for Manhattan Professional Services NYC
Click for Manhattan Farmers Markets NYC
Click for Manhattan Real Estate
---
---
$element(adman,groupad,Catgry Realestate)$
Site Search Tips. 1) For best results, when typing in more than one word, use quotation marks - eg "Astoria Park". 2) Also try either singular or plural words when searching for a specific item such as "gym" or "gyms".
$element(bwcore,insert_search,N)$
Click this link to search for something in our Manhattan Business Directory.
---
$element(adman,groupad,Sectional2 Ad)$
Click the log in link below to create an ID and post an opinion.
Or send this story to a friend by filling in the appropriate box below.
---