Shopping the Lord & Taylor Department Store NYC
Lord & Taylor is Consolidating its Ten Floors into Four in 2018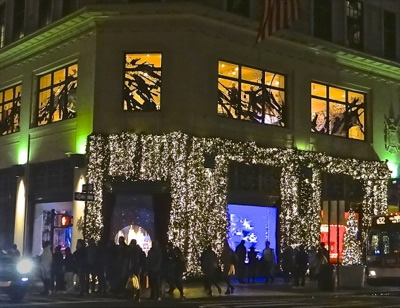 December 11, 2017 / Midtown Manhattan Neighborhood / Manhattan Shops & Shopping / Manhattan Buzz NYC.
I recently heard that Lord & Taylor is consolidating its ten floors of department store space, into three or four, following the Christmas shopping season [mid January]. As a longtime customer, who has once enjoyed shopping recreationally, I decided to return for one last journey through the land of Oz … because certainly after Lord & Taylor consolidates its floors, the look and feel of a once great department store … will not be the same.
For better or worse, over the past couple decades, we have all witnessed the relentless onslaught of the big box and online retailers pummeling what was once called traditional retail. Traditional retail as we once knew it, began more or less in tandem with the 20th century, and New York City was, and still is, one of the great retail hubs.
Short History of Large Manhattan Department Stores 1902 - 1924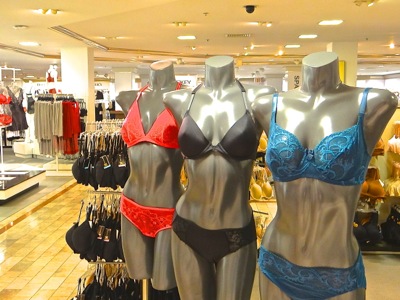 Macy's at Herald Square. In 1902 the R.H. Macy Company had led retailers' march uptown, to what is now Midtown, when they erected their first store at Herald Square at 34th Street and Broadway. Eventually this flagship Macy's store expanded to encompass the entire block along the north side of 34th Street between Broadway and 7th Avenue. The Macy's building was landmarked in 1978.

Lord & Taylor on 5th Avenue. A bit more than a decade later the Lord & Taylor building was erected in 1914 [began one year earlier] at 38th and 5th Avenue. The building was designed by architects Starret & van Vleck – and from the start – was a venerable landmark. The Lord & Taylor building was officially landmarked in 2007. Architects of the building, Starret van Vleck, were also the architects of a number of other notable flagship department stores of the time, which according to Wikipedia includes Saks Fifth Avenue, Bloomingdales and Alexanders [was across 59th Street from Bloomingdales].
Saks Fifth Avenue. Saks Fifth Avenue, which was owned by Gimbels, erected its flagship store a decade later in 1924. The Saks store encompassed an entire block along 5th Avenue between 49th and 50th Streets, just south of St Patrick's Cathedral, and across from the site that would eventually become Rockefeller Center. Rockefeller Center was erected in 1934.
Bergdorf Goodman. And in 1928 Bergdorf Goodman erected and opened a five-story department store much further north along Fifth Avenue at 58th Street, on the site previously occupied by the Cornelius Vanderbilt Mansion. During the Great Depression Vanderbilt purchased adjacent lots on the rest of the block, which he used to expand the store.
---
Shopping the Lord & Taylor Department Store NYC
Lord & Taylor is Consolidating its Ten Floors into Four in 2018
December 11, 2017 / Midtown Manhattan Neighborhood / Manhattan Shops & Shopping / Manhattan Buzz NYC. Continued.
The Environment Leading to the Emergence of 20th Century Department Stores in New York City
In the 20th century, New York City along with the rest of the nation, moved from the small mom and pop shops, pop up markets and street vendors to a more reliable, standardized and structured purchase environment, including the prices. The leading retailers of the time experimented with mass marketing in print, radio and TV, as well as using art and theater to attract consumers via their beautiful shopping windows and in store displays. You can still see these at the Lord & Taylor store and they will likely continue, but the whole experience is likely to change.
Shopping the Lord & Taylor Department Store Circa 2017
I went into the store and passed the ground floor displays of cosmetics and perfumes, as I made my way to the elevator banks at the back of the store. I took the elevator up to the tenth floor where the men's clothing is [also on the 9th floor] to browse around.
As I stepped off the elevator I paused to take in the panoramic view of men's shoes, shirts, pants, sweaters and coats leading back as far as the eye could see. I paid attention to the beautiful displays that Lord & Taylor staff or consultants had designed and erected for the whole world to see. I began browsing through mens' shoes, shirts and other clothes, enjoying the tactile experience of being able to see, touch and try on clothing - assisted by professionals – which is something not offered by the discounted online retailers.
I found what I was looking for and was able to pay and depart with my purchases in hand. Again, not something you can get from an online retailer. And while there was a steady flow of other customers shopping and buying, the expansive store had an airy feel to it. It felt like a great party was being thrown, but in too large a space. Although I must add context to this in that I was there on a Monday night, less than an hour before closing time, so you may find it crowded, depending on when you visit.
Retailing in the 20th Century – Art, Theater & Space
Clearly the world had changed … yet again. Taking a very different turn from what occurred a century ago, when large buildings were being erected to provide ample space for goods. And art and theater were brought together to sell all kinds of goods. That was the time when the American consumer was emerging, leading one author to coin the term of 'conspicuous consumption'.
Branded Conspicuous Consumption Gives Way To Discounted Prices
Conspicuous consumption describes how people differentiated themselves from others, by what they owned. They publicized their status based on what they wore, what they drove, and how their homes were furnished. I think a lot of that still holds true today, but probably less so. Perhaps because we've been flooded with so many inexpensive goods, and because so many of the knockoffs are pretty good imitations, that many of the brands have given way to discounted pricing.
Shopping the Classic Lord & Taylor Department Store on 5th Avenue NYC
I began making my way down the escalators of the spacious department store. According to Wikipedia the Lord & Taylor store has 662,000 square feet of space in 11 stories, while Saks Fifth Avenue has about 649,000 square feet, standing 10 stories high. On each floor I stopped to admire the artistry and theater embedded in the fashionable displays of the classic Manhattan department store.
I hope to return before they begin reorganizing to enjoy several last breaths in one of the classic cathedrals of American consumerism.
---
$element(adman,groupad,NhoodMidtown)$
Manhattan NYC Related Links
Click for Manhattan Restaurants
Click for Manhattan Neighborhoods
Click for Manhattan Things To Do
Click for Gramercy Park Restaurants
Click for Manhattan Hotels
Click for New Years Parties & Restaurants
Click for Manhattan Furniture Stores
Click for Manhattan Street Fairs
Click for Manhattan Professional Services
Click for Manhattan Farmers Markets
Click for Manhattan Real Estate
---
---
$element(adman,groupad,Catgry Rest)$
Site Search Tips. 1) For best results, when typing in more than one word, use quotation marks - eg "Astoria Park". 2) Also try either singular or plural words when searching for a specific item such as "gym" or "gyms".
$element(bwcore,insert_search,N)$
Click this link to search for something in our Manhattan Business Directory.
---
$element(adman,groupad,Sectional2 Ad)$
Click the log in link below to create an ID and post an opinion.
Or send this story to a friend by filling in the appropriate box below.
---