The Winter Antiques Show NYC
A Fascinating World Of Cultural Collectibles
January / Upper East Side UES Neighborhood / Manhattan History / Art in Manhattan / Gotham Buzz.
I attended the Winter Antiques Show at the Park Avenue Armory on the Upper East Side [UES]. It was my first visit, although I had walked past it over the course of many Winters, on my way home from work. Little did I know what pleasant surprises awaited.
It didn't take me long to figure out that the name - Winter Antiques Show - is as old as some of the items on display and is in much need of an update. At the show I found a fascinating world of cultural collectibles – many of which dated back a century or more - but also many of which were from the 20th century. The cut off for exhibited pieces is 1969.
For most of us furniture is what first comes to mind when one hears the word antique, but this was nothing like the Antiques Road Show. It encompassed a much broader selection of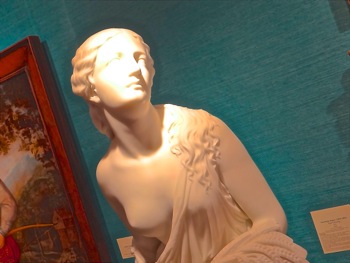 things. I would soon encounter specialists in the fields of rare books, Venetian glass, impressionist paintings, Chinese porcelains, European jewelry, French furniture and early American and British photography.
Within these categories I would found treasures that included an original book authored by Benjamin Franklin, early Venini glass, a couple of William Merritt Chase paintings [the Chase school of art was the predecessor of the Parsons School of Design], porcelains from the Ming Dynasty, early Cartier jewelry and photos of a young Senator Kennedy and a defiant Winston Churchill signed by the photographers who took them.
Click here to read the rest of our story about the Winter Antiques Show NYC at the Park Avenue Amory on the Upper East Side. The story includes a photo slide show of many of the rare antiquities and objets d'arte.
---
The Winter Antiques Show NYC - Work In Progress
A Fascinating World Of Cultural Collectibles
January / Upper East Side UES Neighborhood / Manhattan History / Art in Manhattan / Gotham Buzz. Continued.
It was a cold January afternoon as I made my way up Park Avenue to the Park Avenue Amory on the Upper East Side. The Park Avenue Armory has become the temporary home to a number of annual cultural and artistic shows that include items that encompass a great deal of our universe. As I arrived the Winter Antiques Show [WAS] flag beckoned me in and a number of them adorned the entrance hallway.
I began my journey with a brief stop at the booth of C.L. Prickett of Yardley, Pennsylvania. The Pricketts have been in the antique furniture business for over a half century, and the company is run by two sons with continued oversight by the founding father. A great deal of the furniture dates back to the 18th and 19th centuries, and what was on display appeared to be primarily from the New England and Mid-Atlantic regions of the United States. Craig's wife Salone was attending the booth and our conversation about American antique furniture was generally engaging.
C. L. Prickett antiques are located a bit northwest of Trenton, New Jersey in Bucks County Pennsylvania and I failed to inquire about prices.
My second stop was Lost City Arts, whose exhibit space was just across the way. After obtaining permission, I photographed a couple of mid 20th century Italian Club Chairs seated amidst several tables and framed by a number of illuminated sculptures, including a couple of bronze pieces created by the Italian-American furniture designer and sculptor Harry Bertoia. As the person in attendance was busy with a potential client, and I was still getting my bearings, I decided to move on.
The pieces they sell generally run from the low single digit thousands of dollars to tens of thousands of dollars and they are located at 18 Cooper Square in the Village NYC.
The Alexander Gallery was the next exhibit space I visited. Alice R. McAdams gave me a brief tour of some of the fine art on display in their exhibit space. She was curating a couple of William Merritt Chase paintings, each valued north of two and a half million dollars apiece. William Merritt Chase was a famous American impressionist painter living in the latter half of the 19th century in New York. He started the Chase School, which was the predecessor to the Parsons School of Design.
Sculpture?
The Alexander Gallery exhibit space is located at 1020 Madison Avenue, 3rd Floor on the Upper East Side of Manhattan. They sell artwork of high value generally starting from about a hundred thousand dollars on up. They sell to high net worth clients, investors, museums and collectors.
Steven Chait is a member of the founding family of the Ralph M. Chait Galleries. The Ralph M. Chait Galleries have been in business in New York City since 1910. Steven's grandfather started the business after immigrating here from Eastern Europe after a brief stay in London. This was shortly before World War I.
Upon his arrival in America, Steven's grandfather began working for his cousin in the business of fine art and collectibles. His grandfather's cousin sold mostly European works. His grandfather began by offering European and other works. By the time Steven's father entered the business they had begun to specialize in Eastern objets d'arte – primarily of Chinese origin. Currently Chinese law prohibits the export of indigenous antiques, but significant quantities of them had been exported in the 19th and early part of the 20th century, so many are still in circulation in the western world.
Buddha?
The Ralph M. Chait Galleries are located in The Crown Building at 730 Fifth Avenue on the 12th Floor. They sell items ranging in value from the low single digit thousands of dollars to hundreds of thousands of dollars or more.
I made my way onto the exhibit space of James Robinson, Inc. James Robinson , has been in business since 1912 and began as a purveyor of antique Chinese porcelains and antique silver. Following James Robinson's death in 1936, the Munves expanded their product line into antique jewelry in the 1950's and shifted some of their emphasis to French and English porcelains.
They currently sell antique jewelry from the 19th century and art deco / vintage jewelry from the 20th century, generally of which has origins in Europe or America. They also sell antique silver, much of which originated in England, from the Queen Anne [circa 1700] to the Georgian [circa 1830] periods. They also sell handmade silver items.
High end jewelry?

I shot the pictures of the founder [James Robinson] and his successor [brother-in-law Edward Munves], which were hanging on the wall [see slide show]. Edward Munves Jr. was the grandson of the James Robinson and his daughter, Joan Boening is currently the President of the firm. James Boening, one of Joan's sons, is currently working in the business. James Robinson sells items that range in price from under five thousand dollars to hundreds of thousands. James Robinson, Inc is located at 480 Park Avenue at 58th Street in Midtown NYC.
The Maison Gerard is a purveyor of furniture, lighting and objets d' arte from the early 20th century, as well as of a contemporary nature [contemporary not on exhibit as the piece origin cut off is 1969]. The Maison Gerard was founded in the mid 1970's by Gerardus Widdershoven and has been influenced by French Maison Leleu one of the renowned French designers from the Art Deco period and author of the book: The House of Leleu: Classic French Style for a Modern World.
The Maison Gerard helped Walter Chrystler Jr. form the collection for the Chrystler Museum in Norfolk, Virginia. They are located at 43 & 53 east Tenth Street in the Village in Manhattan. And they sell items that range in price from one thousand dollars to over one hundred thousand dollars.
As you can see, this was turning out to be a very interesting show. What follows was the crème de la crème for moi as I was a history major and still have an active interest in it. Hence I stumbled upon the Bauman Rare Books exhibit.
There were three folks in attendance at the exhibit. I took a photo as we began the conversation and they quickly oriented me to their current promotion of books related to the American presidents. We went to the glassed bookcase where they talked about Washington and Jefferson and FDR. I asked about one of the greats who was not an American president, but rather one of the Founding Fathers - and in my mind – possibly the key architect of this nation – Benjamin Franklin.
There, sitting on the bookshelf, was a beautiful book authored by Benjamin Franklin entitled Experiments and Observations on Electricity. It was apparently owned by Hugh Roberts, a close friend of Franklin's. A book on electricity by the man who discovered it, along with his son and their famous kite flying experiment. And so my journey began.
Behind that tome was another book, a first edition of The Double Helix, authored by James Watson with his inscription in it and autographed by his famous collaborator Francis Crick. These two men are credited with discovering DNA. DNA is the foundation of modern biological science and was a huge breakthrough in understanding how our bodies function.
And alongside both books was a first edition of The Origin of Species by Charles Darwin in 1859. This was another scientific breakthrough of an earlier time. And the scientific model would become one of the underlying foundations of capitalism and a secular approach to human condition. All three of these books were on just one section of one shelf.
I started photographing some of the other shelves while Chrissy, my book guide, talked me through some of the highlights. There was a handwritten letter by Thomas Jefferson about his lifelong companion, friend and slave Jupiter. There's the famous photo of Harry Truman holding up the Chicago Tribune's erroneous headline stating "Dewey Defeats Truman", which contains an inscribed comment by Harry himself. There were books, letters and photos of the Roosevelts.
And how can one talk about the presidents without inquiring about Lincoln and Kennedy? Kennedy material was in short supply. There was an original copy of Profiles In Courage autographed by him, but it sold. And there was a section dedicated to Abraham Lincoln, the American president who presided over the bloodiest battle of this nation's history - holding this nation together, while freeing the slaves. There was a very rare letter in his own handwriting and a book of original photos of the great president and the great political figures of his time.
As we were winding up the conversation Chrissy told me that they had an original copy of the Federalist Papers. The Federalist Papers represent the underlying documentation that was used to promote the adoption of the Constitution which contains the underlying architecture of the American system of governance. The Federalist Papers were authored by Alexander Hamilton, James Madison and John Jay.
The price of history isn't cheap as these are one of a kind documents and connections to the iconic figures of the past. The Jefferson letter was priced at $150,000, the Franklin book at $36,000 and the Darwin book at $160,000. The Lincoln letter was priced at $44,000 and the Federalist Papers book(s) were priced at $260,000. Successful businessmen love Darwin, because they think their money makes them one of the 'surviving fittest', which explains that price. And owning a copy of one of the original 500 copies of the Federalist Papers is about as close as anyone can get to owning a piece of the U.S. Constitution, which explains that price.
But I digress. Bauman Rare Books is owned by a husband and wife team [David & Natalie], who have been in the business for about forty years. They have offices in New York, Philadelphia and Las Vegas and they are one of the largest – if not the largest - rare book collectors and dealers in the nation.
Bauman Rare Books buys for museums, collectors, high net worth folks in search of something particular as well as for the casual person who's looking to own something done by someone aspirational. Some of the high demand authors include Hemmingway, Twain, Kipling and Churchill. I'm not sure if they have it anymore, but one of the items they once had was the ticker tape on the day Kennedy was assassinated.
And of course no discussion of the great books is complete without a mention of the Bible. The Gutenberg Bible, the first book ever printed on a moveable type press in the west, was first printed in the early 1450's. About 500 copies are believed to have been made; and less than fifty are believed to be in existence today. The most recent sale of a copy was nearly forty years ago and it sold for $2.2 million.
So come on. This is interesting, no? If you're still reading, it's interesting to you, but likely not the general populace. So be it. Who cares.
I reluctantly left the rare books exhibit, as I knew there was plenty more, including some pieces on the shelves I have not mentioned, like the 1826 first edition of Beethoven's Fifth Symphony, fully engraved.
My next stop was the Glass Past exhibit by Sara Blumberg and Jim Oliveira. They were perhaps the most passionate of the exhibitors. Although most of the exhibitors I met had some level of passion about the works they represented.
Glass Past is an Italian centric glass boutique. The couple started in 20th century antique glass in the late 1980's / early 1990's. They started by buying and selling high-end European glass. By the mid 1990's they found themselves specializing in Italian glass from Venice. They began traveling abroad to find the antique glass as it was becoming increasingly difficult to find here. A lot of the early 20th century Italian glass that they had found here had been purchased by high end American travelers, while abroad following the turn of the 20th century.
Jim took me on an historic tour of the Venetian glass industry, which I cross-referenced and supplemented with information gleaned on Wikipedia. He separated the history of glassmaking into three stages.
Stage One - Early Production & Dispersion. Glass making began around 3500 B.C. in Egypt and ancient Mesopotamia, as an accidental byproduct of metal making [glass beads spilled to the floor]. It took thousands of years for glass making to evolve into an industry in the Middle East, but by the first century A.D. glass blowing was found in many regions of the Roman Empire.
Stage Two - Development Of Glassmaking Art In Venice. Fast forward to the times of Marco Polo [13th century], when many of the craftsmen of the Byzantine Empire fled to Venice during a few of the regime changes. The industry moved to the island of Murano in the 14th century as government officials feared that the furnaces were a fire hazard to the republic. On Murano the industry prospered and became world known. One of the companies that was founded during this time continues today – Barovier & Toso.
The Venetian Republic prospered during the Renaissance as a bustling trading town. Venice was a great sea power in the Mediterranean transporting goods to and from many destinations in the Middle East. During this time the glass-making artisans refined their craft, pushing the technological envelope of the day by refining clarity, shape and translucence. Over time they developed techniques for the creation of crystalline glass, enameled glass, gold threaded glass and multi-colored glass. Many of the artisans became wealthy, married into families of prominence but they were not allowed to leave Venice because the Venetians wanted to keep as firm a grip on high quality glass trade as possible by hanging onto the glass-making processes, technologies and trade secrets.
By the late 1700's a great deal of the sea trade had moved from the Mediterranean to the Atlantic, following the discovery of America in 1498. The power of the Venetian Republic had been declining over time until it was taken over by the Austrians around the dawn of the 19th century. Jim told me that following its incorporation into the Austrian Empire, most Venetian glassmaking went on hiatus as the Hapsburgs didn't want the Venetians to compete with Austrian glass.
Stage Three - Rebirth Of Venetian Glass Making. Venice became a part of what is now the modern nation of Italy in 1866. Following the aggregation of Venice into the Italian state, a number of the old Murano glass making families began to stir anew. Salviati, a lawyer, is credited with being one of the first to form a company dedicated to putting Venetian glassmaking back on the map. His work lead to glass mosaics which were used in the Hall of the House of Parliament and the Opera Theatre in Paris.
Italian glassmaking began to hit high stride again in the 1920's when another lawyer, Venini appeared on the scene. He and a Venetian antiques dealer started a glassmaking company that applied the skilled Murano glassmaking techniques to a variety of old and new designs.
Within a few years the company split and the Venini artistic director began to push the envelope again, this time with pulegoso glass, which is glass with air bubbles providing translucence. Venini worked with designers, artists and architects, incorporating glass art into their works. Jim informed me that one of the most notable was Carlo Scarpa, an architect and contemporary friend of Frank Lloyd Wright, who was featured at the Metropolitan Museum in the Fall of 2013.
Today Jim and Sara travel to European destinations to buy and sell glass. Their clients run the gamut from museums and auction houses to collectors and people looking for special objets d'arte. They do not appear to have a store front but are located on Thomson Street in SoHo and meet clients by appointment. I didn't get price ranges, but will try to add them sometime soon.
My last stop was a Peter Fetterman photo exhibit. Peter himself was there, but was too tired to talk, but not to pose, so I photographed him standing in the gallery. I took a look at some of the photos, all of which were in black and white as the cut off for exhibited pieces was 1969. Peter was accompanied by Michael Hulett who provided me with the following information.
Back in the early days of photography, copies of the photos were produced like prints or books in limited editions. Many, if not most, were also signed by the photographer, and some editions were numbered. The photos shown were considered vintage and produced within one to two years of being photographed. And the modern works, not shown at the Winter Antiques Show, are limited editions.
I browsed the gallery and shot a few photos of the historic photos. There was a black and white photo of a young JFK standing outside one of the government buildings in 1953 that was signed by Arnold Newman and selling for $10,000. There was another photo of Winston Churchill in his historic pose shot in 1941 and signed by Yousef Karsh selling for $25,000. And of course others which you may view in the slide show.
Although it was time to leave, I knew I had only started to scratch the surface of this many layered textured show, encompassing many of the great thinkers, artists and artisans of times past. Some of the exhibitors had come from Amsterdam, London, California, Chicago and nearby towns and states including Connecticut, Massachusetts and New Jersey.
I'm already looking forward to the show next year. Cheers.
---
---
$element(adman,groupad,NhoodUES)$
$element(adman,groupad,Catgry ManWmn)$
---
Upper East Side NYC - Manhattan Related Info
$element(adman,groupad,Catgry Rest)$
Click this link for promotions, discounts and coupons in Manhattan.
Upper East Side Neighborhood Related Links - NYC
Click for Upper East Side UES Restaurants
Click for UES Things To Do
Click for Gramercy Park Restaurants
Click for New Years Parties & Restaurants
Click for Manhattan Farmers Markets
---
Archives - TBD
---
$element(adman,groupad,Catgry Foodwine)$
Site Search Tips. 1) For best results, when typing in more than one word, use quotation marks - eg "Astoria Park". 2) Also try either singular or plural words when searching for a specific item such as "gym" or "gyms".
---
$element(bwcore,insert_search,N)$
Click this link to search for something in our Manhattan Business Directory.
---
$element(adman,groupad,Sectional2 Ad)$
Click the log in link below to create an ID and post an opinion.
Or send this story to a friend by filling in the appropriate box below.
---