Midtown Manhattan Neighborhoods NYC
April 2018 / Midtown Neighborhood / Manhattan Buzz NYC.
This section is dedicated to the neighborhoods in Midtown Manhattan. This section includes info about the neighborhood including news, issues, shops, restaurants, maps and transit for the Midtown neighborhoods in Manhattan NYC.
Click for Midtown Manhattan Neighborhood NYC including Gramercy Park, Murray Hill, Kips Bay, Turtle Bay, Madison Square Park, Bryant Park, Times Square, Hells Kitchen and Chelsea.
---

---
1388
NYC March For Our Lives in Manhattan
Tens of Thousands Protest the NRA & Gun Violence
March 27, 2018 / Midtown Manhattan Neighborhood / Manhattan Social Issues / Manhattan Neighborhoods / News Analysis & Opinion / Manhattan Buzz NYC. By Michael Wood.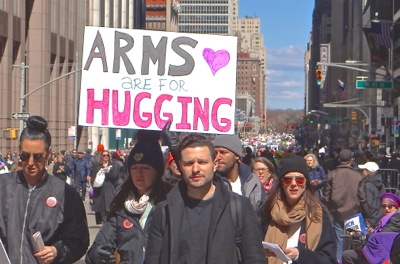 The March For Our Lives protest started at 11 am on the Upper West Side of Manhattan at 72nd Street and Central Park West. Not coincidentally, this was just steps away from the Strawberry Fields Memorial in Central Park honoring musician / poet John Lennon of the Beatles, who was murdered by a lunatic with a gun.
The March For Our Lives protests were organized and led by students around the nation, with support from a wide range of people in all other age segments of the population. Frequently the Columbine shooting in Littleton, Colorado on April 20, 1999 is cited as the first of these sorts of mass shootings in schools, although a check into mass shootings in Wikipedia, shows that America has a 200 year history of mass shootings, including some of which took place in schools before Columbine.
Fox Fake News Appears to try Discrediting Protesters with False Narrative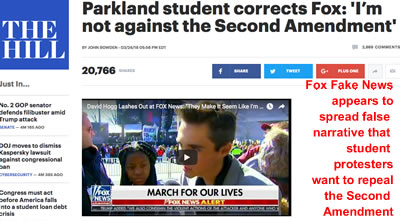 If you watch Rupert Murdoch's Fox News you might come away with the impression that the students are trying to revoke the Second Amendment. But based on conversations with some of the marchers and in reviewing other media accounts, this seems to be another Murdoch Mouthpiece Fox Fake News narrative.
But while the students and the March For Our Lives protest wasn't about repealing the Second Amendment, some members of the left, such as Bret Stephens of the NY Times did make a call for Second Amendment repeal in two editorials - one dated October 5, 2017 and the other dated February 16, 2018. Murdoch's Fox Fake News mouthpieces torch the possibility of a national conversation by misinforming their ill-informed audience that the NY Times and Op Ed writer Bret Stephens speak for everyone. What they don't realize is that the America that gets their information outside of the Murdoch Fake News FoxHole is intelligent enough, and adult enough, to have a real conversation about gun ownership and the Second Amendment.
Is the NRA Lobby Out of Control & In Control?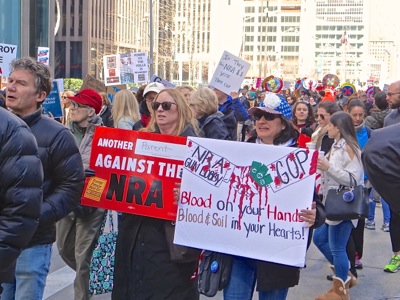 From what I could gather the students seem to have identified and coalesced around tangible changes to reigning in what appears to be an out-of-control gun lobby - the NRA. The firearms industry used bump stock technology to circumvent the unlawful possession of machine guns by providing stocks. And the gun lobby as recently as a few months ago, was pushing to 'deregulate' silencers on guns. Both of these laws - regulating machine guns and silencers - began with the National Firearms Act of 1934. At that time criminal violence by mobster gangs was the order of the day. And it appears that it's just as true today as it was back then - that if you allow guns to be put guns in the hands of lunatics, then murders and criminal violence is what you get.
A mid 2017 poll by Gallup showed that 60% of Americans were in favor of making gun control laws more strict, 33% were in favor of keeping them about the same and 5% wanted to make them less strict. The trend toward favoring more gun control has been going on since 2011 [see chart]. Apparently the politicians we send to Washington do not represent the majority so much as the NRA, and sending a swamp monster to clean up the swamp, is at best delusional. President Trump after opining that more gun control would be good, backtracked, appearing to have caved to the very powerful NRA lobby in Washington.
---
Cigar Stores in Manhattan: Davidoff
Midtown Cigar Lounge with Fine Selection & Ambiance
August 15, 2017 / Midtown Manhattan Neighborhoods / Shopping Manhattan Midtown / Manhattan Buzz NYC.
Earlier this year I had an opportunity to take a break at the Davidoff Cigar store located in Midtown Manhattan. I have visited the store on several prior occasions, stopping in for a quick take out order of a fresh cigar or two. But on this day I had a bit of time available, so I decided to reward myself with an 'eat-in' cigar.
Davidoff Cigar Store - Men's Gift Stores in Manhattan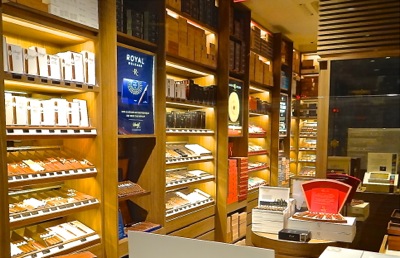 I like entering the Davidoff store. It's a tightly appointed men's store, complete with more than a full range of sizes and strengths of cigars. They also offer all of the accessories one might need to properly care for and to assist in the consumption of cigars, meaning humidors and ash trays and lighters and the like. They also offer other men's accessories like wallets and brief cases that match the quality branding of their cigars.
Inside the humidified cigar room I began browsing the selection. While looking through the cases, I started conversing with another customer who recommended a Dominican made cigar he favors. I was in a receptive mood to try something different, so I bought a regular sized, medium bodied, lighter tobacco cigar, which cost in the neighborhood of $8 - $12 [can't remember the price or name right now] and headed into the smoking lounge to enjoy my purchase.
Cigar Lounges in Manhattan: Davidoff Cigars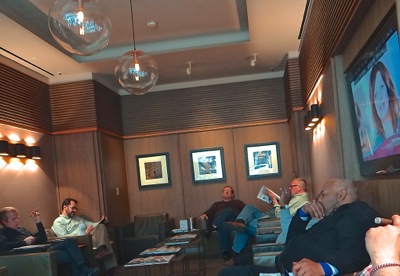 The smoking lounge is at street level on 6th Avenue between 56th and 57th streets. As it was a quiet Saturday on a cool spring day, the pedestrian traffic was fairly light. During the weekdays and holidays it's bustling. The mood of the room reflected the calmness outside, as there were about a half dozen men, ranging in age from about the mid thirties to mid sixties, sat reading the paper, conversing or quietly staring into space contemplating a business deal, a family issue or the universe.
I spent the better part of an hour talking to the guy who'd recommended my cigar. We covered the family and kids, the job and what's doing in the world, both here and abroad. It was a pleasant conversation and I left the Davidoff store on 6th Avenue just south of 57th Street feeling pretty good about things and planning to make a return visit in the not-too-distant future.
---
Update: LaGuardia Airport Development Project
First Phase Moving Along with Second & Third Phases About to Begin
April 24, 2017 / Astoria Neighborhood / Queens Real Estate / Gotham Buzz NYC.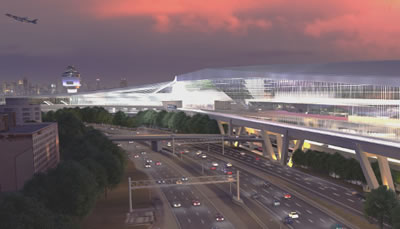 I attended a Community Board One meeting at the Astoria World Manor on Wednesday, April 19th. People representing the LaGuardia Airport development project were scheduled to provide the community with an update regarding several of the multi-billion dollar renovation projects associated with LaGuardia Airport, that are either currently in the works or nearing the end of the planning process.
The presentation was split into three parts: 1) LaGuardia Airport development project construction updates, 2) traffic mitigation efforts and 3) community outreach including job opportunities related to the projects.
Click here to read our report on the LaGuardia Airport development project & expansion, related job opportunities, its possible impact on travel times to the airport and the public hearing details on May 3rd, 2017 in Flushing. We have also included a small bit of history about the airport and the fight over the property and development in Flushing Meadows Corona Park. The graphic at right was created as part of the LaGuardia Airport development project.
---
Hundreds of Thousands March in NYC
Women's March Appears to Approach 21st Century NYC Protest Record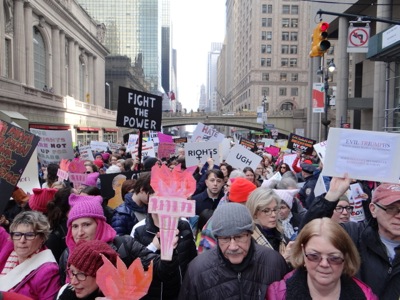 January 21, 2017 / Midtown Manhattan Neighborhoods / Manhattan Government & Politics / Manhattan Buzz NYC.
I headed into Manhattan around noon on Saturday. The #7 subway line was packed, even more than during rush hour on a weekday morning. There were protesters wearing pussy hats, bearing protest signs and placards, and generally in pretty good cheer as they headed into Manhattan for the Women's March in NYC.
I got off the subway at Grand Central Station along with the crowds of protesters, and made my way up to the 42nd Street exit. Out on the street there was a moving mass of marchers making their way down to Fifth Avenue where they would turn north to march up to Trump Tower along Fifth Avenue at 57th Street.
I have to admit I was surprised by the massive turnout. One person told me that over 50,000 people had signed up for the event on Eventbrite. But it would become obvious to me as the day wore on that the crowd had easily exceeded that number.
The event was planned to begin at 11 am in Dag Hammarskjold Plaza at Second Avenue and 47th Street. There would be a few speeches, followed by a march down Second Avenue to 42nd Street, then west to Fifth Avenue and then north up Fifth Avenue ending at Trump Tower at 57th Street. It was scheduled to end at 4 pm and waves of protesters had been choreographed to leave Dag Hammarskjold Plaza in 15 minute intervals.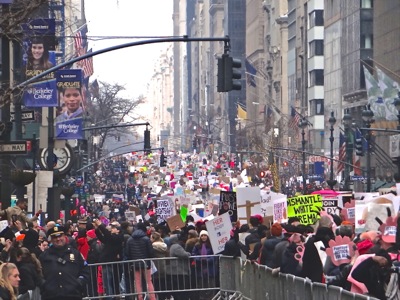 I had listened to Donald Trump's Inauguration speech the day before [Friday] and there didn't seem to be anything in there that struck me as very objectionable if one didn't read anything into it. So I kind of thought the march might be a bit premature given he'd just assumed office and hadn't really done anything yet.
I asked one woman if I had missed anything in Trump's speech, that she / others found objectionable. She told me no, he hadn't said anything objectionable, but she went on to say that she didn't believe anything he said. I asked another woman why she'd come out to protest today. She told me that she wanted to stand with other women in making a statement to Trump that they weren't going to passively stand by and allow him or the Republican Party to roll back their hard fought equal rights.
There was a festive mood throughout the day. I occasionally asked policemen keeping the peace how things were going. Many smiled and said it was going well and that they hoped it would continue that way.
I'll have more on this, including some details of how the protest morphed throughout the day, as well as a photo slide show and some video, sometime in the next week.
---
Diwali in Times Square
3rd Annual Indian Festival of Lights Delights Audience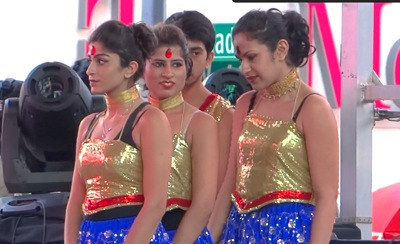 October 16, 2016 / NYC Neighborhoods & Boroughs / Holidays in Manhattan / Manhattan Buzz NYC. GB LINK.
I attended the third annual Diwali Festival in Times Square on Sunday. The day long event, celebrating the millenia old Indian festival, had started in the afternoon at 2 pm and ran well into the evening, ending at 9 pm.
As I came up from the subway I asked an Indian-looking NYC policman to point me in the direction of the festival. He asked me how I had heard of the event and I mentioned that I had found out about it on Manhattan Buzz, but that I had also traveled to India some time ago where I first became aware of the Indian holiday. He inquired as to where I had traveled in India, which was mostly in the north, and he suggested the next time I visit, to check out Kerala, which is where his family is from originally. I had learned from my travels that Kerala is a southwestern Indian province along the Indian Ocean, and is said to be a bit of paradise.
A large crowd had gathered to watch the festival, many of whom were of Indian descent which I found from conversing with several of them. They brought their families to view the free entertainment which included a number of wide ranging song and dance performances by dance troupes and musicians.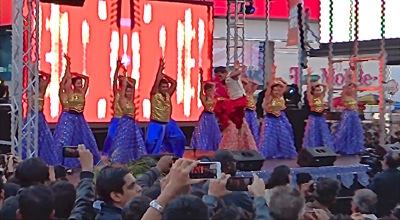 Diwali is the festival of lights, which commemorates light overcoming darkness, good overcoming evil and knowledge overcoming ignorance and hope defeating despair. It is one of the three major Hindu festivals and a time for renewal and celebration which is denoted by the cleaning of homes and the lighting of lights. The Diwali Holiday officially runs from October 30th to November 3rd, but unoffically it lasts longer starting in September / October and ending in October / November. The other two major Hindu holidays are Holi which celebrates Spring with the coloring of people's bodies, faces and hair and Maha Shivaratri which is one of the rare nighttime celebrations, held just before the arrival of Spring with a mix of solemn practices including meditation, yoga and fasting.
Happy Holidays or as they say in Indian - छुट्टियों की शुभकामनाएं.
---
Pulaski Parade Charms Manhattan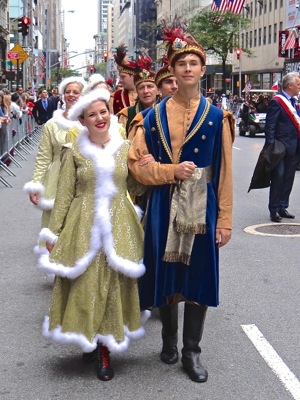 October 4, 2016 / Midtown Manhattan / Manhattan Parades / Manhattan Buzz NYC.
I attended the Pulaksi Day Parade on Sunday. The Pulaski Day Parade celebrates Polish heritage in America, highlighting one of the early Polish contributors to America's democracy, General Pulaski who fought in the American Revolutionary War.
It was a beautiful clear day with temperatures around 70 degrees and the sun was shining. All along Fifth Avenue people had lined the streets, awaiting the parade floats, bands and marchers. In front of St. Patrick's Cathedral stood two members of the clergy with whom I had a chance to speak.
We'll have more about the Pulaski Parade later this week.
---
Holi Hai in Dag Hammarskjold Park
Indian Festival of Colors Celebrates the End of Winter & Love
May 10, 2016 / Midtown NYC / Holidays in Manhattan / Gotham Buzz.
This year I decided to celebrate the coming of Spring by joining the thousands of Holi Hai celebrants at Dag Hammarskjold Plaza two weeks ago.
Holi [without the Hai] is an ancient Hindu festival that celebrates the end of winter, the triumph of good over evil and love. The Holi festival dates back thousands of years, coming down first through an oral Hindu tradition and first documented about the 4th century A.D. according to Wikipedia. I'll get into the mythology and history that accompanies this annual celebration a bit later in this report.
I'm pretty sure that the Holi Hai festival at Dag Hammarskjold Plaza began in 2013, thus making this its fourth year. The event started at 2nd Avenue and 47th Street in Midtown East at 11 am and ended at 6 pm, although many folks didn't depart the plaza until sometime later. During the seven hour event there were easily hundreds of celebrants at any one given time, and musical performances on a stage set back in along the plaza, complemented by several Asian food stalls interspersed in and around the plaza.
But the main fun is in the interactions that take place within the large body of celebrants, who don old T-shirts, and come prepared to give messy and get messy. More to come late this week.
---
United Nations: Cultural Influences on Gender Roles
Women's Groups Discuss Cultural Influences on Gender Equality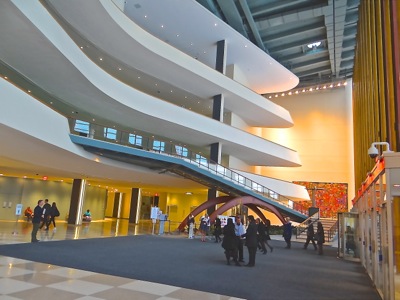 April 4, 2016 / Midtown East Neighborhood / Manhattan Social Issues / Manhattan Buzz.
On March 17th I attended a series of lectures entitled, The Role of Culture in Women's Empowerment: Possibilities and Challenges. The lectures were given to a standing room only audience in Conference Room 7 on the lower level.
The five member speaker panel was comprised of women from Liberia, Nigeria and Thailand. And each speaker came from a different walk of life including law, government, education and social work.
The program was organized by the United Nations Mission from Gambia in collaboration with a number of other groups. The intent of the program was to disseminate information to help those in attendance understand the role in culture in defining gender roles, and how to go about dealing with embedded cultural biases.
We'll have more at a later date. The photo at right was taken in the United Nations lobby.
---
1356
Midtown International Theater Festival & Short Play Lab 2016
Two Off Off Broadway Theater Festivals Open in Manhattan
March 7, 2016 / Manhattan NYC / Off Broadway Theater NYC / Manhattan Buzz NYC.
The Midtown International Theater Festival begins this week and the Short Play Lab begin this weekend. These two incubator theater festivals are the brainchild of John Chatterton, former Publisher of Off Off Broadway World magazine.
Off Off Broadway World magazine was started by Chatterton in 1993, and was published for a number of years in the 1990's, but ultimately didn't survive. Founder, John Chatterton did survive, and he went on to pursue his passion for theater by founding the Midtown International Theater Festival and the Short Play Lab series.
The two theatrical incubators provide a venue for participants to create and produce minimalist performance productions and perform them in front of live audiences, which are oftentimes comprised of many of their fellow participants and peers, as well as those interested in original theatrical works. The Midtown International Theater Festival and Short Play Lab series are both an opportunity to try one's hand at producing and performing an original work in front of a live audience, as well as a good networking venue to meet others aspiring to find their places in the theater business.
I attended a Short Play Lab previously and here's what I found ...
Click here for the full story about the Midtown International Theater Festival & Short Play Lab series both of which begins this week and weekend, respectively.
---
Brewer Gives State of the Borough Address
Manhattan Borough President Gale Brewer Talks About Manhattan 2016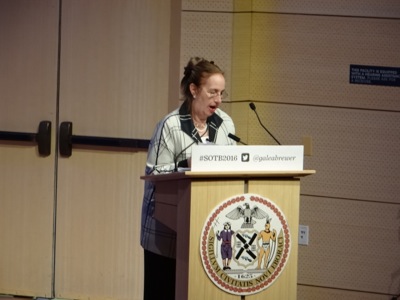 February 1, 2016 / Village Neighborhood / Manhattan Politics & Government NYC / Manhattan Neighborhoods / News Analysis & Opinion / Gotham Buzz.
I attended Manhattan Borough President Gale A. Brewer's State of the Borough Address on Sunday afternoon. The event was held at the New School at 63 5th Avenue just south of 14th Street in the Village neighborhood. Last year Gale Brewer gave her State of the Borough Address up at Columbia University, followed by a forum where she discussed general issues facing the borough. This year, at the New School, the forum topic was about engaging Manhattan borough youth through school and after-school activities.
Gale Brewer's State of the Borough Address
Brewer began her address by thanking all of the other government officials in attendance, as well as members of her family. She encouraged folks to keep out their phones and use Twitter to comment on the forum as it proceeded. The Twitter posts were shown on a big screen behind her, which is something I found more a distraction / nuisance than helpful - but I don't have Attention Deficit Disorder - so my opinion may not reflect the general populace.
Social & Economic Issues Facing Manhattan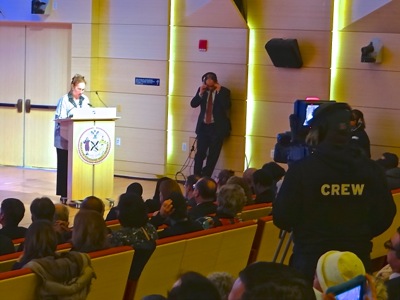 Brewer focused on about four topics: 1) affordable housing, 2) small business, 3) urban gardening, 4) police / community relations and 5) public schools.
She told us that she introduced 32 pieces of legislation this year, 8 of which were passed by the NYC City Council. The bills included: 1) shielding applicants arrest records from employers so they can't discriminate against people who had conflicts with the police, 2) the passage of paid sick leave for employees where she claimed that she did all the work to get the bill passed, while the Mayor got the credit, rezoning bills for 3) Midtown that she worked on with NYCCM Garodnick and NY City Planning for Midtown East and 4) rezoning for the South Street Seaport with NYCCM Chin wherein the real estate developer finally withdrew their plans for a large tower along the East River near the Brooklyn Bridge. She mentioned something about the Zoning legislation set forth by the de Blasio Administration to enable development of affordable housing, which didn't pass, but I didn't catch the gist of it.
Manhattan Borough President's Community Efforts in 2015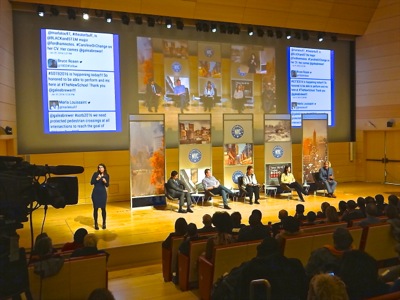 There were other things that Manhattan Borough President Gale Brewer talked about that she and her staff had done last year including, a) working with the police and the community to improve relations [not sure what], b) hosting small business round tables and an urban gardening symposium, c) organizing two mixers with teachers and private businesses in the arts and technology, and d) something about presenting a large scale map of Manhattan on the 19th floor gallery.
Manhattan Borough President Gale Brewer noted that the Upper West Side was heralded as the second most livable communities for the 50 plus crowd by some organization or magazine, which also cited New York City as the 5th most livable city for the 50 plus crowd in the larger cities category. Manhattan Borough President Gale A. Brewer noted that the age to serve on Community Boards had been lowered to 16 years and that applications to serve on the Community Boards must be submitted by February 1, 2016 [now closed].
[Editor's Comment: One has to question the wisdom of allowing 16 year olds to represent a community as there's a great deal of life's lessons that one doesn't have at that age which leaves them susceptible to manipulation by powerful people and politicians. Isn't 18 or 21 young enough?]
Manhattan Borough President Hosts Panel Discussion About Youth at the New School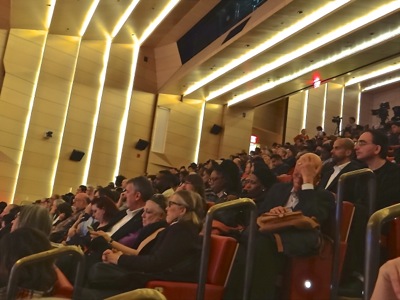 Then the panel began which featured: 1) an African American Khary Lazarre-White of the Brotherhood / Sister Sol, 2) an Asian Sumie Okazaki of the NYU Steinhardt School, 3) a Hispanic Francisco J. Nunez of Young Peoples Chorus of NYC and 4) a Caucasian Marc Murphy who is a chef / restaurateur.
The topic of the discussion was how to engage youth. They talked about: 1) income / opportuity inequality and discrimination, 2) that not everyone is able or interested in being a Rhodes Scholar and hence need to be engaged with in other endeavors or they become lost, 3) that music, farming and food are several of such avenues, 4) that income segregated housing isn't good for society, 5) that immigrant parents' language capabilities limit their ability to help their children evolve, 6) that ethics should be a part of the school curriculum because it's not always taught and reinforced in the home, and 7) that managing the impact of social media on kids complicates educators and parents ability to manage social situations that go awry.
Unfortunately I could not stay for the entire discussion, but I think you can get a flavor of the event from what I've reported above. Have a good year.
---
1344
Hanukkah NYC: Lighting of the Menorah in Manhattan
NY Senator Charles Shumer Lights Large Menorah in Grand Army Plaza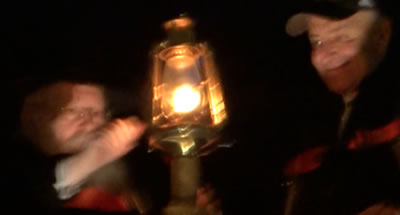 Updated w/ Photos & Video December 15, 2015 / Midtown Manhattan Neighborhood / Holidays in Manhattan NYC / Manhattan Buzz NYC.
I attended the lighting of one of the World's Largest Menorahs at Grand Army Plaza in Manhattan. It was an unusually warm December night, with the temperatures in the high 50's, and only a gentle breeze stirring the air. Grand Army Plaza in Manhattan is located just across from the 5th Avenue entrance of the Plaza Hotel at the southeast corner of Central Park.
It's worth mentioning that there are two Grand Army Plazas in New York City. During Hanukkah, both Grand Army Plazas become the locales wherein two very large, 32 foot high Menorahs are lit. The Brooklyn Grand Army Plaza is located on the northwest corner of Prospect Park in the Park Slope neighborhood of Brooklyn. The Large Menorah in Brooklyn, is lit throughout Hanukkah, by Rabbi Shimon Hecht of the Chabad of Park Slope.
Click here to read the rest of our report, including a video, of NYC Hanukkah - Menorah Lighting in Manhattan.
---
Nigerian Parade NYC
Nigerian Americans Celebrate their 55th Year of Independence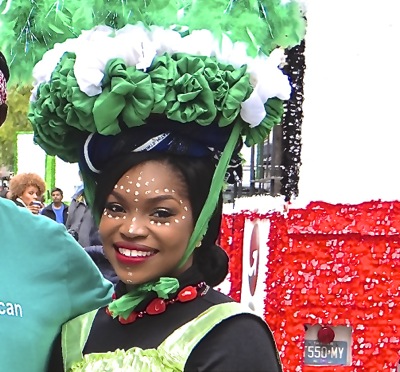 October 26, 2015 / Midtown Neighborhood NYC / Things To Do Midtown / Gotham Buzz. It was a beautiful Fall day as I made my way to watch the Nigerian Parade. The celebration was scheduled to run from about 11 am to 5 or 6 pm. I saw multiple listings for the parade time, including at noon and at 1 pm, but in fact they 'hit the road' a bit later than that.
Nigeria is celebrating its 55th year of independence from Great Britain. The country was formed in its current state around 1914. Independence was recognized in 1960 and Nigeria began operating as a Republic in 1963. Its current Constitution was put in place in 1999.
Nigeria is located in central Africa, along its western coast on the Gulf of Guinea which lies adjacent to the Atlantic Ocean and has a population of about 180 million people. While English is the official language, the native languages of the dominant tribes - the Yoruba, Hausa and Igbo - are also spoken in great numbers.
Nigeria currently has the largest economy in Africa [recently surpasses South Africa] and the 20th largest economy in the world because of its rich oil supplies. Nigeria provides the United States with about 20% of its oil imports and hence runs a trade surplus with the U.S.
There appears to be constant political turmoil in the nation due to: 1) international interest in the nation's oil, 2) the nation's three largest ethnic groups are about the same size and 3) the Islamist movement is also at work in the region. It seems oil riches bring unwelcome interference.
---
Manhattan Midtown Neighborhoods - Page Directory
Midtown Manhattan Neighborhood Directory NYC - Links or Scroll
Midtown is comprised of many neighborhoods. In Midtown East there's Sutton Place, Murray Hill, Kips Bay, Turtle Bay, Gramercy Park, Stuyvesant Town and Peter Cooper Village. And in Midtown West there's Hell's Kitchen, Times Square and Chelsea. Bryant Park and Madison Square Park are about in the center of Midtown, with the former to the north and the latter to the south. Union Square Park is typically associated with the Village, even though technically it's in Chelsea.
On Site Directory
---

---
1382 - Add Back Foto
Manhattan Food Festivals - Manhattan Festivals NYC
Food Festivals in Manhattan NYC Neighborhoods
September 2017 / Manhattan Neighborhoods / Manhattan Buzz NYC.
This section is dedicated to Food Festivals and other festivals in the Manhattan neighborhoods of NYC.
Click here to read reports and view photos of the Food Festivals in the Manhattan neighborhoods of NYC.
---
1166
Things To Do In Midtown NYC
Midtown Manhattan Events, Attractions & Neighborhood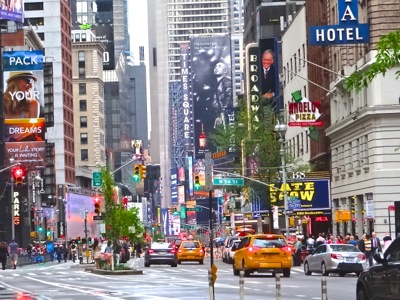 Midtown Neighborhood NYC / Manhattan Things To Do / Manhattan Buzz NYC.
This section provides an overview of the main attractions on the Upper East Side. In this section we provide a look at the main cultural venues, tourist attractions, parks and facilities one can find on the Upper East Side neighborhood of Manhattan in NYC.
Click here for Things To Do In Manhattan NYC. And Things To Do In Manhattan Memorial Day Weekend and soon to come - Things To Do Labor Day Weekend in Manhattan.
And click here for the history of Manhattan Midtown including historical sites in NYC.
---
In Flight Magazine Soars
Funny & Engaging, without Enraging
May 11, 2015 / Midtown West Neighborhood / Manhattan Theater / Gotham Buzz.
I was treated to a rare pleasure this past weekend. I attended the opening performance of a play that was funny and engaging without enraging. It was written and performed in verse, but it wasn't at all terse.
It was in some small measure, a modern Shakespearean pleasure, like Shakespeare's more poetic works with modern themes and quirks. So we travel into this story together, I'll treat you to some of the verse-like pleasure, but be advised that I was hypnotized and the verse was spoken more quickly than I was able to accurately capture it.
Our story begins in the office of the Publisher of an In Flight Magazine sometime near 2015. As it's set in the 21st century, the themes we encounter are all very modern. It begins with the Publisher, Marti – short for Martinelli, who is interviewing job applicants for a couple of travelogue reporter positions. What could be better than having a job where you get to travel to exotic places on the company dime and all you have to do is write about it?
One of the applicants is a handsome young man, whose writing background is that of a novelist. His name is Andrew, and he's not just handsome but also well read and an artful conversationalist, so Marti does a bit more than hire him.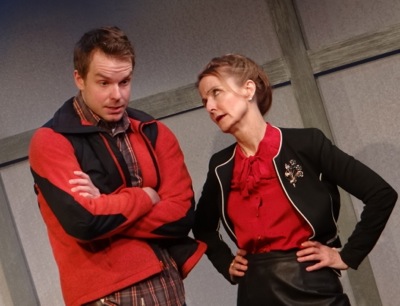 The next applicant is exactly the kind of reporter that Marti had hoped to find and hire, but just prior to the interview she is told by the Owner of In Flight Magazine [which is owned by Omega Airline] that her son Ted will be interviewing for one of the open reporter positions. So, Marti promises the perfect applicant that she'll get back to her soon ... yeah.
Ted, the Owner's son, is also handsome, but a bit hapless having been looked out for by his overachieving mother. He's not a great writer, but rather a list maker. He captures and catalogues everything. And much to our surprise … he' gets the second and last open reporter position. But Ted's issues with his mother enter the workplace, and to Marti's advantage.
The entire story takes place in Marti's office. You see, for a travel publisher, Marti isn't much of an adventurer herself, but rather lives vicariously through the work of the reporters she sends off to distant lands with the objective of capturing and then telling tales that will make people want to hop on an Omega Airline plane in pursuit of romance and excitement.
So hop aboard as we fly to distant lands - like Brazil, Canada and Bhutan - with Andrew, Ted, Marti and Ted's mother ...
We'll have more later this week about In Flight which is playing at The Workshop Theater on W. 36th Street in Midtown until May 23rd [tickets $18 - daily performances - 1.800.838.3006 or online at www.ttfinflight.bpt.me].
---
St Patrick's Day Parade Manhattan
St. Patrick's Day Parade In Manhattan Celebrates Centuries Old Tradition & Becomes Focal Point Between Old & New Social Norms
March 2, 2015 / Midtown NYC / Manhattan Parades / Gotham Buzz. Last year I attended the St. Patrick's Day Parade which begins in Midtown Manhattan and marches north to the Upper East Side.
It's really quite a sight as there are cadres of bagpipers, policemen and firemen, soldiers, sailors, special forces, bands and civilians. It was a very well organized parade. Very neat and very precise ... and with all due respect, not necessarily what I think of, when I think of the Irish.
We'll delve a bit more into the history of the parade, the current controversy and we'll set up a slide show of the parade last year.
---
BALCONY - Business And Labor Coalition NY
Forum Discusses Challenges & Opportunities Of De Blasio's Affordable Housing Plan
February 23, 2015 / Midtown Neighborhood / Manhattan Real Estate / Gotham Buzz. One day after Mayor de Blasio gave his State of the City Address, the Business And Labor Coalition of New York [aka BALCONY] met to discuss affordable housing and their role in it.
A high quality panel of speakers had been enlisted to help stimulate the discussion which happened on an early Wednesday morning in February. The panelists included a real estate lobbyist, a unionized labor representative who oversees the management of labor pension investments, Public Advocate Letitia James, a representative from the Governor's Office and others. The BALCONY forum attracted a full house of real estate, financial and labor professionals, as well as government officials.
By the end of the morning I had heard how a number of large and important participant groups were processing Mayor de Blasio's plan to address NYC's affordable housing shortage. We'll have more a bit later this week about this informative housing forum.
---
New York Boat Show @ Javits Center
Full Steam Ahead For Boat & Yacht Dealers & Manufacturers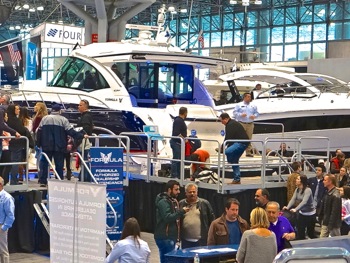 January 25, 2015 / Midtown West NYC / Manhattan Business / Gotham Buzz. For the price of a small apartment in Manhattan you can buy yourself a floating power palace with about the same amount of space, and water views on all sides.
It was my first venture into the New York Boat Show on Sunday at the Jacob Javits Center in Midtown West. There were about 400 boats and yachts on display [364 was the unoffical count] for those looking to buy, trade or just look at the state of the art in boating technology and comfort.
Again unofficially - using one of the dealer's gate count numbers - it seems attendance was up a bit this year versus last year. They surmised that the lower gas prices, the better economy and apparently a few folks were looking to replace what had been damaged or that they'd lost to Hurricane Sandy. And so it was ... show on.
Later this week I'll post a photo slide show of the event and take you onto a few of the boats and yachts so you can see what owning or riding on one of these floating palaces would look like. Ship Ahoy.
---
Holidays In Manhattan
Things To Do Over The Holidays In Manhattan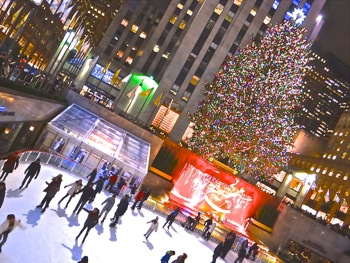 December 10, 2014 / Midtown Manhattan Neighborhood / Gotham Buzz. Last Wednesday they lit the Christmas tree at Rockefeller Center for the first time. The tree is a 90 year old Norway spruce which came from the yard of a Danville, Pennsylvania couple. According to one report the gigantic tree stands 85 feet high and weighs 13 tons.
The tree was cut the week of November 6th and arrived in NYC the week of November 10th. On Wednesday, December 3rd it was first lit amid a bit of fanfare including two hours of televised entertainment. We were told that 300 solar panels atop Rockefeller Center power the 45,000 lights that adorn the tree.
There's public skating at the base of the tree which may be accessed via a stairway at the end of the corridor that faces Saks 5th Avenue. The stairwell leads down to a skate shop alongside the open air sub level rink where you can rent skates. There's also a restaurant, Rock Center Cafe, that looks out onto the rink and serves breakfast, lunch and dinner. Happy Holidays.
---
1104
People's Climate March Photos
Over 300,000 People March / Interesting Signage / Creative Costumes / Jazzy Music / Important Message / By The People & For The People / We Are One World / We Are One People / We Must Learn To Live In Harmony With Each Other & With Our Ecosystem
Green Companies Missed Big Marketing Opportunity To Reach Their Passionate Audience
September 22, 2014 / Midtown Neighborhood / News Analysis & Opinion / Manhattan Buzz NYC.
I came up the subway stairs at Times Square Sunday, September 21, 2014 shortly before 1 pm. I had hoped to cover the People's Climate March story beginning at 11.30 am at Columbus Circle which was when the parade was to start; but I was detained and rushed to cover what I had thought might be the END of the parade. Boy, was I wrong. I ran head on into the BEGINNING of the parade, although I had missed the very front of it.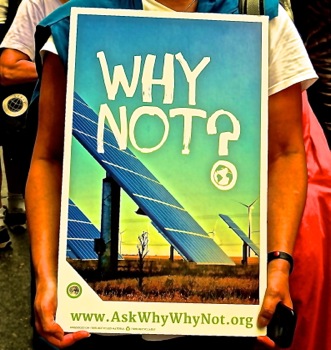 It truly was a People's Parade as there were few government officials were in attendance. According to one report I read after the parade, NYC Mayor Bill de Blasio, former U.S. Vice President Al Gore and UN Secretary General Ban Ki-moon joined the head of the parade around 12.45 pm, which was about the time I had arrived, so I missed them.
There were also a few NY City Council Members who marched, versus an NYT report that indicated a third or more planned to march. I recognized three of about five NY City Councilmembers that were there: NY City Council Speaker Viverito, UWS CCM Rosenthal and Astoria Queens CCM Costa Constantinides.
Click here later today to read our full report of the People's Climate March including hundreds of photos, and a number of parade marchers' views of what's really going on, as well as what can practically be done by regular folks about it.
Click here Monday evening to read our report and view photos of the People's Climate March in NYC. Story and photos by Michael Wood.
---
Fashion Week Manhattan NYC
Beauty & Style on the Runway At Couture Fashion Week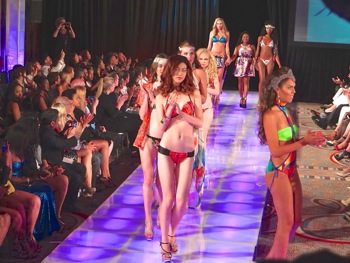 September 8, 2014 / Manhattan Fashion Shows NYC / Midtown Neighborhood NYC / Midtown Buzz. I attended a bathing suit and bridal gown runway show at Couture Fashion Week at the Crowne Plaza Sunday evening. It was one of many fashion programs going on around NYC during NYC Fashion Week.
The runway show was held on the fourth floor in the Crowne Plaza located at Broadway between 48th and 49th Streets near Times Square. About a half dozen designers were featured in the show which included a beautiful vocal performance by Maryann Connolly and a dance performance by Battle For Your Life Tour Dancers and In Da Clutch and the Hood Lockers.
The show was fully attended with a standing room only crowd. And it was a visual feast of the voluptuous vogue. In the photo at right are the models coming out for a bow at the end of the Maty Machado Swimwear segment of the show.
---
1326
Manhattan History NYC
Historical Sites Midtown Manhattan
A Look At The History Of The Midtown Neighborhoods In NYC
Manhattan Midtown Neighborhood / Manhattan History & Historical Sites NYC / Manhattan Buzz NYC.
The following provides both a history and links into some of the current day things to do in the Midtown neighborhood of Manhattan including museums, historical sites & tourist attractions, restaurants and shops.
Farmlands & Woods
At the time of the birth of the nation in 1789, New York City was comprised primarily of what today would be called Lower Manhattan, meaning the area south of Canal Street. At the time there were about 100,000 people living in the city.
The city began laying out a grid plan in 1807, which was finalized in 1811. In 1822 the land that now represents the neighborhoods of Midtown Manhattan came under the jurisdiction of New York City. The land became what is called a potters field which is a graveyard for the unknown. In 1840 the land was decommissioned as a potters field and the area that is now the main branch of the New York Public Library was designated to become the water reservoir of New York City. At the same time the adjacent land was to become a park [now Bryant Park].
Click here to continue reading our history of Manhattan Midtown including historical sites in NYC. And click here for a listing of things to do in Midtown NYC in Manhattan.
---
1102
India Day Parade Photos
Beautiful Parade Celebrating Indian History & Culture
August 18, 2014 / Manhattan Parades / Midtown Manhattan NYC / Manhattan Buzz NYC.
I attended the 44th annual India Day Parade in Manhattan on Sunday. As you can see by the photo at right, it was a colorful event full of peace, love and cultural enchantment, which are a few of the hallmarks of Indian culture.
It was a large parade including about 40 floats, 20 marching groups and six bands. We photographed Mayor de Blasio appearing at the stand to make a few remarks. And a number of food vendors as well as a number of cultural attractions were stationed where the parade terminated, in Madison Square Park, to provide food and entertainment from 3 pm to 6 pm.
The Indian Day Parade was started in 1981 making this years parade its 34th year. The parade was started by the Federation of Indian Associations [FIA] which, according to Jay (Jaswant) B. Mody [one of the parade officials I met at the event], the FIA started in 1974 / 1975 under a different name. The parade celebrates Indian independence from Great Britain on August 15th of 1947. Pakistan, which was a part of India prior to independence, was granted its independence from Great Britain on August 14th, 1947.
Federation of Indian Associations also celebrates the 26th day of January which is the Republican Day of India [the day the Constitution of India passed into law]. The Federation of Indian Associations also raises funds to help families and to donate to catastrophic situations at home and abroad. As of 2006 more than 300,000 Indian Americans lived in the tristate area and the Indian immigrant population continues to grow. The Federation of India Americans main office is in Jackson Heights in Queens. And significant Indian communities may be found in Edison & Jersey City in NJ, in Stamford and New Haven in Connecticut, and Jackson Heights and Manhattan in NYC.
Click here to read a report about events leading up to India's Independence and the India Day Parade in Manhattan NYC with photos. Story and photos by Michael Wood.
---
706
Steinway History Is New York's History
19th Century German Immigrants With Big Ideas
Steinway & Sons Legacy Permeates Manhattan & Queens NYC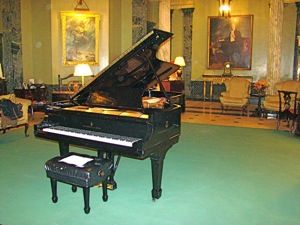 Manhattan NYC & Astoria / December 7, 2010 / Manhattan Buzz NYC.
In our effort to inform Queens Buzz readers about the full historical significance of the Steinway Mansion, we traveled into one of Queens' outerboros: Manhattan.
We visited Steinway Hall, which is located on 57th Street between 6th and 7th Avenues, and which is owned by Steinway & Sons pianos - some 85 years later. Once again, I stepped through a time warp, similar to the one into which I stepped when I visited to the Steinway piano factory and more recently the Steinway Mansion, both of which are located in Astoria in Queens.
Steinway Hall was built by Steinway & Sons piano company in 1925, following the erection of Carnegie Hall, which had just supplanted the old Steinway Hall located on 14th Street, as NYC's cultural centerpiece. Click here to read more about Steinway Hall in NYC including numerous photos, or click this link to visit the Steinway Mansion section of our sister web magazine Queens Buzz.
---
---
Flatiron District: Le Coq French Restaurant
Midtown French Restaurant has become a Crowd-pleaser
July 19, 2016 / Midtown Manhattan Neighborhood / Midtown Manhattan Restaurants / ManhattanBuzz.nyc.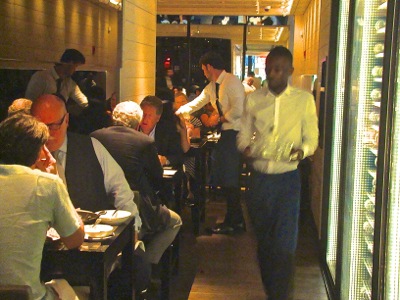 I took a trip into the Flatiron District just after the July 4th holiday to try out a new French restaurant that came recommended by friends. I arrived a bit late and my table had been seated in the main room in the back of the restaurant.
As I walked past the long modern bar to my left, I found myself tempted by its airy openness and ambiance as the front of the restaurant opens onto the street and the ceilings are in the neighborhood of 12 feet high. Just past the bar, along to my right there were bottles upon bottles of refrigerated champagnes. Hmm.
In the main room there were between a dozen or two tables. Some of the tables for couples were set in front of the walled booth-like benches, which were arranged next to one another. There were round tables for larger groups and families in the middle of the room, and an alcove containing a couple of tables set away from it all. The lighting was well done, with the inset lights on the ceiling radiating a quiet ambient light, supplemented by accent lighting on the ceiling that provided ample light on the table.
My party had already begun ordering, so in an attempt to be a good, but late guest, I went along, to get along.
More about Le Coq at a later date.
---