Manhattan St Pat's Day Irish Pubs, Restaurants & Historic Bars in NYC 2023
Historic Manhattan St Pat's Day Pubs, Irish Bars & Restaurants On St. Patrick's Day In NYC, UES, UWS, Midtown & Village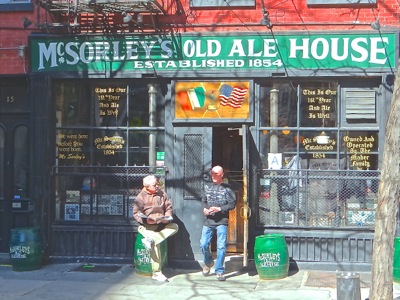 March 4, 2023 / Manhattan Neighborhoods NYC / Manhattan Restaurants NYC / Manhattan Buzz NYC.
St. Patrick's Day is upon us once again and it's time for one and all, regardless of genetic history, to don their green clothing and head out to the Irish bars for a pint of ale or to the Irish restaurants for some down home Irish fare … or something like that.
This report is about some of the Manhattan Irish bars and restaurants that have survived the test of time, and likely a might bit … more. The Irish pubs include Irish bars and restaurants from the Upper East Side [UES], the Upper West Side [UWS], Midtown Manhattan as well as the East Village, as McSorley's remains not just a pub, but a good piece of history.
St Patrick's Day is on a Friday this year.
While St. Patrick's Day is one big party, it's important to keep in mind, that like New Years Eve, all the amateurs come out to play [it's not just the Irish who are out drinking on St. Patrick's Day]. So some measure of caution is advised and you have to be careful.
At a later date we'll add a bit of history of St. Patrick's Day.
Click here to read our report about the St Pat's Day Bars, Irish Pubs & Restaurants in Manhattan NYC. We'll begin our journey on the Upper East Side UES where the Manhattan St. Patrick's Day Parade ends and then work our way around the rest of Manhattan.
---