nyc things to do manhattan brooklyn queens bronx staten island things to do events nyc
Manhattan Politics & Government
June 2022 / Manhattan Neighborhoods / Manhattan Politics / Manhattan Buzz NYC.
This section is dedicated to the government & politics of midtown Manhattan, the Upper East Side NYC, the Upper West Side NYC and the West & East Village NYC.
Click here to view reports on Manhattan politics & government.
---
manhattan politics nyc manhattan government nyc

---
NYS Primary This Month & Brooklyn Politics
NYS Primaries are June 28th - Except for U.S. Congressional & NYS Senate Races
June 14, 2022 / NYC Neighborhoods / News Analysis & Opinion / Gotham Buzz NYC.
The NYS primary election is June 28th. On the ballot are the following races: U.S. Senate, Governor, Other state executives, State Assembly, Special state legislative, School boards, Municipal government and Ballot measures.
Click on the image above to access the poll finder website, so you can easily find where to vote in your neighborhood. Remember this is the land of the free and the home of the brave and many of our ancestors died for our right to vote, as the Ukrainians appear to be doing now. So try to be brave, and also be careful in who you choose to represent you. There's still time to do some researchs on candidates on the web.
Early Voting - June 18 - 26, 2022
Early voting began on Saturday, June 18th and runs through Sunday, June 26th, 2022. Two days later is election day, when you can find your poll site by clicking on the graphic above. For those who wish to find an early voting poll site use this link, which not only shows the sites, but also the wait times.
The New York City election is Tuesday June 28th and polls are open from 6 am - 9 pm.
---
Mayor de Blasio Delivers State of the City Address 2018
NYC Mayor de Blasio's Theme for Second Term – Fairness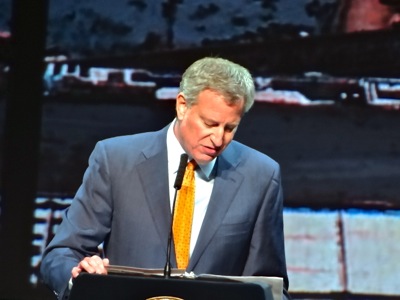 February 26, 2018 / Flatbush Neighborhood Brooklyn / NYC Neighborhoods / NYC Politics & Government / News Analysis & Opinion / Gotham Buzz NYC.
On Tuesday evening, February 13th, I made my way south toward the Kings Theater in the Flatbush neighborhood of Brooklyn. It was an unseasonably warm February, with temperatures descending into the 40's. I disembarked from the G subway at Church Avenue and headed east toward Flatbush Avenue, taking the opportunity to walk through the Prospect Park South neighborhood.
Kings Theatre – Historic 1920's Theater in Flatbush Brooklyn
When I arrived at Kings Theatre I found a number of people engaged in the exercise of their free speech rights, chanting for an accelerated pace of the reform initiated by Mayor de Blasio four years ago.
Once inside the theater I paused for a few minutes to take in the dazzling beauty of the 1929 theater built by Loews as a movie theater. The soaring arches and the ceiling had been restored in a renovation that was completed in 2015, at which time the Kings Theatre reopened. I walked up the stairs to look down into the lobby from the balcony to fully take in the architectural and artistic statement of an earlier time.
According to Wikipedia the Kings Theatre had been closed since 1977, named to the National Register of Historic Places in 2012, following the initiation of its restoration by the City in 2010.
Brooklyn Continues to Preserve its History & Queens does What?
It's nice to see this kind of preservation being done in Brooklyn – it's unfortunate that the government officials in Queens don't take the same sort of initiative to preserve more of the history of that borough. In 2017 a similar, although admittedly less expansive theater on 82nd Street in the Jackson Heights neighborhood of Queens, was demolished.
And in 2010 the landmarked mansion owned by the Steinways of Steinway & Sons Piano - built of granite in the 1850's, sitting atop about two and a half acres of land, and in very good condition - came on the market with an asking price of $2.5 million. The house was only blocks away from the piano factory where handmade pianos are still produced to this day and was the residence of one of the most influential, historically and culturally significant people in NYC and Queens of the latter half of the 19th century.
In an unbelievable failure of leadership in the borough of Queens – the Steinway mansion was not purchased by the government - nor was any meaningful attempt made to preserve it for the public - even though the mansion remained on the market until it was acquired by a developer in early 2014 [they had nearly four years to buy it]. The real estate developer subsequently built on the adjacent acreage – making back significantly more than he paid for the entire mansion, while still leaving him with ownership of the mansion. The future of the mansion itself remains unclear, as it is still in private hands, but because it has been landmarked, the outside of the mansion must be preserved. Click here to read our report about the Steinway Mansion and the travesty of the broken preservation process in Queens … but I digress.
NYC Mayor de Blasio's State of the City Address 2018
Inside the theater, a Rabbi was making a speech. He was preceded by a priest, and followed by a minister, a transgender person, and the mayor's wife, Chirlaine McCray.
We were shown a film, which talked about education, housing and law enforcement – the three main challenges faced by the Mayor during his first term. And while the Mayor has made some solid progress in addressing these issues, they are likely to remain with us for many years to come.
New York City / The Tale of Two Cities: 2013 - 2017
Four years ago, the Mayor campaigned on a platform designed to address the tale of two cities. Last year he campaigned on his record of achievement in addressing the causes of the economic disparities implicit in his metaphor of the tale of two cities – but he didn't really tell us what to expect the next four years. Tonight, in his State of the City Address, the Mayor outlined what he hoped to achieve in the coming four years.
New York City / The Fairest Big City in America: 2018 - 2022
The Mayor, at his core is a bit of a policy wonk, and thus he began by outlining his plan to make New York City the Fairest Big City in America. I know that policy sounds boring - but in an age of political pugnaciousness and thoughtless theatrics – I actually find it refreshing to see an administration engaged in the process of trying to solve our social problems by using the data, analytic tools and most current social science / academic research.
1. NYC Mayor de Blasio's First Term Accomplishments
The Mayor started by touting his accomplishments which include on track to build a record number of affordable housing units, improving academic performance in the public education system [initiation Pre-K and 3-K] and continuing improvements in community safety, even while stop 'n frisk has declined over 90% [because the Mayor added thousands of police[wo]men to the force]. He noted that all of these accomplishments help make the city more fair than it was just four years ago.
The Mayor also spoke about the following topics, which I hope to add to at a later date.
2. Neighborhood Policing & Body Cameras
3. 3-K for All
4. Affordable Housing
He also proposed an electorate engagement plan, which I may also add at a later date.
Thomas Jefferson told us that a nation that expects to be ignorant and free, expects something that never was – and never will be. A government for the people by the people won't function properly if the people don't become engaged and remain engaged – as I witnessed on my way into the theater tonight.
---
De Blasio Wins 2nd Term by Landslide
Nationally Democrats Pick up New Jersey & Hold onto Virginia
November 8, 2017 / NYC Neighborhoods / NYC Politics / Gotham Buzz NYC.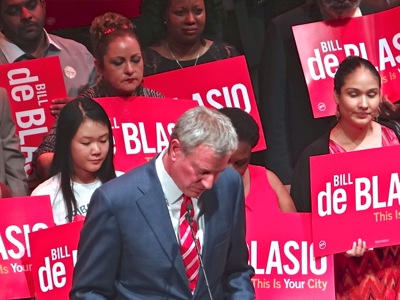 City-wide & Borough-wide Offices. Mayor de Blasio won a decisive victory against Republican challenger, Assemblywoman Nicole Malliotakis, on Tuesday by winning nearly 67% of the vote.
In fact it was a landslide for nearly all incumbent Democrats who won by comparably wide margins, including Letitia James for Public Advocate (74%), Scott Stringer for NYC Comptroller (77%), and all five Borough Presidents including Gale Brewer (Manhattan - 83%), Eric Adams (Brooklyn - 83%), Ruben Diaz (Bronx - 88%), Melinda Katz (Queens - 78%) and James Oddo (Staten Island - 75%).
Mayoral Election Results by Borough. De Blasio won four of the five boroughs by wide margins including roughly 5:1 in the Bronx, 3:1 in Manhattan and Brooklyn and approaching 2:1 in Queens. Malliotakis won her home borough of Staten Island approaching 3:1. Staten Island has a significantly smaller population than the other four boroughs as it has only between 20% and 30% the population of any of the other boroughs.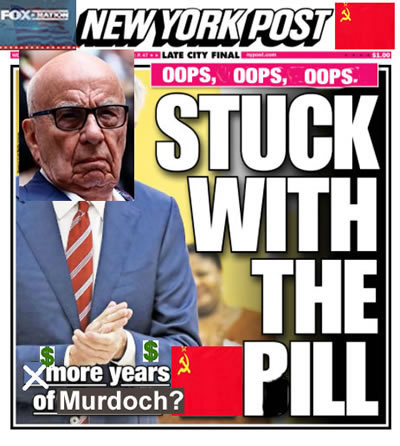 Trump Referendum & Job Performance Approval. Several pundits speculated that in a city where Democrats outnumber Republicans six to one - this was an NYC referendum on the Trump presidency. This may be so, but some mention should also be given to how well NYC is performing vis a vis other cities in terms of jobs creation, improving performance in the public schools, fiscal management and low crime rate.
New Jersey Governor Race. On the national front, newcomer Phil Murphy (D) beat Lieutenant Governor Kim Quadagno (R) in the governor race in New Jersey. Murphy received 55% of the vote while Quadagno received 43% of the vote. Murphy will replace Chris Christie (R) who has an approval rating of 19%. In exit polls, 11% said they cast their votes in support of Trump, while 32% said they cast their votes in opposition to Trump.
Results for the Three NYS Proposals on Ballot. The first Proposal - to change the NYS Constitution - lost overwhelmingly with 83% voting NO. The second Proposal - to take away pensions of some government employees found guilty of some crimes - won overwhelmingly with 73% voting YES. And the third Proposal - to allow some 'development' in public parks won in a close vote - 52% vote YES while 48% voted NO.
Virginia Governor Race. In Virginia, the latest polls were once again off significantly, predicting a tight race that wasn't. Democrat Lieutenant Governor Ralph Northam won 54% of the vote while Republican Ed Gillespie who was the former Chair of the Republican National Committee won 43% of the vote. Gillespie won the rural parts of the state, while Northam won the urban areas. Gillespie was reported to be using Trump-style campaign tactics to win the race, but from Japan, Trump distanced himself from Gillespie's loss.
We Elect Pols but Not Publishers. In the graphic at right, you can see the pill face of the unhappy Billionaire which I superimposed over the face of the Mayor. The power-hungry, media mogul's outlet had published the headline 'Stuck with the Bill' - which he published in defiance of the two-thirds of the NYC voters who came out to re-elect the Mayor. He appears to be working toward conquering the U.S. so he can make us a 'Fox Nation', like he did Australia.
We don't get to elect publishers, but every time you purchase one of his papers, or click into his TV stations or websites, you are indirectly supporting him [NY Post, Fox News, WWOR Ch9, WNYW Fox Ch5 and the WSJ]. Some of the people in his organizations do good work, but many of those he puts front and center, appear to be highly paid propagandist mouthpieces who push what appears to be his greedy, deceitful, power-grabbing agenda. The story below provides more detail.
---
Election 2017 Tuesday 11/7 - Please Vote
November 5, 2017 / Queens Neighborhoods / Queens Politics & Government / Queens Buzz.
The New York City general election is this week, Tuesday November 7th.
The polling booths will be open from 6 am to 9 pm Tuesday.
To find your poll location click on the graphic at right.
Once on the website, input your address, and then click the small icon to the right of it to get the results of the search. I hope the NYS Board of Elections does better cyber security on their voting systems than they do web design for this site, as the tiny arrow mentioned above is easily overlooked.
NYS Ballot Propositions - Vote Tuesday
There are three Referendums on the Ballot.
Proposal I
Calling A State Constitutional Convention
This is where it appears that all the lobbyists would re-write the NYS Constitution to favor them and their interests, and screw the general public aka you. Their argument is to streamline government, but democracy works slowly for a reason - as it takes time for the general public to become aware of issues and then to organize in time for a proper vetting. That's why our Founding Fathers included so many checks and balances in the system - to give us - We The People - time to react.
I recommend voting NO.
Proposal II
Forfeiture of Public Officer's Pension if Convicted of Felony
This is where a public official who's found guilty of a felony that violates the public trust, loses their pension. This is targeted only at a certain class of government officials - not all of them. Voting Yes, mitigates the effort to expand the scope of government officials covered. It seems an unfair application of the law and I don't know who drafted this or why they limited it.
I have no recommendation.
Proposal III
Authorizing Use of Forest Preserve Land for Specified Purposes
This is what looks like the creation of a first opening for development in the Adirondack and Catskills parks. It's not specific to any identifiable project and open ended, which looks like giving government officials / developers a blank check. Each project should be evaluated on its own merits.
I recommend voting NO.
---
NYC Mayoral Debates Fall 2017
Dietl Effervesces, Malliotakis Attacks & de Blasio Defends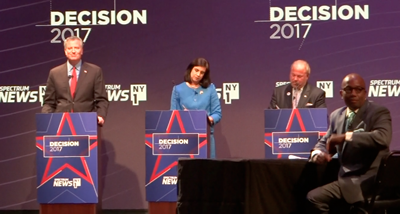 October 15, 2017 / Upper West Side Neighborhood UWS / Queens Politics NYC / News Analysis & Opinion / Gotham Buzz NYC.
I attended the Mayoral Debate at Symphony Space on Tuesday, October 10th, where former NYC Detective [1970 – 1985] and security firm businessman Bo Dietl [Independent], New York State Assemblywoman Nicole Malliotakis [Republican Staten Island] and Mayor Bill de Blasio [Democrat] squared off for one of two general election debates. The debates are sponsored by the New York Campaign Finance Board and are a requirement for those candidates who receive matching funds.
NYC Mayoral Debates - Opening Statements
Each candidate came out and made opening statements. Bo Dietl talked about his time working the streets as a policeman in the 1970's and 1980's and how since then he has run a successful security firm that also employs minorities. He described his two opponents as Column A and Column B candidates.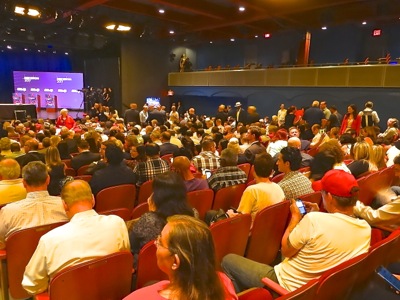 Nicole Malliotakis told us how she is the first member of her family to obtain a college degree and a Masters of Business Administration and that she is the 'American Dream'. She went on to say she would fix our schools, transit system and homelessness.
Bill de Blasio said that his two opponents were both right wing Republicans and that he was the only one that would stand up to Trump. He went on to say that crime is down, test scores at NYC public schools are up, but that there's more to do and he needs New Yorkers' help to continue making progress.
There was a small, but very boisterous minority of rude and disruptive people in the audience, who began their noisy tirades with the opening statements. It wasn't until near the end of the program – that one of [several of] the loudest shouters and screamers was finally escorted out.
Click here for a fairly full recount of the NYC Mayoral Debates with Malliotakis, Dietl & de Blasio.
---
NYC Mayoral Debates: De Blasio & Albanese
Democratic Candidates Discuss Issues Facing NYC
September 4, 2017 / Upper West Side Neighborhood / NYC Politics & Government Manhattan / Gotham Buzz NYC.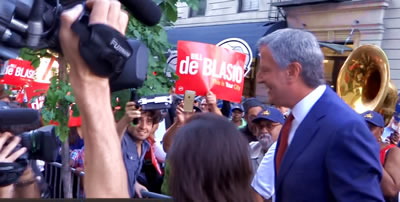 On Wednesday evening, August 23, I made my way to Symphony Space on the Upper West Side to watch the two Democratic candidates for mayor of New York City debate the issues.
Sal Albanese Democratic Challenger
Sal Albanese is the Democratic challenger, who raised just enough money to qualify for the NYC Campaign Finance Board qualification, which mandates debates between candidates who receive matching funds.
Albanese hails from Brooklyn and served as a member of the NYC City Council from 1983 to 1998. In the twenty years since he left public office, Sal has run for mayor on two previous occasions as a reformer. Since leaving office, Albanese spent ten years working in financial services and the rest of the time as an attorney, doing related work. Based on his political career efforts, Albanese appears to support many of the same progressive causes as Mayor de Blasio.
Conservative Commentator Sliwa Backs Albanese Bid
I ran into conservative talk show commentator Curtis Sliwa of the Guardian Angels who told me he was there to support liberal reformer Sal Albanese. I found this to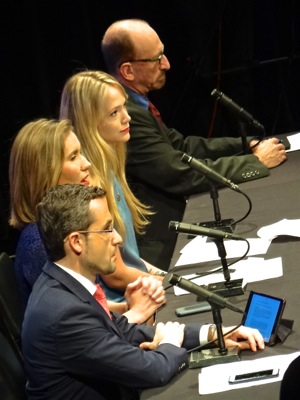 be ironic - given that Sliwa is a conservative Republican commentator who a couple years ago publicly announced that he was going to run as a Republican for Queens Borough President, challenging Democrat Melinda Katz. When I asked him if he still planned to run as a Republican against Democrat Katz, he replied no, and said he was here tonight supporting Sal Albanese and the Reform Party.
NYC Mayoral Debates 2017
What follows is probably less a summary, than a full accounting of the debate.
As I came out of the subway, I saw people gathered in front of Symphony Space. Some were supporters of the Mayor and some supporters for Goodwin, a challenger to the Upper West Side NYC City Councilwoman, Helen Rosenthal.
Inside I found that the free tickets had been fully subscribed, and while the auditorium was generally filled - it was not full - as not everyone used the tickets they booked.
Errol Louis of NY1 was the debate moderator and the debate panelists included: Brian Lehrer of WNYC, Laura Nahmias of Politico, Grace Rauh of NY1 and Juan Manuel Benitez of Noticias on NY1.
Each candidate opened with brief statements.
Albanese: Cites The Issues Facing NYC & America
Albanese started by talking about many of the major issues facing not just New York, but in many respects, all of America. He mentioned class warfare, pay to play politics, public transit investment, empty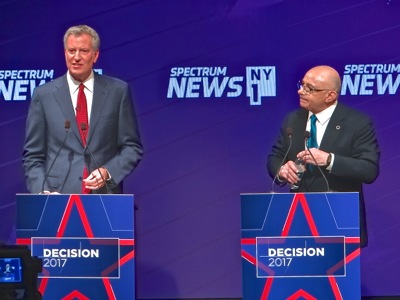 storefronts, lawless developers, and the negative impact of gentrification on communities, public space and tenants.
De Blasio: Cites Administration Accomplishments
De Blasio started by talking about the accomplishments of his administration over the past three and a half years. He noted that his administration is in the process of building affordable housing for 500,000 tenants and is on time and on budget. That Stop N Frisk is down 93% while the NYC crime rate has continued to fall, so that NYC is now one of the safest big cities in America. And that 78,000 children are now attending pre-school. He said while his Administration has achieved a lot, there's a lot more to do.
Later this week I'll post the rest of the report about the Mayoral Debate between Sal Albanese and Mayor Bill de Blasio.
---
De Blasio Delivers State of the City Address
*Mayor Takes Humanist, Social Science Approach to Solving NYC Problems
*NYC Crime Down, Stop N' Frisk Down 97%
*NYC Public School Graduation Rate Up, H.S. Drop Out Rate Down, College Bound Graduates Up,
*70,000 Children Enrolled in Universal Pre-K
*Financing Initiated on 62,000 Units of Affordable Housing
*NYC Budget Surplus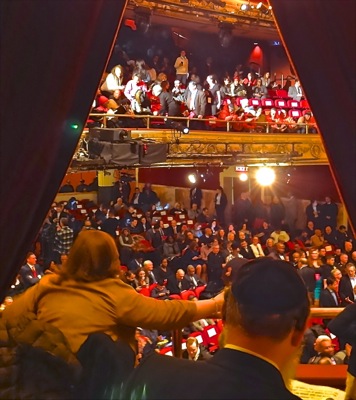 February 14, 2017 / Harlem Neighborhood / NYC Government & Politics / News Analysis & Opinion / Gotham Buzz NYC.
I attended Mayor de Blasio's third State of the City Address at the Apollo Theater in Harlem on Monday. The beautiful old theater, built in 1904, didn't admit African Americans until thirty years later. And it was in 1934 that the historic theater began earning the fame it has today, by becoming the showcase for African American musical and theatrical legends.
In the photo at right is the Apollo Theater as seen from one of the balcony booths prior to the beginning of Mayor de Blasio's 2017 State of the City Address. GB LINKS.
These are the Times that Try Men's Souls: Thomas Paine & Fighting Tyranny
There were a number of performances and speeches leading up to the Mayor's address, including a performance by the Dorothy Maynor Choir of Harlem and an operatic delivery of the Star Spangled National Anthem by FDNY's Regina Wilson. Recently deceased Detective Steven McDonald's son, Conor, gave a speech, as did NYC First Lady Chirlane McRay, the Reverend David Ramos, Rabbi Arthur Schneier and Imam Souleimane Konate.
The Pledge of Allegiance was delivered by Jian 'John' Yuan Lin, Chyna Huertas and Eva Lin. And the Reverend Michael Walrond, of the First Corinthian Baptist Church, gave a fiery, inspirational speech talking comparing the national state of affairs today to the American colonists fighting to shake off the shackles of tyranny. He cited the words of American Revolutionary Thomas Paine, who in 1776 said,
"These are the times that try men's souls."
Just before the Mayor came on stage was a video highlighting the de Blasio Administration accomplishments.
Mayor de Blasio Standing Big & Tall for All New Yorkers
The Mayor came onto the stage, beginning by thanking the various people and departments that helped make his Administration's accomplishments possible. His thanks always include his wife, Chirlane McCray, who has been evolving in her role as NYC's First Lady.
Here's a sampling of the de Blasio's efforts to make New York a better place for all New Yorkers. Some of the information came from the video presentation referenced above, which I have augmented with some additional research and information obtained in prior reporting efforts.
In the photo at right stands a weary, but determined, Mayor Bill de Blasio at his 2017 State of the City Address at the Apollo Theater in Harlem.
I. De Blasio Administration NYC Public School Achievements
A. Social Science & Humanist Approach to Education
• Universal Pre-K Enrollment 70,000
• Advanced Placement For All
• Drop Out Rates Down
• Graduation Rates Up
• College Bound Graduates Up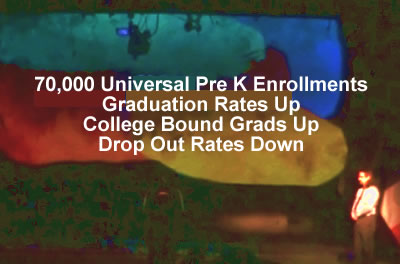 The slide at right shows some of the gains made by the de Blasio Administration with the NYC public school system over the past three plus years.
1. Stop the Bleeding – Stop the 'CORPORATE' run Charter Schools from Maximizing Profit at the Expense of Maximizing Human Potential
Editor's Note: There is a BIG DIFFERENCE between the NON-PROFIT CHARTER SCHOOLS and FOR-PROFIT CHARTER SCHOOL CORPORATIONS. Non profit charters are generally older organizations, designed as an alternative in response to failing public schools decades ago, and whose focus is on improving education - not improving profits.
By contrast the FOR-PROFIT CHARTER SCHOOL CORPORATIONS generally arose in the 21st century, and this group appears to be pillaging the public school system by recruiting and siphoning off the good [low cost / high performing] students so they can maximize profits – not enhance public education.
The despicable consequence of this for-profit charter school strategy is that they are simultaneously robbing the most vulnerable, disadvantaged children of anything resembling an opportunity in life as promised in the founding documents of this nation.
Family background continues to be the highest determinant [have the highest correlation] of a student's academic achievement.
So the de Blasio Administration has significantly slowed the corporate charter school assault on the public education system.
Corporate Charter School Business Strategy Comparable to Old Health Insurance 'Gaming the System'
Recruit the Academic Achievers, 'the Healthy Ones', Because They're Most Profitable & Shun the Rest
It appears the charter school corporations have employed a strategy designed to recruit and retain the best students to their schools, while leaving the rest behind. They appear to recruit the kids who are already performing well, because the performing children cost the least to educate, thus providing the highest return to the hedge fund profiteers because the funding is allocated on a per capital / per student basis. High performing student enrollments also enable corporate charter schools to claim they are 'performing well' because they've recruited the highest scoring students.
The recruitment and retention strategy referenced above resembles the old health insurance strategy of recruiting the healthy people to buy health insurance as they are the most profitable, while denying those who aren't blessed with good health because they cost the most to keep healthy. This was a systemic inequity Obamacare attempted to eradicate.
In the photo at right stand an Imam [Islam], a Rabbi [Jewish] and a Reverend [Christian] all sharing the same podium with a message of love, peace, respect and understanding.
2. Help the Youngsters & Maximize Human Potential – Not Profits
The De Blasio Administration pushed through universal Pre-K, which has enrolled 70,000 students since its inception in the Fall of 2014.
When this first came out I, and a number of people I know, didn't really grasp the importance of this effort. As family support is the highest determinant in a child's success, many youngsters were entering the public school system at a significant disadvantage vis a vis their better parented peers.
By accessing these kids while they are younger, and providing access to the guidance and resources of the public school system earlier, the NYC Public School system now has a greater chance of motivating these kids, which will inevitabley empowering them, raising their self esteem, and give them a chance at a far more engaged and productive life.
I now get it. And this seems like it can only be a good thing for all of society, as it will reduce societal costs of failing these people early on.
Maximizing Human Potential is Good Public Policy that Costs Less in the Long Haul & Enormously Benefits Society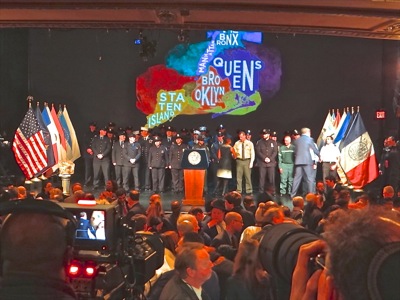 This approach to education enables us as a society to maximize our human potential, which will benefit all the community - and in some small way - all mankind. Not only is this a more humanistic approach to engaging these children, but it's more cost effective in the long haul, as those left behind will inevitably cost society more through lost opportunities, lost productivity, and increased spending on health, human services and criminal justice programs.
In the photo at right is the Mayor on stage at the Apollo Theater with all of the people working for the city that he honored that night including policemen, firefighters, sanitation workers and educators. The Mayor appears to be one who is very much in touch with the middle & working class rank and file of New York City.
Click here for our report about Mayor Bill de Blasio's State of the City Address 2017 including an update on crime, the affordable housing crisis, the city's finances, sanitation and social activism.
---
General Election Today - Please Vote
November 8, 2016 / Manhattan Neighborhoods / Manhattan Politics & Government / Manhattan Buzz NYC .
The New York State general election is today, Tuesday November 8th.
The polling booths will be open from 6 am to 9 pm Tuesday.
To find your poll location click on the graphic at right, noting that after you input your address you have to click the small icon to get the results of the search.
The primaries were held on Tuesday, September 13th, 2016.
---
1361
NYC Rolls on After Small Bomb Explodes
Who are the Real Terrorists?
September 20, 2016 / Chelsea Neighborhood / Manhattan Neighborhoods / News Analysis & Opinion / Manhattan Buzz NYC / by Michael Wood.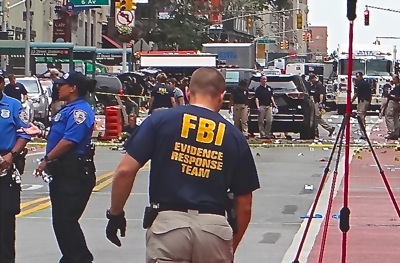 Saturday evening, September 17th, at around 8.30 pm a bomb went off in a dumpster near 131 West 23rd Street [just off 6th Avenue] in Chelsea. While a number of people were injured by the debris [29 in total], thankfully nobody was killed, and all 29 of the people impacted have been released. The photo at right shows the scene were a small bomb exploded on Saturday evening in the Chelsea section of Manhattan.
NYS Governor Andrew Cuomo was quick to inform the public that the bombing was a terrorist act, but that it did not appear to be linked to international terrorism. Today, just three days later, it appears the bomber may have been influenced by a trip taken abroad.
At the time of Cuomo's announcement, he appeared to be continuing what seems like an ongoing effort to upstage the Mayor, by being the first to speak to the press and by sensationalizing the incident using words like terrorist [headline grabbing].
The Mayor was far more circumspect when he spoke, telling us only that based on the evidence gathered at the time, the act appeared to be intentional. The Mayor ended his remarks with that terse statement - telling us he would have more to say pending the receipt of additional information. NYPD Commissioner James O'Neill exercised the same caution in describing the event as the Mayor.
Is Murdoch's Media Org Hyping the Bombing for Ratings & Newspaper Sales Like They Appeared to do with the Iraq War?
Not surprisingly, Keith Rupert Murdoch's Wall Street Journal, NY Post and Fox News noted / lauded or applauded the Governor for helping them in what appeared to be their ongoing efforts to sensationalize the terrible act.
Was their goal in hyping the bomb to sell more newspapers and increase their TV ratings? At first blush that's hard to believe - until you do the math.
In 2002 - 2003, Murdoch in tandem with his global media organization, strongly advocated on three continents [U.S., Britain and Australia] to start the War in Iraq. Ultimately, I believe the war increased Fox cable TV and Fox News ratings, which are worth billions of dollars annually. We'll have more on this a bit later in the story.
Do Bombers Seek Fame & Does Murdoch's Media Machine Provide Them with it?
Is Instant Fame a Bomber's Motivation? It seems plausible that part of the motivation of a bomber might be to make the headlines / be shown on TV / become famous, even if only for what artist Andy Warhol described as one's 15 minutes of fame. See NY Post graphic to your right, where the now famous bomber made the NY Post front page while lying in bed. Thank you Mr. Murdoch and your NY Post?
Achieving Goals By Fear Mongering? Rupert Murdoch's propaganda-oriented 'news' outlets may in fact be part of the problem - not part of the solution. Murdoch's organization appears hell bent on hyping the bombing event into an international terrorist attack, which one may surmise that they can then use to rekindle fears based on 15 year old memories, to shape the national security narrative leading up to the general election.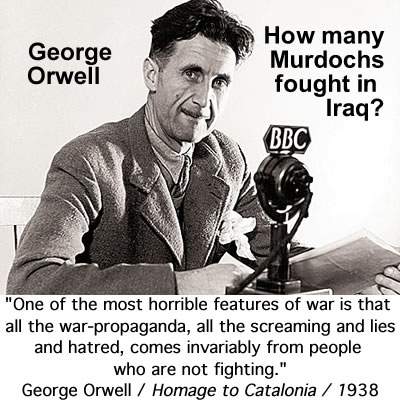 At a time when the whole world was in turmoil FDR told America,
"We have nothing to fear, but fear itself."
How times have changed.
It seems Keith Rupert Murdoch's organization is saying something just the opposite, like,
"Be afraid. Be very afraid."
Never mind that nobody died in this incident or even reportedly sustained any serious injuries. And based on what is known, and what I saw, there appears to be very little SUBSTANTIAL property damage. But professional propagandists never let the facts get in the way of the story they want to tell, the perspective they want to sell, so this was an event I used to watch and learn from a media organization controlled by a man believed by many, to be the world's reigning propagandist.
People need to pay more attention to who they're going to listen to, to provide them with information and context about the world in which we live. The information sources they choose inevitably influence their view of the world, who they choose to represent them, what public policies they want pursued and how they go about conducting their lives.
The graphic at right is a quote from author of the book entitled 1984 - George Orwell - in his book Homage to Catalonia published in 1938. In it he said,
"One of the most horrible features of war is that all the war-propaganda, all the screaming and lies and hatred, comes invariably from people who are not fighting."
Pay Attention to the Changing Murdoch Media Narrative
Can the Real Terrorists be Found in Murdoch's Fear Mongering Media Empire?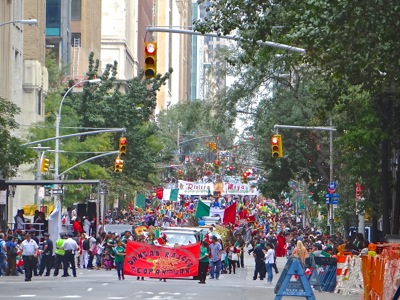 Given that folks were out and about on Sunday, less than a day after the explosion, I began pondering whether it's media outlets like those owned by Keith Rupert Murdoch that are responsible for terrorizing the citizens of New York - and the nation - by continually repeating fear-inspired storylines / narratives?
It seemed the bomber had already failed to terrorize us in New York City, where the bomb exploded, given the fact that so many of us were out and about only hours later. In the photo at right are marchers in the Mexican Day Parade.
But Murdoch's manipulative media machine looks like it went into overdrive by broadcasting, webcasting and printing fear-inspired stories. Thus,perhaps the bomber may yet succeed in terrorizing us, with the help of Murdoch's media fear mongering machine.
Media Mogul Calculus: Terror or War = High Ratings Worth $$$ Billions &
Since Taxpayer Funds Most Production Costs of War / Show = Even Higher Profits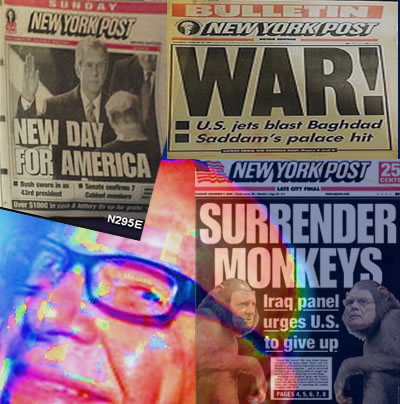 The Iraq War in 2003 was like fresh new free money, because Murdoch's organization could sell pricey TV ads for increased news ratings, while the bulk of the costs of staging the 'news programming' aka the Iraq War, was provided free to Murdoch's organization, compliments of the American, British and Australian taxpayers.
Based on the recent financial performance of Murdoch's organizations, his flailing media outlets appear to be in need of this sort of low cost [to Murdoch's media empire], high ratings programming.
Trillion(s) Spent on Iraq War Because of Phony, Media-Hyped, 'Weapons of Mass Destruction' Threat
In 2002 - 2003 Murdoch's organization appeared to use this same sort of hyping and sensationalizing of Sadam's 'weapons of mass destruction' to monger fear in America, Britain and Australia so the nations would go to war against Iraq.
Only later did we find out that there weren't, in fact, any weapons of mass destruction and that it was all media and political hype used to get us into the war. Once embroiled in the war, it cost well over a TRILLION DOLLARS, and by some accounts - we're still not completely out. In the graphic at right are just a few of the strident headlines published in Murdoch media.
Those Who do Not Learn from History are Doomed to Repeat it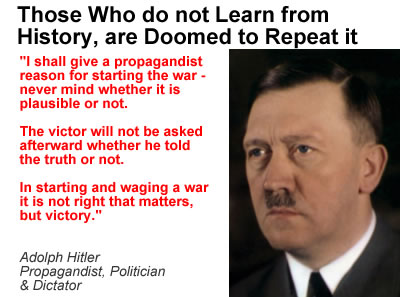 In researching propaganda, I couldn't help but encounter propagandist works and statements made by propagandists Adolph Hitler and Joseph Goebbels. I recall as a youngster wondering how Hitler came to have so, so much power. Only now do I understand, as it appears Hitler accumulated his power insidiously, by conducting mass marketing campaigns of deception, disguised and packaged in with information, facts and news.
Does Fox Disinform - So Murdoch can Decide?
Fox viewers have been found not only to be less informed, but actually disinformed, on subjects ranging from healthcare, to science, to international affairs.
Media Matters informs us that studies to this effect have been conducted by Kaiser Health, Ohio State University researchers, Program on International Policy Attitudes, Stanford University and the National Science Foundation, University of Maryland's Program on International Policy Attitudes, Farleigh Dickinson University and an NBC / Wall Street Journal poll before Murdoch acquired the Wall Street Journal.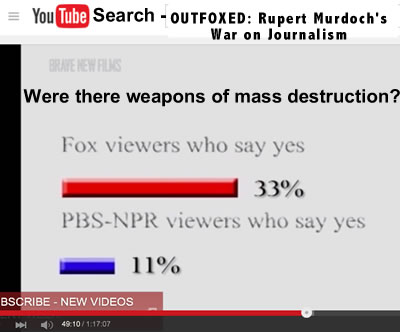 As you can see in the graphic at right, a poll which was included in a documentary entitled OutFoxed: Rupert Murdoch's War on Journalism, shows that Fox viewers tended to be more ill-informed than their PBS media peers.
You can click into the graphic which will take you to the video, but we reference and link to it again later in this story where we highlight a piece in the video that proves the point and is funny in a twisted Murdochian way.
Click here to view a prior piece we did on what appears to be Rupert Murdoch's assault on democracy which takes you deeper into what appears to be a long history of the billionaire media mogul's influence on electoral outcomes.
In June of 2016 Murdoch's media organization seemed to provide its readers / voters the same sort of bad advice with their advocacy in favor of Brexit or exiting the European Union. We'll have a bit more on this later.
Click here to read the rest of our report about what appears to be Rupert Murdoch's manipulative use of his media assets.
---
1359
What's Behind NY Post's Media Hazing of Mayor?
Will Billionaire Rupert Murdoch Profit from NY Post Attack Stories?

Updated May 13th / May 1, 2016 / Manhattan Neighborhoods / Manhattan Politics / News Analysis & Opinion / Manhattan Buzz NYC.
The NY Post's incredible barrage of attack stories on NYC Mayor de Blasio this past month led me to believe that something was amiss.
Is the NY Post Misinforming the Public?
After a month long barrage of attack (ads?) stories regarding the Mayor's campaign funding, someone reading the NY Post might come away believing that Mayor de Blasio had already been convicted on numerous counts of breaking the law. As you will see later in this story, this would not be the first time the Murdoch organization's audience was not just uninformed - but rather misinformed.
In America, we still have a choice of who provides us with our information, so that said, if one read a newspaper that generally conforms to the professional standards of American journalism, like the New York Times, they would know that,
"It is not clear how direct a role, if any, the mayor played in some of these matters." - NYT April 29, 2016
Infomercials Presented as News?
Murdoch's organization publishes and broadcasts 'news' accounts that appear to make significant departures from the professional standards of American journalism. I began thinking that Rupert Murdoch has found a way to skirt campaign finance laws, because many of Murdoch's organization's 'news reporting' seems more like long-winded political infomercials than anything resembling a 'fair and balanced' news report. This is especially disconcerting given that Murdoch's $60 billion plus in revenue media companies include the NY Post, Fox News, The Wall Street Journal and dozens more media properties in America and hundreds worldwide.
Just Because They Say it's So, Doesn't Mean it's So
The NYS Board of Elections says,
"Independent Expenditures Do Not Include Expenditures in Connection with... A written news story, commentary, or editorial or a news story, commentary, or editorial distributed through the facilities of any broadcasting station, cable or satellite, unless such publication or facilities are owned or controlled by any political party, political committee or candidate ..."
Has Murdoch's organization found a way to skirt campaign finance laws by making huge, undisclosed, payment-in-kind, independent media expenditures in support of their preferred candidates while attacking their political opponents in order to push a self-interested Murdoch agenda, by running infomercials and attack ads as news stories?
Does this practice enable The Murdoch to become a string-pulling unelected politician himself, and put him in a position to make Murdoch organization supported candidates, political puppets?
Rupert's NY Post Goes After Mayor like Rabid Dog
There were 80 stories published about the Mayor by Billionaire Media Mogul Keith Rupert Murdoch's NY Post in the first 24 days of April.
That's more than three stories per day - and not a single one was positive [a few were neutral]. The stories were authored by 20 reporters, some of whom shared the bylines. This is the equivalent of having the entire editorial staff of a medium-sized American daily newspaper, working full time on publishing stories about just one government official.
I'm pretty sure that the Washington Post didn't dedicate this kind of resource to covering the Nixon Watergate scandal in the early 1970's. It seems like overkill, which is generally indicative that something is not right.
I say "not right" because it has been my experience that this kind of overzealous attack oftentimes reflects more upon the prosecutor than the prosecuted. As Shakespeare said, "I think the Lady [Murdoch] doth protest too much."
Abusive, Power-Hungry Media Moguls in Film - 1941 & 1997
While working on this story I found some parallels to the 1997 James Bond movie, Tomorrow Never Dies. In the movie, Eliot Carver is an evil media mogul who uses his printing presses and television stations to hype a war between Britain and China so he can drive up the ratings of a new satellite network and other news properties, AND claim exclusive broadcasting rights in China in exchange for helping a General conspire to become Chinese President.
Just five years later, in 2002, the NYT published a piece which they entitled 'Mr. Murdoch's War' which was about how stridently Murdoch urged the U.S. and Britain to go to war in Iraq, which we'll discuss in more detail later in this story.
During my research a character profile of multi-billionaire Murdoch began to emerge that was something right out of the film Citizen Kane. Kane was portrayed by Orson Welles in the 1941 film as a self-involved, self-interested, power-hungry media mogul.
It's worth noting that 1941 was the same year that the FCC capped TV media ownership by a single person / entity at 35%. Some pundits allege that the FCC ownership limit rule was overturned in 2002, because of behind-the-scenes influence exerted by Rupert Murdoch. I'll provide some more detail about the FCC changes a bit later in this story.
The image to your right shows a listing of the barrage of NY Post stories, based on allegations and innuendo, attacking Mayor de Blasio in just three days of April of 2016. The barrage of attack coverage in the NY Post has more the character of a propaganda machine, than a real news outlet that conforms to the American standards of journalism.
Click this link for the rest of Story & Video About how Murdoch's NY Post appears to be used as propaganda machine working to oust the NYC Mayor.
---
Clinton Defeats Sanders, Trump Defeats Rivals
Clinton 58% vs Sanders 42%; Trump 60% vs Kasich 24% & Cruz 15%
April 20, 2016 / Manhattan Neighborhoods / Manhattan Elections / Manhattan Buzz NYC.
Bernie Sanders has been campaigning in New York the past week, drawing large crowds ranging from thousands to tens of thousands, as if he were a rock star. But on Tuesday, the voters weighed in and handed Hillary Clinton a convincing victory, helping her widen her delegate lead, and likely put her on the path to the Democratic Party nomination.
Democratic Delegate Count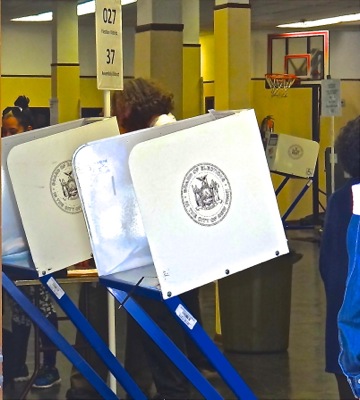 To win the Democratic Party nomination, a candidate needs 2383 delegates of 4763 total. Within that total there are 712 super delegates, who can align themselves / vote for whomever they want but there's pressure to vote in favor of the direction that the state voted. The remaining 4051 delegates are won via the voting process and are called pledged delegates.
According to the Associated Press estimate, following the NY State win Hillary Clinton now has 1428 pledged delegates and 469 super delegates, while Bernie Sanders has 1151 pledged delegates and 31 super delegates. There are 1472 pledged delegates remaining, so to win a majority of pledged delegates, Hillary has to win 598 or 41% of the remaining pledged delegates, while Bernie has to win 874 or 59% of them. Clinton has already received commitments from more than half of the 'super delegates'.
Given Sanders is generally still behind in the polls in some of the larger remaining states [behind 16% in Pennsylvania and behind 8% in California], that seems a tall order. While the polls were dead wrong in Michigan, they were spot on in New York. The Sanders campaign told a news outlet Tuesday evening that they will see how they do in the contests this coming week and then evaluate their chances going forward. The Democratic Convention has been scheduled from July 25 - 28, 2016 in Philadelphia.
Republican Delegate Count
Meanwhile on the Republican side there wasn't much news. Trump won handily defeating Kasich and Cruz. The Republicans have 2473 total delegates and 1237 are needed to win. According to the Associated Press estimate, following the NY State win, Trump has 845 delegates, while Cruz has 559 and Kasich has 147.
Trump needs 392 more delegates [about 40%] to go uncontested to the Republican Convention. There are 992 delegates remaining, but according to CBS only 674 delegates are available in the remaining voting contests prior to the Convention. So Trump may have to win 60% of the remaining unpledged delegates to go to the Convention uncontested. The Republican Convention is scheduled for July 18 - 21, 2016 in Cleveland.
The voting contests next week include Pennsylvania, Connecticut, Maryland and Delaware.
The fat lady hasn't yet sung, but it is beginning to look like a Clinton / Trump race to the White House.
---