nyc things to do manhattan brooklyn queens bronx staten island things to do events nyc
Neighborhoods Of Manhattan
News About Manhattan Neighborhoods
June 2022 / Manhattan Neighborhoods / Manhattan Buzz NYC.
This section includes information about the neighborhoods in Manhattan NYC, including the Upper East Side UES, the Upper West Side UWS, Midtown Manhattan, the Village, SoHo, Tribeca, the Lower East Side LES, Downtown Manhattan and Harlem.
Click here to read more about Manhattan Neighborhoods NYC.
---
manhattan neighborhoods nyc midtown upper east side nyc east village west village manhattan nyc

---
1160 - Add Back Foto Post Migration
Free Things To Do In Manhattan - Free Summer Theater & Shakespeare in the Park
Free Theater In Manhattan Parks - Upper East Side UES, Upper West Side UWS, Midtown, East Village, West Village, SoHo & Tribeca NYC
July 27, 2022 / Manhattan Neighborhoods / Manhattan Theater Theatre District / Manhattan Things To Do / Manhattan Buzz NYC.
This report includes a list of some of the free things to do in Queens this summer.
Click here to view a listing of the dates and times of free things to do in Manhattan - free theater in Manhattan parks.
---
1388
NYC March For Our Lives in Manhattan
Tens of Thousands Protest the NRA & Gun Violence
March 27, 2018 / Midtown Manhattan Neighborhood / Manhattan Social Issues / Manhattan Neighborhoods / News Analysis & Opinion / Manhattan Buzz NYC. By Michael Wood.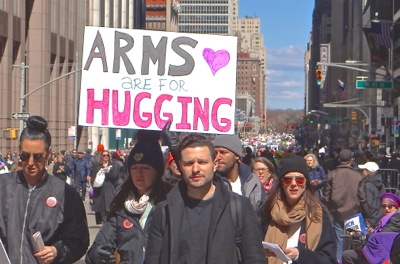 The March For Our Lives protest started at 11 am on the Upper West Side of Manhattan at 72nd Street and Central Park West. Not coincidentally, this was just steps away from the Strawberry Fields Memorial in Central Park honoring musician / poet John Lennon of the Beatles, who was murdered by a lunatic with a gun.
The March For Our Lives protests were organized and led by students around the nation, with support from a wide range of people in all other age segments of the population. Frequently the Columbine shooting in Littleton, Colorado on April 20, 1999 is cited as the first of these sorts of mass shootings in schools, although a check into mass shootings in Wikipedia, shows that America has a 200 year history of mass shootings, including some of which took place in schools before Columbine.
Fox Fake News Appears to try Discrediting Protesters with False Narrative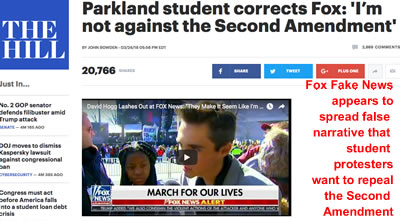 If you watch Rupert Murdoch's Fox News you might come away with the impression that the students are trying to revoke the Second Amendment. But based on conversations with some of the marchers and in reviewing other media accounts, this seems to be another Murdoch Mouthpiece Fox Fake News narrative.
But while the students and the March For Our Lives protest wasn't about repealing the Second Amendment, some members of the left, such as Bret Stephens of the NY Times did make a call for Second Amendment repeal in two editorials - one dated October 5, 2017 and the other dated February 16, 2018. Murdoch's Fox Fake News mouthpieces torch the possibility of a national conversation by misinforming their ill-informed audience that the NY Times and Op Ed writer Bret Stephens speak for everyone. What they don't realize is that the America that gets their information outside of the Murdoch Fake News FoxHole is intelligent enough, and adult enough, to have a real conversation about gun ownership and the Second Amendment.
Is the NRA Lobby Out of Control & In Control?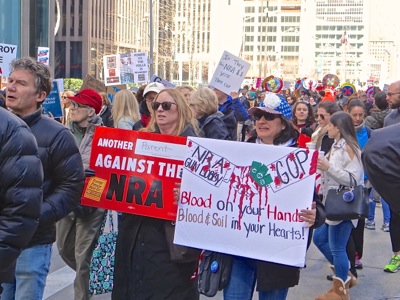 From what I could gather the students seem to have identified and coalesced around tangible changes to reigning in what appears to be an out-of-control gun lobby - the NRA. The firearms industry used bump stock technology to circumvent the unlawful possession of machine guns by providing stocks. And the gun lobby as recently as a few months ago, was pushing to 'deregulate' silencers on guns. Both of these laws - regulating machine guns and silencers - began with the National Firearms Act of 1934. At that time criminal violence by mobster gangs was the order of the day. And it appears that it's just as true today as it was back then - that if you allow guns to be put guns in the hands of lunatics, then murders and criminal violence is what you get.
A mid 2017 poll by Gallup showed that 60% of Americans were in favor of making gun control laws more strict, 33% were in favor of keeping them about the same and 5% wanted to make them less strict. The trend toward favoring more gun control has been going on since 2011 [see chart]. Apparently the politicians we send to Washington do not represent the majority so much as the NRA, and sending a swamp monster to clean up the swamp, is at best delusional. President Trump after opining that more gun control would be good, backtracked, appearing to have caved to the very powerful NRA lobby in Washington.
---
1342
Manhattan Holiday Events - Manhattan NYC
Christmas Tree Lightings, Hanukkah Menorah Lightings, & Kwanzaa Candle Lightings in Manhattan & Holiday Markets & Events NYC
December 18, 2021 / Upper East Side UES / Upper West Side UWS / Midtown NYC / East Village & West Village / Tribeca SoHo Bowery / Holiday Events & Holiday Markets - Kwanzaa, Hanukkah & Christmas Holidays in Manhattan / Manhattan Buzz NYC.
*** Be sure to visit our Manhattan holiday markets NYC page, as it contains related holiday events with a shopping element to them.
*** For links to holiday events and markets in all five boroughs of NYC scroll down to the bottom of this report.
EDITOR NOTE. While it seems we've turned the corner on the CoVid pandemic, it's after effects still linger. Hence a number of holiday events we saw in 2019 may not yet return in 2021 for reasons related to CoVid, or possibly finances. So while they may not return this year, they might make a comeback next year.
How The Manhattan Holiday Events Page on this Page are Organized
These holiday events in Manhattan are organized as follows:
1. BY NEIGHBORHOODS OF MANHATTAN
2. BY DATE
Watch carefully as some locales have multiple dates, and all dates for a given locale are shown at the time the venue is first listed.
3. ALL OF THESE ARE FREE UNLESS FEES ARE SPECIFIED.
Manhattan Holiday Lights, Christmas Tree Lightings, Hanukkah Menorah Lightings, Kwanzaa Candle Lightings Background
The holidays are a special time of the year. In ancient times there were harvest celebrations to give thanks and enjoy the bounty after a long growing and harvesting season aka a year of work.
Holiday lighting festivals and ceremonies have been on the rise in Manhattan in recent years. While some date back many years, some are fairly new.
Attending holiday lightings alone, with friends or with the kids gives folks a chance to enjoy their own cultural heritage and provides an opportunity to learn a bit more about and share in the cultural heritage of others.
Each lighting is a bit different, as some are orginated by the community, some by businesses, some by religious organizations, and a few have arts organizations behind them. Please feel free to send us a notice of your holiday lighting event if it's not posted herein.
Manhattan Holiday Events & Holiday Markets Now Underway
This is not meant to be a complete list, but rather a list of the holiday lighting events. The holiday lighting events are organized individually by each Manhattan neighborhood including the Upper East Side UES, the Upper West Side UWS, Midtown NYC, the East Village, the West Village, the Bowery, SoHo, Tribeca and more to come. Many include the serving of some beverage like hot chocolate and generally some snack like cookies.
---
De Blasio Wins 2nd Term by Landslide
Nationally Democrats Pick up New Jersey & Hold onto Virginia
November 8, 2017 / NYC Neighborhoods / NYC Politics / Gotham Buzz NYC.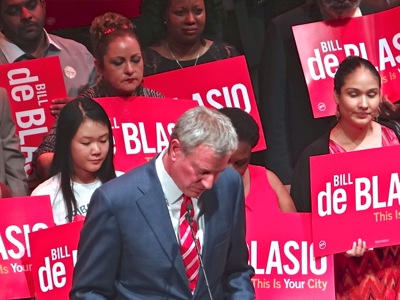 City-wide & Borough-wide Offices. Mayor de Blasio won a decisive victory against Republican challenger, Assemblywoman Nicole Malliotakis, on Tuesday by winning nearly 67% of the vote.
In fact it was a landslide for nearly all incumbent Democrats who won by comparably wide margins, including Letitia James for Public Advocate (74%), Scott Stringer for NYC Comptroller (77%), and all five Borough Presidents including Gale Brewer (Manhattan - 83%), Eric Adams (Brooklyn - 83%), Ruben Diaz (Bronx - 88%), Melinda Katz (Queens - 78%) and James Oddo (Staten Island - 75%).
Mayoral Election Results by Borough. De Blasio won four of the five boroughs by wide margins including roughly 5:1 in the Bronx, 3:1 in Manhattan and Brooklyn and approaching 2:1 in Queens. Malliotakis won her home borough of Staten Island approaching 3:1. Staten Island has a significantly smaller population than the other four boroughs as it has only between 20% and 30% the population of any of the other boroughs.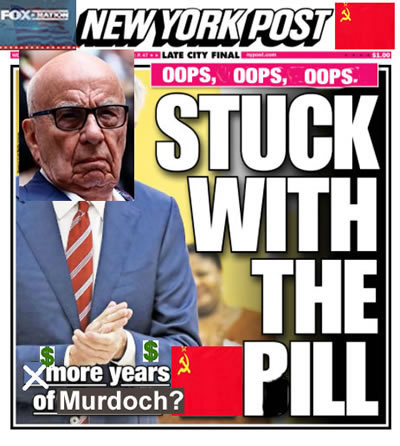 Trump Referendum & Job Performance Approval. Several pundits speculated that in a city where Democrats outnumber Republicans six to one - this was an NYC referendum on the Trump presidency. This may be so, but some mention should also be given to how well NYC is performing vis a vis other cities in terms of jobs creation, improving performance in the public schools, fiscal management and low crime rate.
New Jersey Governor Race. On the national front, newcomer Phil Murphy (D) beat Lieutenant Governor Kim Quadagno (R) in the governor race in New Jersey. Murphy received 55% of the vote while Quadagno received 43% of the vote. Murphy will replace Chris Christie (R) who has an approval rating of 19%. In exit polls, 11% said they cast their votes in support of Trump, while 32% said they cast their votes in opposition to Trump.
Results for the Three NYS Proposals on Ballot. The first Proposal - to change the NYS Constitution - lost overwhelmingly with 83% voting NO. The second Proposal - to take away pensions of some government employees found guilty of some crimes - won overwhelmingly with 73% voting YES. And the third Proposal - to allow some 'development' in public parks won in a close vote - 52% vote YES while 48% voted NO.
Virginia Governor Race. In Virginia, the latest polls were once again off significantly, predicting a tight race that wasn't. Democrat Lieutenant Governor Ralph Northam won 54% of the vote while Republican Ed Gillespie who was the former Chair of the Republican National Committee won 43% of the vote. Gillespie won the rural parts of the state, while Northam won the urban areas. Gillespie was reported to be using Trump-style campaign tactics to win the race, but from Japan, Trump distanced himself from Gillespie's loss.
We Elect Pols but Not Publishers. In the graphic at right, you can see the pill face of the unhappy Billionaire which I superimposed over the face of the Mayor. The power-hungry, media mogul's outlet had published the headline 'Stuck with the Bill' - which he published in defiance of the two-thirds of the NYC voters who came out to re-elect the Mayor. He appears to be working toward conquering the U.S. so he can make us a 'Fox Nation', like he did Australia.
We don't get to elect publishers, but every time you purchase one of his papers, or click into his TV stations or websites, you are indirectly supporting him [NY Post, Fox News, WWOR Ch9, WNYW Fox Ch5 and the WSJ]. Some of the people in his organizations do good work, but many of those he puts front and center, appear to be highly paid propagandist mouthpieces who push what appears to be his greedy, deceitful, power-grabbing agenda. The story below provides more detail.
---
NYC Marathon Streamed Thru Manhattan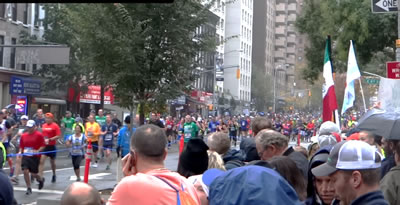 November 13, 2017 / Upper East Side Neighborhood / Manhattan Neighborhoods / Manhattan Parks & Sports / Manhattan Buzz NYC.
On Sunday, November 5th the NYC Marathon came streaming through Midtown and the Upper East Side of Manhattan.
Over 50,000 runners completed the 26 mile run from Staten Island over the Verrazano Narrows Bridge through Brooklyn and Queens. They ran north along First Avenue on the Upper East Side [see photo at right] and crossed the Willis Avenue Bridge into the Bronx and did a U-turn crossing back over the Third Avenue Bridge before coming down south along Fifth Avenue and ending in Central Park on the southwest corner of the park.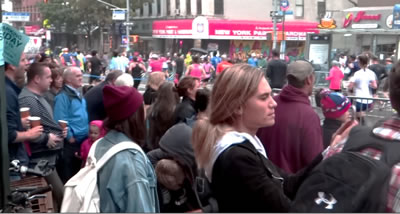 The average time it took the runners was four hours and 39 minutes. Given many had left Staten Island at times ranging from 7 to about 10 am, this put the average crossing the finish line sometime between about noon and 3 pm. Many took longer, but as we all know, they are to be applauded for their hearty endurance.
I met one man while taking the subway uptown who told me he had run many a NYC Marathon, but had injured himself while prepping for this one. Nonetheless, he had friends who were running in it and so he was going to hop in the run in the Bronx and run down to Central Park with them before hopping out again. He said that to him the NYC Marathon day was the best day in New York City.
The first NYC Marathon was run in 1970 with 55 runners in Central Park organized by Fred Lebow and Vince Chiappetta. In 1976 they expanded the course to the streets of NYC and in 2016 the NYC Marathon had grown to become the world's largest marathon with over 51,000 finishers running the five borough course.
---
NYC Mayoral Debates Fall 2017
Dietl Effervesces, Malliotakis Attacks & de Blasio Defends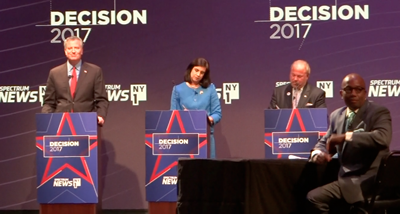 October 15, 2017 / Upper West Side Neighborhood UWS / Queens Politics NYC / News Analysis & Opinion / Gotham Buzz NYC.
I attended the Mayoral Debate at Symphony Space on Tuesday, October 10th, where former NYC Detective [1970 – 1985] and security firm businessman Bo Dietl [Independent], New York State Assemblywoman Nicole Malliotakis [Republican Staten Island] and Mayor Bill de Blasio [Democrat] squared off for one of two general election debates. The debates are sponsored by the New York Campaign Finance Board and are a requirement for those candidates who receive matching funds.
NYC Mayoral Debates - Opening Statements
Each candidate came out and made opening statements. Bo Dietl talked about his time working the streets as a policeman in the 1970's and 1980's and how since then he has run a successful security firm that also employs minorities. He described his two opponents as Column A and Column B candidates.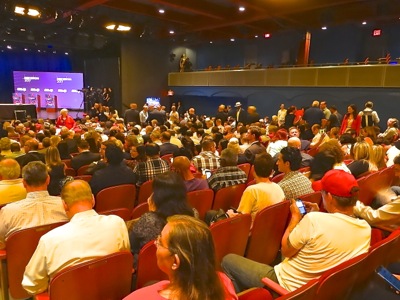 Nicole Malliotakis told us how she is the first member of her family to obtain a college degree and a Masters of Business Administration and that she is the 'American Dream'. She went on to say she would fix our schools, transit system and homelessness.
Bill de Blasio said that his two opponents were both right wing Republicans and that he was the only one that would stand up to Trump. He went on to say that crime is down, test scores at NYC public schools are up, but that there's more to do and he needs New Yorkers' help to continue making progress.
There was a small, but very boisterous minority of rude and disruptive people in the audience, who began their noisy tirades with the opening statements. It wasn't until near the end of the program – that one of [several of] the loudest shouters and screamers was finally escorted out.
Click here for a fairly full recount of the NYC Mayoral Debates with Malliotakis, Dietl & de Blasio.
---
Election 2017 Tuesday 11/7 - Please Vote
November 5, 2017 / Queens Neighborhoods / Queens Politics & Government / Queens Buzz.
The New York City general election is this week, Tuesday November 7th.
The polling booths will be open from 6 am to 9 pm Tuesday.
To find your poll location click on the graphic at right.
Once on the website, input your address, and then click the small icon to the right of it to get the results of the search. I hope the NYS Board of Elections does better cyber security on their voting systems than they do web design for this site, as the tiny arrow mentioned above is easily overlooked.
NYS Ballot Propositions - Vote Tuesday
There are three Referendums on the Ballot.
Proposal I
Calling A State Constitutional Convention
This is where it appears that all the lobbyists would re-write the NYS Constitution to favor them and their interests, and screw the general public aka you. Their argument is to streamline government, but democracy works slowly for a reason - as it takes time for the general public to become aware of issues and then to organize in time for a proper vetting. That's why our Founding Fathers included so many checks and balances in the system - to give us - We The People - time to react.
I recommend voting NO.
Proposal II
Forfeiture of Public Officer's Pension if Convicted of Felony
This is where a public official who's found guilty of a felony that violates the public trust, loses their pension. This is targeted only at a certain class of government officials - not all of them. Voting Yes, mitigates the effort to expand the scope of government officials covered. It seems an unfair application of the law and I don't know who drafted this or why they limited it.
I have no recommendation.
Proposal III
Authorizing Use of Forest Preserve Land for Specified Purposes
This is what looks like the creation of a first opening for development in the Adirondack and Catskills parks. It's not specific to any identifiable project and open ended, which looks like giving government officials / developers a blank check. Each project should be evaluated on its own merits.
I recommend voting NO.
---
Farmers Markets & Street Fairs in Manhattan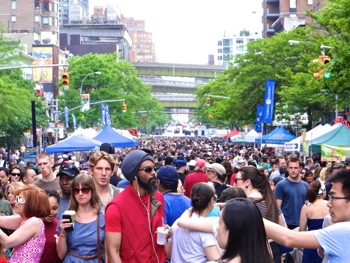 September 15, 2017 / Manhattan Farmers Markets / Manhattan Street Fairs / Manhattan Buzz NYC.
Many Manhattan farmers markets are open year round, but there are also a number of them that are seasonal. Some of the seasonal Manhattan farmers markets begin opening in the Spring, with nearly all of the rest of them opening no later than the first two of weeks in July. Click here to view the schedules of many of the farmers markets in Manhattan.
Manhattan street fairs are entirely seasonal, with some of them hitting the streets in early April. Manhattan street fairs rise markedly during the spring and lighten up a bit during the dog days of summer [July / August], and rising again in the fall. By the end of November most of the Manhattan street fairs go on hiatus. Click here to view a full schedule of Manhattan street fairs. Click here for Bronx street fairs.
---
1372
The Tribeca Film Festival & Cinematography
Cinematographer Ellen Kuras Talks about the Cinematic Arts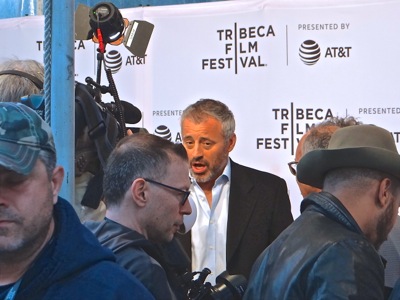 May 8, 2017 / Tribeca Neighborhood & Chelsea Neighborhood / Film in Manhattan / Manhattan Buzz NYC.
I attended the 16th Annual Tribeca Film Festival, which ran from April 19th through April 30th this year. Last year I visited and reported on some of the interactive storytelling exhibits, so this year I decided to attend one of the lectures. The one I chose, was given by Cinematographer and Director Ellen Kuras, who talked about the cinematic arts.
After picking up my press pass at the Tribeca Film Festival hub at Spring Studios, I took the subway uptown to the School of Visual Arts in Chelsea on West 23rd Street. There was a line beginning to form, as the event was free to the public. My press pass didn't provide me with any advantage vis a vis the general public, so I waited along with many of the early attendees who wanted to be sure not to miss the lecture.
Tribeca Film Festival Lecture: Ellen Kuras - Cinematographer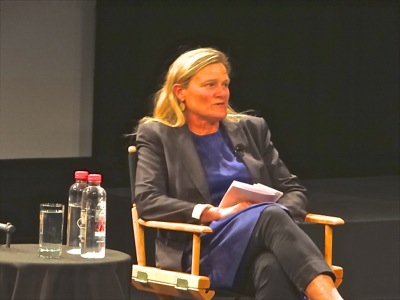 Once inside the theater filled quickly. Ellen Kuras came out and took a seat on the stage. Kuras has a disarming demeanor and it wouldn't have been difficult for me to believe that I was sitting there with her alone, with nobody else in the room.
Ellen Kuras is an accomplished Cinematographer and has a bit of her own story to tell … which she did, but which I also researched online after the lecture, because her personal story caught my interest.
Kuras Education & Directorial Debut
Kuras studied Anthropology & Semiotics in college at Brown University. Anthropology is the study of man from a cultural, institutional and normative perspective, while semiotics is the study of communication, specifically focusing on communicating meaning through allegories, symbolism, metaphor, analogies and other methods. After college Ellen went on to study photography at the Rhode Island School of Design and filmmaking in New York.
Kuras started her career working on a film about a Laotian who had immigrated to New York, after fleeing war torn Laos in the 1970's. It's a narrative with flashbacks that mix historic footage in with the narrative, providing the film with dramatic realism and moving force. Kuras began the film around 1985, but would not finish it until 2008.
Kuras' Worked with Spike Lee, Martin Scorsese, Christine Vachon, Julian Schnabel & Many Other Top Names in the Film Making Industry
Ellen's career includes numerous collaborations with Spike Lee, Martin Scorsese, Christine Vachon Julian Schnabel and many others. She's a member of the contemporary film making avant-garde, pushing the envelope to bring real or important artistically told stories about contemporary issues - alive.
Click here to read more about Ellen Kuras at the Tribeca Film Festival talking about the art of cinematography.
---
NYC Crime Continues To Drop, Breaking Records
Mayor de Blasio & NYPD Discuss City Safety & Ongoing Improvements
February 7, 2017 / Manhattan Neighborhoods / Manhattan Government / Manhattan Buzz NYC.
This just came in on the heels of our coverage of the Public Safety discussion below. Mayor de Blasio and NY Police Commissioner O'Neill spoke in the Bronx regarding ongoing efforts and results in improving safety in the city. The following are some of the crime statistics noted in their meeting taken directly out of a press release sent by them.

Chief of Crime Control Strategies Dermot Shea, NYPD: Thank you, Mr. Mayor. Good afternoon, everyone. As you've heard, we have begun a strong start to 2017 in terms of overall crime reduction. Strategies that have been put in place to address repeat offenders, illegal gun possession and gangs are having the desired effect. We're building on the momentum of the last few years.
So, some of the highlights for crime statistics from this January – overall index crime is down 0.2 percent for the month of January. When you carry it over to this morning, we are now down 2.7 percent in overall index crime in New York City.
To note – with the overall index crime, January marks the tenth consecutive month of reduced index crime. That's the momentum we've been talking about. Currently, four out of five boroughs in New York City – all but Queens – are down to start the year.
Homicides – we recorded 20 homicides in January. That's down two from 22. That 20, as the Mayor alluded to, is the lowest January that we have ever recorded going back a minimum into the 1960s.
Shooting incidents – down 1.7 percent in January. Last January we hit the modern mark with 59 shooting incidents. We came in with 58 this January.
Talking about momentum again – nine of the last 13 months we've had a reduction in shooting incidents. Nine of the last 13.
Three months in a row we've had a reduction in shooting incidents in New York City. We have now, when you look at New York City as a whole, we now have 24-hour periods where we do not record a shooting incident in New York City. That kind of thinking was impossible in the not too distant past.
This is the new normal. We want to build on it and we feel that we will build on it but there's still plenty of work to do.
Stabbings and slashings for January – down 7.2 percent.
Robberies – down 7.5 percent. Lowest January robbery number we've seen.
Felony assaults in New York City – down 5.4 percent.
Burglaries tied the lowest mark set last year.
Transit crime – down 1.4 percent.
And housing crime – not to be outdone – down 1.9 percent.
Clearly, a wide breath of crime across New York City – property and violent crime, down.

But there is, I alluded to, there is still work to do – three categories we saw increases in January.
Grand larceny, specifically, credit card related skimming and forging of checks – those two drove grand larcenies. And grand larceny was up for the month of January 4.7 percent.
And lastly, rounding out the crime totals – stolen vehicles which we have seen drop to unprecedented lows saw an increase of ten cars for January. So, that's 480 versus 470 – a two percent increase.
Commissioner O'Neill: Okay, thanks, Dermot. We'll take your questions.

Question: Do you think it's possible, really to keep driving crime down further at this point? And how could you achieve that?
O'Neill's response was yes, with some added context.
---
Hundreds of Thousands March in NYC
Women's March Appears to Approach 21st Century NYC Protest Record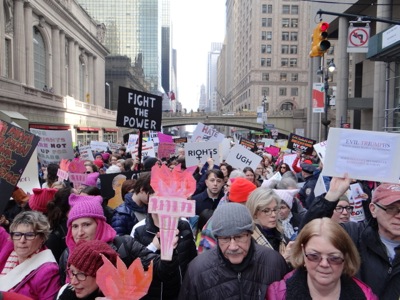 January 21, 2017 / Midtown Manhattan Neighborhoods / Manhattan Government & Politics / Manhattan Buzz NYC.
I headed into Manhattan around noon on Saturday. The #7 subway line was packed, even more than during rush hour on a weekday morning. There were protesters wearing pussy hats, bearing protest signs and placards, and generally in pretty good cheer as they headed into Manhattan for the Women's March in NYC.
I got off the subway at Grand Central Station along with the crowds of protesters, and made my way up to the 42nd Street exit. Out on the street there was a moving mass of marchers making their way down to Fifth Avenue where they would turn north to march up to Trump Tower along Fifth Avenue at 57th Street.
I have to admit I was surprised by the massive turnout. One person told me that over 50,000 people had signed up for the event on Eventbrite. But it would become obvious to me as the day wore on that the crowd had easily exceeded that number.
The event was planned to begin at 11 am in Dag Hammarskjold Plaza at Second Avenue and 47th Street. There would be a few speeches, followed by a march down Second Avenue to 42nd Street, then west to Fifth Avenue and then north up Fifth Avenue ending at Trump Tower at 57th Street. It was scheduled to end at 4 pm and waves of protesters had been choreographed to leave Dag Hammarskjold Plaza in 15 minute intervals.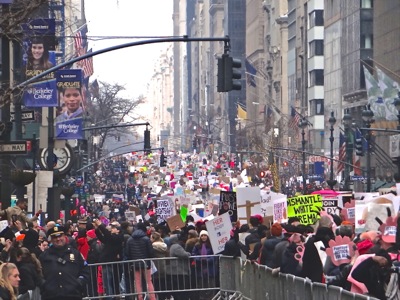 I had listened to Donald Trump's Inauguration speech the day before [Friday] and there didn't seem to be anything in there that struck me as very objectionable if one didn't read anything into it. So I kind of thought the march might be a bit premature given he'd just assumed office and hadn't really done anything yet.
I asked one woman if I had missed anything in Trump's speech, that she / others found objectionable. She told me no, he hadn't said anything objectionable, but she went on to say that she didn't believe anything he said. I asked another woman why she'd come out to protest today. She told me that she wanted to stand with other women in making a statement to Trump that they weren't going to passively stand by and allow him or the Republican Party to roll back their hard fought equal rights.
There was a festive mood throughout the day. I occasionally asked policemen keeping the peace how things were going. Many smiled and said it was going well and that they hoped it would continue that way.
I'll have more on this, including some details of how the protest morphed throughout the day, as well as a photo slide show and some video, sometime in the next week.
---
NYPD Commissioner O'Neill on Safety & Cybercrime
City & State Organizes Informative Program About Public Safety in NYC & Cybercrime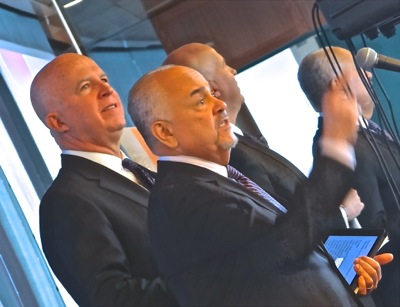 February 6, 2017 / Battery Park NYC / Crime & Safety in Manhattan Neighborhoods / Manhattan Buzz NYC.
I attended a City & State program dedicated to exploring the many facets of community safety in New York City. The program started with a half hour speech by the new Police Commissioner, James O'Neill. He discussed his background which includes a long line of successive promotions in law enforcement, starting with the transit police in Brooklyn in 1983.
Background: NYPD Commissioner James O'Neill
O'Neill has held many positions, including taking charge as the commanding officer of the Vice, Narcotics and Fugitive Enforcement Divisions - each for a period of time. His most recent position was as Police Chief, during which time he oversaw the management of the neighborhood policing program. The neighborhood policing program was implemented in 2014, during Mayor de Blasio's first term, with the intent to build relations and trust between the police and the communities they serve. The concept is that if the community works with the police to ferret out and penalize the perpetrators, crime will continue to stay at all time lows.
Neighborhood Policing: Intelligent Approach to Safety That Works?
Part of the problem with past police / community relations is that most of those interactions with the police came with a negative connotation to them, for example as when being ticketed, or picked up for bad behavior.
The idea with neighborhood policing is to develop positive interactions by facilitating interactions between individual officers and individual members of the community, so that if and when the time comes, there's enough trust between the officer and community member to work collaboratively to round up and penalize law breakers.
O'Neill's speech was followed by a forum of four experts who have had some involvement in the governance of law enforcement in NYC. The panel included NYC Councilman Jumaane D. Williams of Brooklyn who is the Chairman of the Committee on Housing & Buildings, Elizabeth Glazer who is the Director of the NYC Mayor's Office of Criminal Justice, and NYS Assemblyman Joseph R. Lentol who is the Chairman of the NYS Assembly Committee on [criminal] Codes. The panel was moderated by City & State Features & Opinions Editor, Nick Powell, who has been covering crime in New York for many years.
Stop 'N Frisk - The Facts vs the NY Tabloid Hype?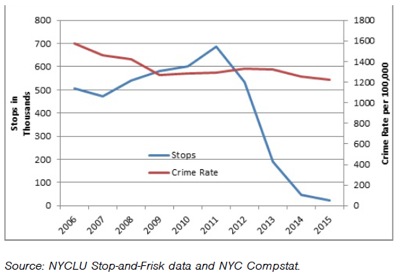 The panel explored numerous aspects of public safety in NYC, including a number of the successes NYC has been having with neighborhood policing, which is why the police / community clashes you see on the news are coming from other parts of the country - not NYC.
Needless to say, the job of the police force is never done, and challenges remain, but generally the forum had an upbeat tone due to the progress being made under Mayor de Blasio and Police Commissioners Bratton & O'Neill. One of the changes that's been helpful in community relations has been the drastic reduction in stop 'n frisk, which in spite of what the NYC tabloids purport, hasn't resulted in a spike in crime [see charts to right].
I did a bit of research, and found a couple of charts published in an April 11, 2016 report by the Brennan Center for Justice. The Brennan Center is a non-partisan, non profit research center at the NYU Law School. The two charts shown here graph the significant reduction in stop 'n frisk, while also showing no attendant spike in crime. In fact it is believed that over the long haul the reduction in unwarranted stop 'n frisk searches will have a positive impact on law enforcement community relations, as vast swaths of the populace that were searched with no result, will no longer feel that their privacy has been unnecessarily violated.
Cybercrime - Anonymous, Stealthy, Cross-Jurisdictional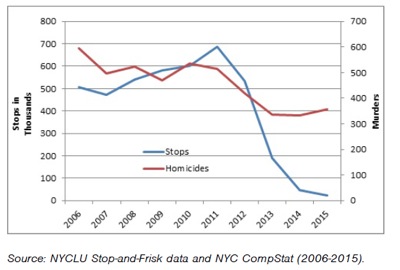 The second segment of the forum discussed some of the challenges facing the FBI with regard to reigning in cybercrime. The panel included Joel Stashenko who is the Albany Bureau Chief of the New York Law Journal, Nasir Memon who is a Professor of Computer Science & Engineering at NYU, Timothy Howard who is the Assistant U.S. Attorney and Cybercrime Coordinator for the NYS Southern District Office, and Prashanth Mekala who is the Supervisory Special Agent of the NY Field Office of the FBI.
The challenges facing law enforcement regarding cyber crime are different than most other criminal activity. For example cyber crime is generally anonymous, more insidious and hence more difficult to detect. And oftentimes the break-ins come through multiple legal jurisdictions which makes gaining access for tracking and prosecuting more challenging.
Budapest Convention of 2001 on Cybercrime Helping
But progress is being made. There was a Budapest Convention on Cybercrime which was passed in 2001 and became effective in 2004. More nations are signing on, as the accords enable law enforcement to move more quickly in multiple jurisdictions in response to cybercrime events.
As in community policing, establishing trust between the victims and law enforcement is critical in enabling governments to catch the criminals. Oftentimes companies victimized by cybercrime are concerned the access they provide to law enforcement may be used against them in other regulatory and civil proceedings. One of the panelists told us that the information they seek is soley for the purposes of catching the criminals, not to share with other regulatory agencies or people. And that the less time between the breach of a system, and obtaining access to analyze it, the greater likelihood that law enforcement can track them down, because in cybercrime the 'digital fingerprints' oftentimes disappear.
Speed of Response Helps Law Enforcement Respond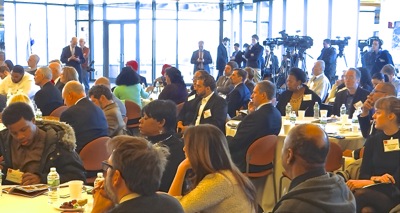 What's happened recently is that company security has increasingly been delegated to the legal department of a firm, because the company is then protected from disclosures because of attorney client privilege.
But what then happens, because the lawyers seek to mitigate legal risk / blame, is that there's a slow response by the company to enabling law enforcement to do their jobs in track down the criminals. One panelist noted that oftentimes what companies are trying to keep secret [their blame / culpability] comes out in the wash anyhow.
One of the panelists noted that oftentimes the biggest threats come from within an organization. Someone is turned to the dark side, or is careless - resulting in the breach of security. Currently the NSA [National Security Agency], the CIA [Central Intelligence Agency], the DOD [Department of Defense] and the FBI [Federal Bureau of Investigation] are all working to mitigate the risks associated with cybercrime.
They had a third panel about mitigating disaster risk, like from terrorism or cataclysmic events such as hurricanes, but I didn't stay.
Organized by City & State Magazine, Website & Events
Many thanks to City & State, which is an informative magazine publisher and events organizer. Their work seems to be predominantly in the area of government, politics and social issues. You can visit their website at www.cityandstateny.com.
---
1361
NYC Rolls on After Small Bomb Explodes
Who are the Real Terrorists?
September 20, 2016 / Chelsea Neighborhood / Manhattan Neighborhoods / News Analysis & Opinion / Manhattan Buzz NYC / by Michael Wood.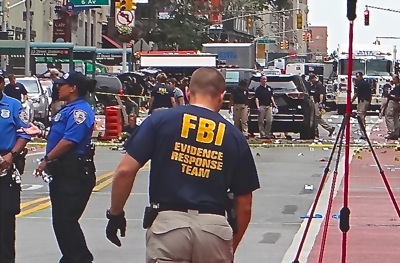 Saturday evening, September 17th, at around 8.30 pm a bomb went off in a dumpster near 131 West 23rd Street [just off 6th Avenue] in Chelsea. While a number of people were injured by the debris [29 in total], thankfully nobody was killed, and all 29 of the people impacted have been released. The photo at right shows the scene were a small bomb exploded on Saturday evening in the Chelsea section of Manhattan.
NYS Governor Andrew Cuomo was quick to inform the public that the bombing was a terrorist act, but that it did not appear to be linked to international terrorism. Today, just three days later, it appears the bomber may have been influenced by a trip taken abroad.
At the time of Cuomo's announcement, he appeared to be continuing what seems like an ongoing effort to upstage the Mayor, by being the first to speak to the press and by sensationalizing the incident using words like terrorist [headline grabbing].
The Mayor was far more circumspect when he spoke, telling us only that based on the evidence gathered at the time, the act appeared to be intentional. The Mayor ended his remarks with that terse statement - telling us he would have more to say pending the receipt of additional information. NYPD Commissioner James O'Neill exercised the same caution in describing the event as the Mayor.
Is Murdoch's Media Org Hyping the Bombing for Ratings & Newspaper Sales Like They Appeared to do with the Iraq War?
Not surprisingly, Keith Rupert Murdoch's Wall Street Journal, NY Post and Fox News noted / lauded or applauded the Governor for helping them in what appeared to be their ongoing efforts to sensationalize the terrible act.
Was their goal in hyping the bomb to sell more newspapers and increase their TV ratings? At first blush that's hard to believe - until you do the math.
In 2002 - 2003, Murdoch in tandem with his global media organization, strongly advocated on three continents [U.S., Britain and Australia] to start the War in Iraq. Ultimately, I believe the war increased Fox cable TV and Fox News ratings, which are worth billions of dollars annually. We'll have more on this a bit later in the story.
Do Bombers Seek Fame & Does Murdoch's Media Machine Provide Them with it?
Is Instant Fame a Bomber's Motivation? It seems plausible that part of the motivation of a bomber might be to make the headlines / be shown on TV / become famous, even if only for what artist Andy Warhol described as one's 15 minutes of fame. See NY Post graphic to your right, where the now famous bomber made the NY Post front page while lying in bed. Thank you Mr. Murdoch and your NY Post?
Achieving Goals By Fear Mongering? Rupert Murdoch's propaganda-oriented 'news' outlets may in fact be part of the problem - not part of the solution. Murdoch's organization appears hell bent on hyping the bombing event into an international terrorist attack, which one may surmise that they can then use to rekindle fears based on 15 year old memories, to shape the national security narrative leading up to the general election.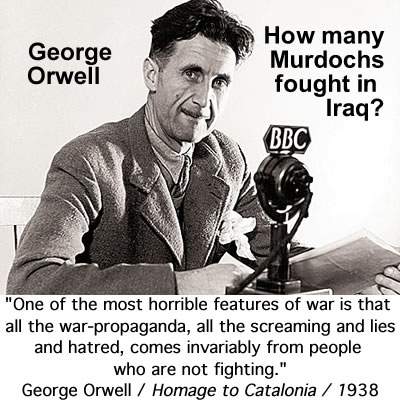 At a time when the whole world was in turmoil FDR told America,
"We have nothing to fear, but fear itself."
How times have changed.
It seems Keith Rupert Murdoch's organization is saying something just the opposite, like,
"Be afraid. Be very afraid."
Never mind that nobody died in this incident or even reportedly sustained any serious injuries. And based on what is known, and what I saw, there appears to be very little SUBSTANTIAL property damage. But professional propagandists never let the facts get in the way of the story they want to tell, the perspective they want to sell, so this was an event I used to watch and learn from a media organization controlled by a man believed by many, to be the world's reigning propagandist.
People need to pay more attention to who they're going to listen to, to provide them with information and context about the world in which we live. The information sources they choose inevitably influence their view of the world, who they choose to represent them, what public policies they want pursued and how they go about conducting their lives.
The graphic at right is a quote from author of the book entitled 1984 - George Orwell - in his book Homage to Catalonia published in 1938. In it he said,
"One of the most horrible features of war is that all the war-propaganda, all the screaming and lies and hatred, comes invariably from people who are not fighting."
Pay Attention to the Changing Murdoch Media Narrative
Can the Real Terrorists be Found in Murdoch's Fear Mongering Media Empire?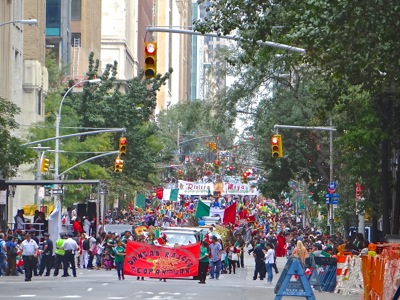 Given that folks were out and about on Sunday, less than a day after the explosion, I began pondering whether it's media outlets like those owned by Keith Rupert Murdoch that are responsible for terrorizing the citizens of New York - and the nation - by continually repeating fear-inspired storylines / narratives?
It seemed the bomber had already failed to terrorize us in New York City, where the bomb exploded, given the fact that so many of us were out and about only hours later. In the photo at right are marchers in the Mexican Day Parade.
But Murdoch's manipulative media machine looks like it went into overdrive by broadcasting, webcasting and printing fear-inspired stories. Thus,perhaps the bomber may yet succeed in terrorizing us, with the help of Murdoch's media fear mongering machine.
Media Mogul Calculus: Terror or War = High Ratings Worth $$$ Billions &
Since Taxpayer Funds Most Production Costs of War / Show = Even Higher Profits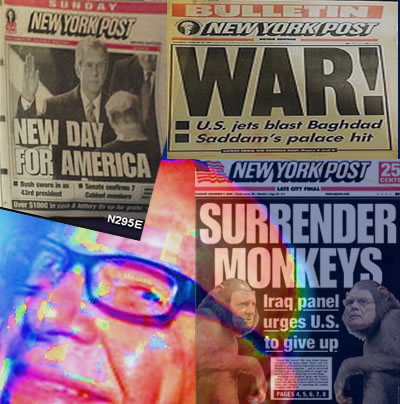 The Iraq War in 2003 was like fresh new free money, because Murdoch's organization could sell pricey TV ads for increased news ratings, while the bulk of the costs of staging the 'news programming' aka the Iraq War, was provided free to Murdoch's organization, compliments of the American, British and Australian taxpayers.
Based on the recent financial performance of Murdoch's organizations, his flailing media outlets appear to be in need of this sort of low cost [to Murdoch's media empire], high ratings programming.
Trillion(s) Spent on Iraq War Because of Phony, Media-Hyped, 'Weapons of Mass Destruction' Threat
In 2002 - 2003 Murdoch's organization appeared to use this same sort of hyping and sensationalizing of Sadam's 'weapons of mass destruction' to monger fear in America, Britain and Australia so the nations would go to war against Iraq.
Only later did we find out that there weren't, in fact, any weapons of mass destruction and that it was all media and political hype used to get us into the war. Once embroiled in the war, it cost well over a TRILLION DOLLARS, and by some accounts - we're still not completely out. In the graphic at right are just a few of the strident headlines published in Murdoch media.
Those Who do Not Learn from History are Doomed to Repeat it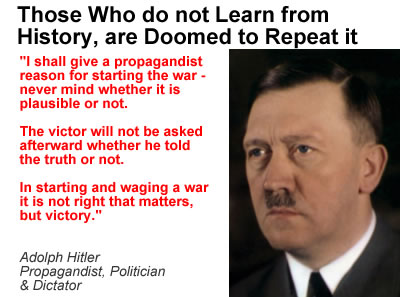 In researching propaganda, I couldn't help but encounter propagandist works and statements made by propagandists Adolph Hitler and Joseph Goebbels. I recall as a youngster wondering how Hitler came to have so, so much power. Only now do I understand, as it appears Hitler accumulated his power insidiously, by conducting mass marketing campaigns of deception, disguised and packaged in with information, facts and news.
Does Fox Disinform - So Murdoch can Decide?
Fox viewers have been found not only to be less informed, but actually disinformed, on subjects ranging from healthcare, to science, to international affairs.
Media Matters informs us that studies to this effect have been conducted by Kaiser Health, Ohio State University researchers, Program on International Policy Attitudes, Stanford University and the National Science Foundation, University of Maryland's Program on International Policy Attitudes, Farleigh Dickinson University and an NBC / Wall Street Journal poll before Murdoch acquired the Wall Street Journal.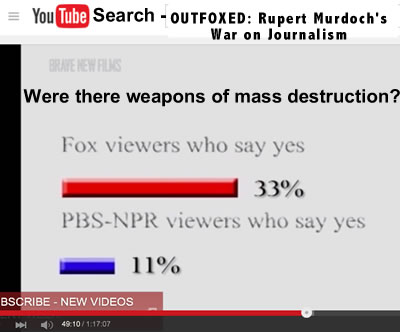 As you can see in the graphic at right, a poll which was included in a documentary entitled OutFoxed: Rupert Murdoch's War on Journalism, shows that Fox viewers tended to be more ill-informed than their PBS media peers.
You can click into the graphic which will take you to the video, but we reference and link to it again later in this story where we highlight a piece in the video that proves the point and is funny in a twisted Murdochian way.
Click here to view a prior piece we did on what appears to be Rupert Murdoch's assault on democracy which takes you deeper into what appears to be a long history of the billionaire media mogul's influence on electoral outcomes.
In June of 2016 Murdoch's media organization seemed to provide its readers / voters the same sort of bad advice with their advocacy in favor of Brexit or exiting the European Union. We'll have a bit more on this later.
Click here to read the rest of our report about what appears to be Rupert Murdoch's manipulative use of his media assets.
---