Upper West Side Italian Restaurants: Cesca
Cesca Italian Restaurant On UWS Manhattan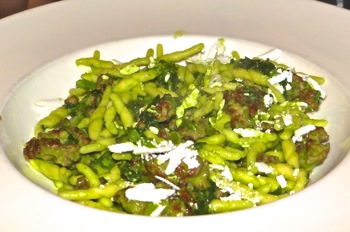 Upper West Side UWS Neighborhood / UWS Restaurants / Manhattan Buzz NYC.
It was a clear, cool Sunday evening as I made my way up Amsterdam Avenue to 75th Street. The sun was setting and the shadows had begun settling into the nooks and crannies of the cavernous streets, only to be whisked away by street lights and the lights of small businesses.
One member of our party had made reservations online through the Cesca website, and as it happens, this party member was also the last to arrive. But it was no wait and no big deal, as Cesca has a full sized bar in the front of the restaurant [capacity 40], that's separate from the dining area. And while the bar was populated with soon-to-be diners, it wasn't crowded. So I found myself a seat and shortly thereafter, the rest of my party arrived.
Casual, Comfortable Italian Restaurants: UWS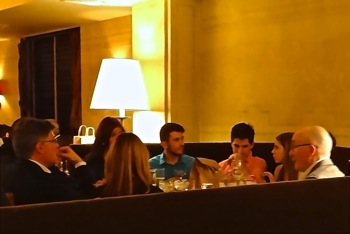 The maitre d' escorted us into the back of the spacious upper west side Italian restaurant [capacity 175]. We walked past the open grill into the main dining area where we were seated. The restaurant was full this evening, as it has been the times I've dined here, but generally comfortably so. The staff is equipped to handle the pre-theater rush crowds prior to performances at the nearby Beacon Theatre, as well as for the folks heading south to Lincoln Center [although the latter is a ten block walk or taxi ride away], so tonight was a walk in the park for them.
The crowd generally appeared to reflect the surrounding UWS neighborhood. I spotted a Sunday night date couple or possibly young romance nestled along one of the walls, a family with twenty-somethings and their friends hosted by one of their parents, and a middle-aged couple with their teenage kids. Everyone seemed relaxed and comfortably seated.
Click here to read our review of one of the leading Italian restaurants on the UWS of Manhattan NYC.
---
Upper West Side Italian Restaurants: Cesca
Cesca Italian Restaurant On UWS Manhattan
Upper West Side UWS Neighborhood / UWS Restaurants / Manhattan Buzz NYC. Continued.
Italian Wines & Bread On The Upper West Side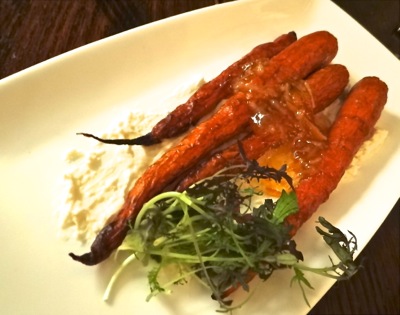 A bottle of red wine was ordered for the table, but I missed its vintage, make and model. Bottles of wine run from the mid $40's to about $140 something, and glasses cost in the neighborhood of $12. It's an Italian restaurant, so they offer a pleasant selection of wines.
UWS: Appetizers At Cesca Italian Restaurant
We started with the bread and tomato spread which wasn't anything to write [home] about. This was followed by an appetizer plate of Roasted Organic Carrots, which were cooked well beyond al dente, but not soft, and glazed.
The first appetizer was followed by the Fritto Misto. The Fritto Misto is a deep-fried, batter-covered mix of shrimp, calamari, lemon and zucchini ... and fennel. The mix of the fried batter and the shrimp and calamari, as well as with the lemon and zucchini, provided a symphony of flavors. The variety stimulated a bit of conversation, along with a bit of horse trading, to fully experience the dish. The shrimp was cooked so that its juices came flowing out as I bit into it, and the calamari came apart without a fight. Hints of aioli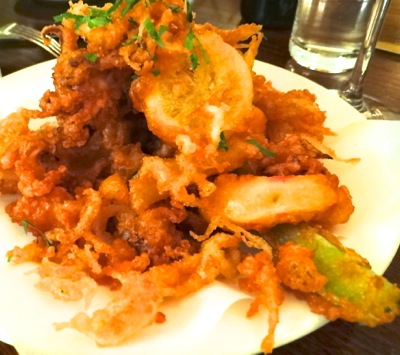 were present in the dish.
A dish of deep fried cauliflower – the Cauliflower Fritti - was served alongside the Fritto Misto shrimp and calamari dish. While we consumed both, the cauliflower was the last to go. I kind of viewed the cauliflower as the unsung hero, because while less interesting than the Fritto Misto, the mix of the deep fried batter covering the ever-so-soft cauliflower, made for good, down-home comfort food. Appetizers run from about $12 to $19.
Casual Dining On The Upper West Side Circa 2015 Prez Race
The conversation drifted onto the 2015 presidential race. Oh, there isn't one this year? It's next year? Well, you'd never know.
The general view of things was that this Presidential Race is starting too early and looks a lot like we're being served leftovers – aged, stale and with nothing new. So, thankfully, the conversation quickly moved on, as we found debating the choices we had before us nearly a quarter century ago - in 1992 - was far more irritating than titillating.
The wine bottle made the rounds as we switched gears and began talking about Spring vacations, recently passed. The Florida Keys was the venue for one group of travelers, while Queens NY, was the venue of another. But who had the better time? I'll never tell.
Upper West Side: Main Entrees At Cesca Italian Restaurant
The main entrees soon arrived. Cesca is an Italian restaurant, and this Sunday night, they provided a relaxed Italian American level of service. What I mean by this is that the service had that right touch of paying enough attention, without paying too much attention ... so that you almost didn't know they were there. The food and beverage magically arrived, and the empty plates magically disappeared. My compliments to the staff.
UWS: Branzino Filet Italian Style
I ordered the Branzino Filet, which was accompanied by a fresh deep green kale over peeled whole potatoes. It was a hearty dish with a generous juicy cut of the branzino. The kale was lightly covered with the juice from the fish and the potatoes were simply cut and plainly done. All very healthy for a hearty diner who wants to live long.
UWS: Freebird Amish Chicken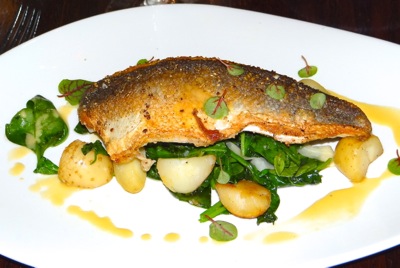 Someone else had ordered the Marinated Freebird Amish Chicken. This diner seemed to be traveling incognito this evening, as he hadn't worn his Amish clothing, and seemed to be ok wearing a buttoned shirt while dining amidst electric lights. He told us that the chicken was delicious. I sampled it and it was a very tender, juicy bird, also simply garnished and spiced - and like the branzino - had come in a generous serving.
So hats off to the Amish farmers who forego the latest new technologies, but whose traditional, artesanal style of farming appears to be coming back into vogue as all natural and / or organic.
The top two favorites of the night were yet to come. The teens ordered chicken fingers and fries. These were totally indulgent, with a greasy, battered, juicy, fried chicken strips and the salted fries to match.
Upper West Side Italian Pasta: Trofi Pugliese
The winning plate of the evening, which I have just heard is being discontinued, was the Trofie Pugliese. The Trofi pasta is a twisted rounded pasta which they cooked so that it still had a dense but malleable texture. This was amped up with a sweet Italian sausage that maintained a comparably dense texture, which released its juicy, salty flavors with each and every bite. The broccoli rabe pesto held the whole ensemble together, and it was garnished with a ricotta salata cheese. Aaah, if only I had chosen the Trofi ... and now it's gone.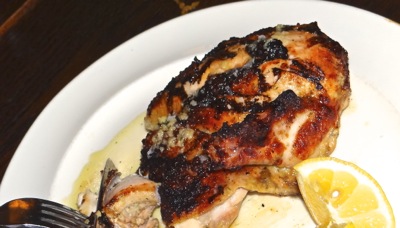 I was not alone in quickly becoming a fan of the beautiful and flavorful dish – as I saw it in an entry on the Cesca Facebook page dated January 14th - with the remark "creeping up the ranks as a top seller...". I couldn't agree more, so one has to wonder why they discontinued it.
I called the restaurant and someone in management told me that the whole wheat capellini is likely to be the closest item on the new menu that would be comparable to the Trofie Pugliese.
Now you know.
And so there it was, as we began winding down our dinner on the Upper West Side. The wine bottle made another round. The main entrees generally run between $22 and $44. All prices reflect the prices I found on their website a couple weeks after the dinner.
UWS: No Ghosts At Cesca Restaurant This Evening
The conversation had turned to ghosts as the intrepid teens had taken a ghost hunting tour in the Florida Keys on their vacation. One of them had subsequently found a ghost detecting app which was downloaded onto the cell phone. The app makes claim to being able to detect whether there are any ghosts in the room. I'm happy to report that, at least on this one evening, Cesca was operating in a completely ghost-free environment. Whew. I felt relieved knowing we could verify that.
Cesca opens at 5 pm daily, and stays open until 10 pm Sunday through Tuesday, until 10.30 pm Wednesday and Thursday, and until 11.30 pm on Friday and Saturday. They also serve brunch on Sunday only from 11.30 am – 3 pm.
Buon Appetito.
Click here for a map showing the location of Cesca one of the leading Italian restaurants on the Upper West Side UWS or here for the contact information including website link for Cesca Italian restaurant on the Upper West Side.
If you liked this review, you might also like our review of D'Orsay, a French restaurant on the Upper East Side.
---
---
$element(adman,groupad,NhoodUES)$
$element(adman,groupad,Catgry ManWmn)$
---
Upper West Side NYC - Manhattan Related Info
$element(adman,groupad,Catgry Rest)$
Click this link for promotions, discounts and coupons in Manhattan.
Upper West Side Neighborhood Related Links - NYC
Click for Manhattan Restaurants
Click for Manhattan Things To Do
Click for Gramercy Park Restaurants
Click for New Years Parties & Restaurants
Click for Manhattan Farmers Markets
---
Archives - TBD
---
$element(adman,groupad,Catgry Foodwine)$
Site Search Tips. 1) For best results, when typing in more than one word, use quotation marks - eg "Astoria Park". 2) Also try either singular or plural words when searching for a specific item such as "gym" or "gyms".
---
$element(bwcore,insert_search,N)$
Click this link to search for something in our Manhattan Business Directory.
---
$element(adman,groupad,Sectional2 Ad)$
Click the log in link below to create an ID and post an opinion.
Or send this story to a friend by filling in the appropriate box below.
---