Taste of Tribeca
Tribeca Restaurants Support PS 150 and PS 234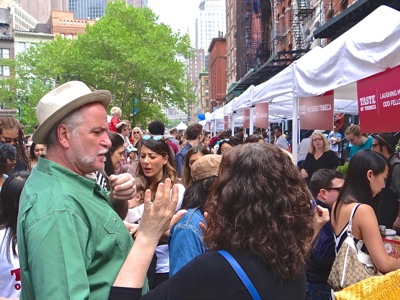 May 17, 2015 / Tribeca Neighborhood / Tribeca Restaurants / Manhattan Buzz NYC.
I had the opportunity to attend the 21st Annual Taste of Tribeca on Saturday afternoon. It was a warm, mostly sunny day, with temperatures hovering around 80. In the morning there were clouds and a light misty rain, so it didn't get too hot and the misty rain left little humidity in the air.
The Taste of Tribeca is a fundraiser for two of Tribeca's public schools – PS 150 which is also referred to as the Tribeca Learning Center and PS 234 which is also called the Independence School. The additional funds are used to provide programs and equipment that are used to enhance learning for the K through 5th grade students of the two elementary schools. Both schools are public non-charter schools that are highly rated and whose students perform well on standardized tests.
In recent years the demand for enrollment in these two Tribeca public schools has grown rapidly with the growing population of the neighborhood. A couple of years ago the Department of Education had proposed moving PS 150 up to Chelsea to provide more space for students, but the effort was defeated by the Tribeca neighborhood. And about five years ago, the school district for PS 234 was the focus of a school district zoning battle, as the increased growth in residential housing and population had strained the demand for PS 234 school facilities. So there's a bit of history about the public schools for which the funds were raised, but I digress.
Let us begin our journey through the Taste of Tribeca restaurants, where we will become a little more familiar with a few Tribeca restaurants and bars.
---
Taste of Tribeca
Tribeca Restaurants Support PS 150 and PS 234
May 17, 2015 / Tribeca Neighborhood / Tribeca Restaurants / Manhattan Buzz NYC. Continued.
The Taste of Tribeca began 21 years ago in 1994. The first Taste of Tribeca was far smaller and supported by several restaurants that are still supportive to this day. The ticket price runs between $40 [early bird] and $50 [day of] per ticket. For the price you get six tastes and a free drink at one of the bars / restaurants named on the back of the card. The drinks were also donated and generally consisted of beers and cider.
I picked up my ticket at the north end of Greenwich Street and headed into the festival. There was a stage set up where over the course of the afternoon we would hear from several local musicians and groups. As there were nearly 70 restaurants and beverage suppliers, I only began to get a flavor of the tip of the iceberg of the restaurants serving the Tribeca neighborhood. I photographed the ticketing agents who consisted of neighborhood volunteers and it was volunteers who also stamped our tickets along the culinary trail.
Tinys Restaurant in Tribeca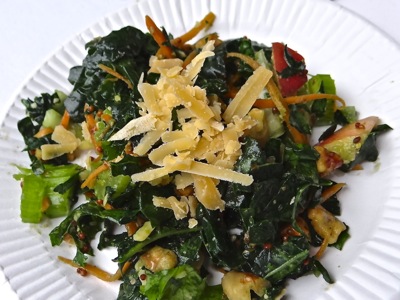 My first stop was Tinys NYC. Tinys is located at 135 West Broadway in a building erected in 1810 that is sandwiched between two taller buildings that are also very old. They've decorated the restaurant by complementing the ancient and inherent beauty of the tin ceilings, salvaged wood paneling, handmade tile and antique wallpaper. The cuisine is a mix of southern modern and French.
Tiny's was serving a sparkling fresh, crunchy kale salad that contained walnuts, celery bits, apple bits, carrots and smoked Gouda cheese shavings that was complemented by a light - very French-like - complement of maple mustard vinagrette dressing. Oh, it was very healthy, but it was also a very tasty zinger.
Tinys is run by a family team of two brothers and a sister. I might have met and photographed a couple of staffers, who might well also be the owners, whom you can see in the photo slide show below. One of them told me that the greens had come from local south central Pennsylvania organic farms named after the Tuscarora Indians in New Jersey. Everything except the Gouda cheese of course and the walnuts. Their telephone number as of this writing is 212.374.1135.
Little Park Restaurant in Tribeca at the Smyth Hotel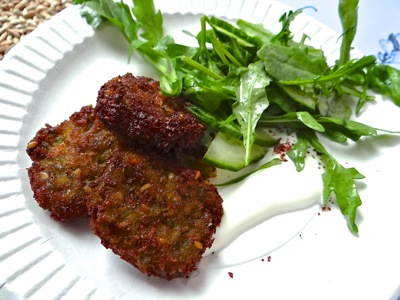 My next stop was only a few feet away at the Little Park Restaurant booth. They were serving a fresh chick pea falafel. The fried falafel contained cilantro, parsley, mint and onion garlic - all of which was complemented by an herb salad and a home made yogurt. The dense, dreamy creamy, syrupy texture of the yogurt gently muffled the greens, clearing the palette for the main event ... the soft, moist, flavor-filled falafel. It was even better than it sounds.
The Little Park restaurant is located in the Smyth Hotel at 85 West Broadway. It's a modern, comfortable hotel located between Warren and Chambers Streets on West Broadway - within walking distance from City Hall and the World Trade Center. And, of course Wall Street, Trinity Church and Battery Park / the Statue of Liberty aren't too much further south beyond that.
The Little Park is run by Chef Andrew Carmellini who takes pride in the relationships he's developed with local food producers. The menu changes with the seasons by taking advantage of those items that are fresh at the time of one's visit.
Nobu Restaurant - An Early Tribeca Icon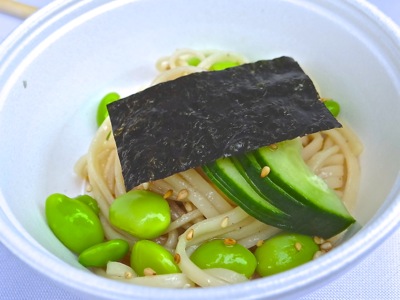 Nobu is the flagship restaurant of Chef Nobu Matsuhisa. Nobu's cuisine is an eclectic blend of a Japanese sushi restaurant with Latin American and other international cuisines. The restaurant opened in Tribeca in 1994 and was founded in part by restaurateur Drew Nieporent, Meir Teper and actor Robert De Niro.
Nobu was serving Inaniwa Noodles. Inaniwa is the name of the city in which Inaniwa noodles are made. Inaniwa is in the prefecture [state] of Akita on Honshu which is the largest of the Japanese islands and also the home to Tokyo. Inaniwa noodles are a thick wheat rolled [generally called Udon] noodle, made famous over centuries by their high quality. The dish included sliced cucumber, soy beans, sesame seeds and a thin sea weed crisp. The ingredients of this dish were gently flavored with a Yuzu Ponzu dressing. Yuzu is a Tibetan / Chinese hybrid fruit with a citrus flavor that is mixed with Ponzu which is a soy based sauce. It was a healthy, hearty and very simple dish. Pure.
Taste of Tribeca - Family Fun Food Fundraiser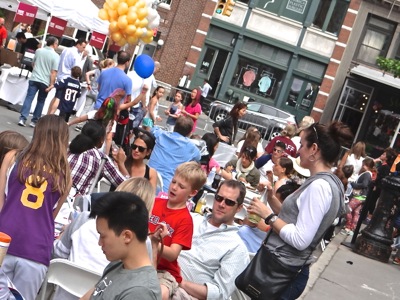 I was still on Greenwich Street and a bit further south there were a number of tables stretched out along the street covered by canopies. I recalled that the Taste of Tribeca also sold tables to families / friends who wanted a place to sit and celebrate for in the neighborhood of $700 to $1000 for about ten. The PS 150 public school and playground were facing the festival.
I had only made my way through one leg of the festival, so I decided to make my way deeper into the event, by turning off of Greenwich and onto Duane Street. There along both sides of the street were more white canopied booths. I began looking for my next fare.
White Street Restaurant in Tribeca
I spotted another attractive dish. I didn't catch the name. Is this a play on words?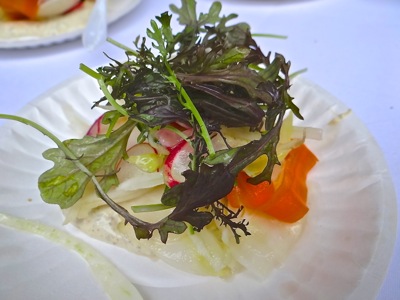 There was a taste of cumen and it included ruby mustard greens. The dish contained icicle radish, beets, white turnips, fennel and zucchini on a bed of labne yogurt. The labne yogurt is a strained yogurt and originates in Greece.
The White Street Restaurant is located at 221 West Broadway between White and Franklin Streets in Tribeca. It's in a refurbished armory and has been renovated to reflect a glamourous 19th century restaurant.
It was nearing 3 o'clock which was the scheduled end of the Taste of Tribeca. Already the crowds had thinned and many had made their way to one of the four nearby Tribeca restaurants and bars that were serving the local beers. Each restaurant would serve only one of the local brews.
Terra Wine Bar in Tribeca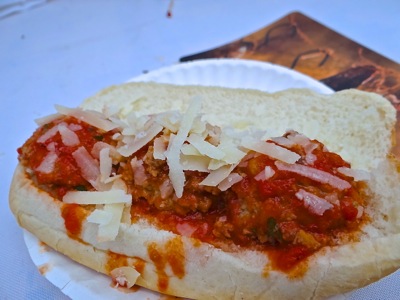 Most of what I had eaten were salads with one noodle appetizer. I was now ready for some protein. The Terra Wine Bar was serving beef meatballs on a fresh roll, topped with pomodoro sauce and shaved parmigiano cheese.
The meatballs were infused with Italian herbs and they moistly fell apart as they entered the all natural human food processor. The tomato based sauce left me licking my lips and the whole ensemble disappeared quietly into the afternoon without a whimper. My stomach welcomed them in.
The Terra Wine Bar is a brand spanking new addition to the neighborhood. They're located at 222 West Broadway between Franklin and North Moore Streets. Their telephone number is 212.625.0900.
Church Publick Bar in Tribeca
While I had run out of tickets, it was the end of the Taste of Tribeca so many of the vendors were giving away the food that was left. I spotted a Dry Rub Beef Sandwich being served by Church Publick, so I decided to give it a try.
The beef had been pulled by hand and cooked for nine hours. It was an unusual combination of dry beef with a barbeque flavor served on a brioche bun.
Church Publick is located on the corner of Duane and West Broadway and I would soon make my way there to sample one of the local beers.
Taste of Tribeca - Eating for a Good Cause & ULIVJAVA
All in all it was a fun outing. I had met a few people along the way and learned a bit about food as well as about the many fine
restaurants serving the Tribeca neighborhood. I finished the feast with a stop at one of the beverage providers - ULIVJAVA - which is a cold coffee spiced with herbs, green tea and astragalus. I was told it was a "coffee with benefits". The coffee is distributed by Manhattan Brewing Company and you can find purchase points by going to their website at www.ulivjava.com.
My last stop was a second visit to Church Publick on Duane and West Broadway. They were serving beers brewed by Gun Hill Brewing Company which I had met last fall at another food and beverage related event. I stopped for a cold one which was served in a small glass. The brew has nearly 7% alcohol, so it's stronger than a regular American or European beer [usually 5%] and tastes a bit like Stella Artois for those who know what that means.
It was about four o'clock in the afternoon as I stepped out onto the Duane Street. The sun was still shining and the heat of the day had begun to abate as I began making my way toward old City Hall, the Woolworth Building and the Brooklyn Bridge ...
---
$element(adman,groupad,Catgry Rest)$
$element(adman,groupad,Catgry ManWmn)$
---
Tribeca & SoHo NYC - Manhattan Related Info
$element(adman,groupad,Catgry Hotels)$
Click this link for promotions, discounts and coupons in Manhattan.
Manhattan NYC Related Links
Click for Manhattan Restaurants
Click for Manhattan Neighborhoods
Click for Manhattan Things To Do
Click for Gramercy Park Restaurants
Click for Manhattan Hotels
Click for New Years Parties & Restaurants
Click for Manhattan Furniture Stores
Click for Manhattan Street Fairs
Click for Manhattan Professional Services
Click for Manhattan Farmers Markets
Click for Manhattan Real Estate
---
Archives - TBD
---
$element(adman,groupad,Catgry Foodwine)$
Site Search Tips. 1) For best results, when typing in more than one word, use quotation marks - eg "Astoria Park". 2) Also try either singular or plural words when searching for a specific item such as "gym" or "gyms".
---
$element(bwcore,insert_search,N)$
Click this link to search for something in our Manhattan Business Directory.
---
$element(adman,groupad,Sectional2 Ad)$
Click the log in link below to create an ID and post an opinion.
Or send this story to a friend by filling in the appropriate box below.
---