Washington Square Art Fair
Artists & Artisans Spend Weekend Selling Wonders
May 26, 2015 / Village Neighborhood NYC / Shops & Shopping Manhattan / Manhattan Buzz NYC.
Over the three day Memorial Day Weekend, dozens of artists and artisans congregated along University Place between Washington Square Park and 13th Street in the Village. There, underneath the lily-white tents, they hung their works for the public to view and purchase. The artists come from near and far and provided a mélange of choices for the aesthetically aware.
I began my tour of the Washington Square Art Fair just north of the eastern corner of Washington Square Park. The white tents lined the sidewalks on both sides of the street, as the auto traffic had not been blocked. People were definitely out and about, as NYU had held commencement exercises earlier in the week, and the students were to be found en masse in Washington Square Park. But along University Place it wasn't just the students who were browsing the Washington Square Art Fair, but also many native New Yorkers looking for objets d'art.
Generally the artists I photographed and interviewed were a bit older, but I plan to include several other exhibitors when I post the slide show to provide some view into the depth and breadth of the Washington Square Art Fair as a whole. The artists I conversed with had generally aged well, and the complexity and textured flavor of their interests and lives emerged in the aesthetics embedded in their works. These artists had stayed constant in their pursuit of aesthetic expression over the years, and their works evoked memories and scenes depicted in skillful portrayals of bygone eras, as well as of enthusiastic passions of the present.
Click here to view our report about the Washington Square Art Fair with photos.
---
Washington Square Art Fair
Artists & Artisans Spend Weekend Selling Wonders
May 26, 2015 / Village Neighborhood NYC / Shops & Shopping Manhattan / Manhattan Buzz NYC. Continued.
I browsed past several jewelry galleries of unique collectibles, some of which were made by the folks attending the galleries.
Manhattan Art Fairs: Mendel "the art guy"
The first artist I spoke to was Mendel "the art guy". Mendel is a gregarious New Yorker who paints New York scenes taken from photographs shot in the pre-911 era, when one could generally go anywhere without being accosted by a security guard. Many of his works depict boats and the waterways of New York City, but his featured work was a watercolor of a number of Jews on a Nazi truck, with his father shown at the back of it. It was 1937 and his father was going to be interrogated. Mendel is shown in the photo at right with his featured painting.
Mendel told me that two years later, in 1939, his family had emigrated from Germany to Holland and subsequently took a boat to a Caribbean island where they waited to be admitted to the United States. He went on to say that his father started work by picking up clothing around sale bins here in New York City and later became a photographer. "The art guy" told me that his father had worked on many big advertising accounts and photographed a number of the top personalities of the day for the ad agencies. He had regretfully sold the photos many years ago, for what would now be considered a very low price.
Jim Somers Photographic Artist Washington Square Art Fair
A bit up the street hung a number of large panoramic photos by photo artist Jim Somers of New Jersey. The large photographic prints depicted scenes of nature, as well as the abstract real. Jim
has been taking photos for over three decades and had mastered the fine art of capturing a mood with both real life scenes, and possibly even more so with photographic abstractions emitting color, shapes and lines. Jim uses metal, canvas and fine art paper upon which to lay the printed image. And he tells us that the prints should last decades or far longer, if given proper care.
Tung S. Lee & Longwood Gardens Pennsylvania
Chinese born, Brooklyn-based, artist Tung S. Lee's gallery evoked a soothing, contemplative mood. He had captured a certain peacefulness of one of the turn-of-the-twentieth-century greenhouses created by Pierre S. du Pont in Longwood Gardens thirty miles west of Philadelphia.
Tung Lee uses a mix of contemporary western painting brushstrokes, coupled with Chinese painting techniques to provide a warm sense of "being there". Tung S. Lee is shown alongside his painting of a scene in Longwood Gardens, Pennsylvania.
Joel Beckwith Prints at Washington Square Memorial Day Weekend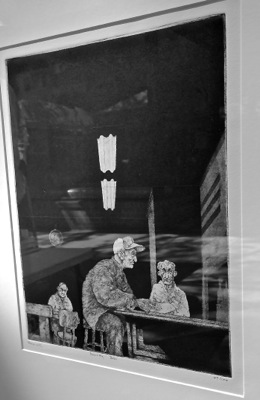 The prints of Vermont artist Joel Beckwith that caught my eye. One in particular seemed to capture a moment, and perhaps an era, of the working class gone by. The print depicted an older, possibly retired, blue collar laborer hunched over the tall wooden bar conversing with the middle-aged bartender who was washing a beer mug. The print was done in black and white.
Joel told me that he exhibits his work in shows such as the Washington Square Art Fair, and occasionally in his wife's art gallery in Vermont. Joel Beckwith's print is shown at right.
Sebastian Perel Printed Coasters, Place Mats & Mouse Pads
Sebastian Perel of Brooklyn was presiding over a collection of collectible place mats, coasters and mouse pads inscribed with scenes of historic New York and dead celebrities. They were done in black and white and provide a small window into iconic New York.
Washington Square Art Fair: Richard Burkitt
Richard Birkett is as playful, in person, as his artworks. He was wearing a white beard and a black T-shirt inscribed with an ancient bit of wisdom. The T-shirt had written on it:
"Always be yourself, unless of course, you can be Batman.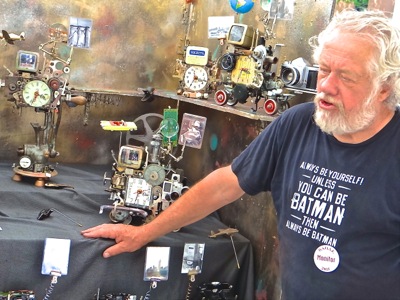 Then always be Batman."
His booth was entitled Fantasy Clocks. The clocks are a fanciful mix of Jules Verne 19th century fiction and 21st century alchemy. And possibly a bit of good old fashioned regenerative art. I took a photo of him alongside his Superman clock. Richard is from Otego, New York.
In the photo at right is Richard Burkitt of Otego, New York at the Washington Square Art Fair standing alongside his Superman clock.
There was some modern art, womens' necklaces and a good old fashioned wooden Indian standing in front of a good old fashioned tobacco store that sells cigars fresh from the humidor on University Place a bit south of 12th Street in the Village.
Artist Tim Shanley: Keeping Things Unreal @ WSAS
Artist Tim Shanley, by his own admission, likes "keeping things unreal". Tim is from East Stroudsburg Pennsylvania and he creates whimsical prints with playful themes.
There was also a tent that contained many beautiful articles of couture clothing, primarily for women. The works had an inviting, colorful African style. See photo at right.
Ken Orton Painter: Washington Square NYC
Ken Orton's gallery had something about it. His photo realist oil paintings seem to capture inanimate objects and bring them alive. Was it in the way he captured the light – or something even more profound – in how he captured the essence of a moment or … I found myself wanting to go to a bar to have a bit of the golden Scotch shown in the painting. Or to step inside one of the large luxurious 1950's Chevys in Cuba shown hanging on the wall. See photo above in story introduction.
Ken Orton's work evokes an earlier time in fine oil painting, a bit reminiscent of the old Dutch masters. Ken is originally from England where he taught art for years, and he is also a rhythm and blues musician who splits his time between the Catskills and Florida.
Paul Elson: Washington Square Art Fair
My last top would be a visit with artist Paul Elson of North Bergen, New Jersey. Paul's web address ends with cc which is the internet suffix for the Cocos Islands which are due southwest of Singapore and Indonesia in the Indian Ocean in southern Asia.
Paul was a naval pilot during the Vietnam War and through that experience developed an affinity for Asian culture. His works capture cultural moments, and at the Washington Square Art Fair the cutlural moments were likely from China and Burma, but Paul also does works depicting scence from Oceania, Europe and New York.
Paul worked in advertising for many years, after having spent a bit of time studying art at the Sorbonne in Paris, but he graduated with a philosophy degree from an American college. You can see him standing in front of some of the work he presented at the Washington Square Art Fair.
The Washington Square Art Fair occurs twice annually and features in the neighborhood of one hundred artists, running six blocks along University Place between Washington Square North and 13th Street in the Village. The fair opens at 12 noon and ends at 6 pm running all three days of both the Memorial Day Weekend and the Labor Day Weekend.
---
$element(adman,groupad,NhoodEVillage)$
$element(adman,groupad,Catgry ManWmn)$
---
West Village NYC - Manhattan Related Info
$element(adman,groupad,Catgry Rest)$
Click this link for promotions, discounts and coupons in Manhattan.
East Village Neighborhood Related Links - NYC
Click for Village Restaurants NYC
Click for West Village / East Village Neighborhood
Click for Gramercy Park Restaurants
Click for New Years Parties & Restaurants
Click for Manhattan Farmers Markets
---
Archives - TBD
---
$element(adman,groupad,Catgry Foodwine)$
Site Search Tips. 1) For best results, when typing in more than one word, use quotation marks - eg "Astoria Park". 2) Also try either singular or plural words when searching for a specific item such as "gym" or "gyms".
---
$element(bwcore,insert_search,N)$
Click this link to search for something in our Manhattan Business Directory.
---
$element(adman,groupad,Sectional2 Ad)$
Click the log in link below to create an ID and post an opinion.
Or send this story to a friend by filling in the appropriate box below.
---