Real Estate Lending & Mortgages
Chinese American Real Estate Association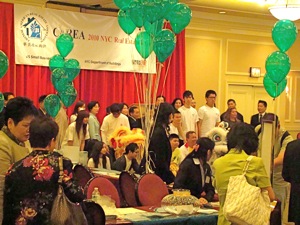 Updated Spring 2014 / Original Report May 22, 2010 / Mortgages & Loans in Manhattan / Manhattan Buzz.
There was a Real Estate Expo event hosted by the Chinese American Real Estate Association [CAREA] in Flushing. This expo is an evolution of the Home Buyers Expo, which was an event they had hosted last year with a private sponsor. The Home Buyer Expo had focused on issues such as how to find a house, how to take the house into contract and how to close on the house. Last year there were ten vendors at the expo offering financial, real estate and legal services.
Real Estate Lending & Home Buying In Manhattan & NYC
We visited the expo in search of information about the state of mortgage lending in Manhattan & Queens. Given the Asians seem to be America's financiers, we thought this expo might be a good place to research this question.
In 2010 the CAREA event scope was expanded and it attracted about 40 - 50 vendors. The expo focus changed from buying a home, to buying and managing a home. Hence vendors included tax services, energy services, remodeling services as well as vendors offering financial, real estate and legal services.
Click here to read our full report about real estate finance and mortgage lending in Manhattan.
---
Chinese American Real Estate Association – CAREA Flushing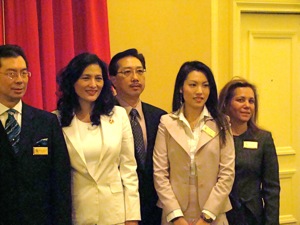 Updated Spring 2014 / Original Report Posted May 22, 2010 / Mortgages & Loans in Manhattan / Manhattan Buzz / Continued.
CAREA started in Flushing in 1993. The idea was to help build a network of real estate professionals in the Flushing, Queens and NYC area.
Originally the organization only allowed licensed brokers and representatives to become members. In recent years CAREA expanded its membership guidelines to encompass additional real estate related professions including lawyers, abstractors and lenders. Pictured in the photo to the left is Bill Seto, president of CAREA.
CAREA – Real Estate Professionals In Queens & NYC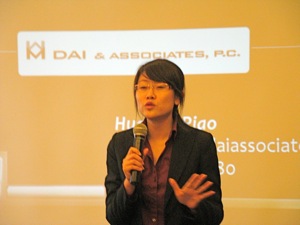 CAREA is a non-profit organization that also hosts other events, such as bi-monthly meetings, where the guest speakers address real estate related issues. These meetings cover how to finance real estate purchases and how to approach real estate legal issues such as clearing liens and obtaining inspection approvals. The meetings also provide networking opportunities to those who attend them. CAREA hosts a Christmas party, Valentine's Day party and this year they hosted a very successful Chinese New Year Party. Click here to view a slide show of the Chinese New Year Parade.
Real Estate Lending In Manhattan
I attended this meeting to gain a better feel for what's going on in the area of finance, specifically as it relates to Manhattan & Queens real estate. At the time [May 2010] our sister publication, Queens Buzz had just posted a report on the LICBDC [Long Island City Business Development Corporation] real estate breakfast meeting, which included a panel of speakers who provided differing perspectives regarding the current state of the real estate market in Long Island City, LIC. Click here to read the Real Estate In Long Island City, LIC, Queens panel discussion hosted by LICBDC.
Real Estate Prices In Manhattan – Outlook 2014
So I asked several expo attendees about the general state of the Manhattan & NYC real estate market.
When asked about the demand for Manhattan real estate, the response was that there's plenty of demand and a shortage of inventory. Hence prices have been rising briskly, but interest rates have begun to climb too. Interest rates and real estate prices tend to move in opposite directions, all other things being equal [which they rarely are].
In the photo above you see several new buildings which have risen in the Flushing business section of Queens over the past decade. During the real estate boom, new housing units grew at a rapid pace. The growth in most categories of building in the NYC metro area has failed to keep pace with demand.
Manhattan Real Estate – Down Payments
There seemed to be wide agreement as to the factors at play and the influence of them on the general level of business activity. The current volume and pace of real estate lending slowed several years ago, most notably because of the size of down payments required by lenders to close a transaction. Back in 2010, lenders are requiring down payments of between 20% - 50% of the purchase price. This is a steep rise from the levels of the past decade, which in many cases had fallen to zero.
Things have loosened up considerably since the Bush era financial debacle in the Fall of 2008. Mortgage rates / interest rates continue to be fairly priced and available to borrowers with good credit. Hence demand continues to be healthy and prices continue to rise given the shortage of housing inventory in Manhattan in particular as well as the NYC metropolitan area.
Manhattan Real Estate Loans – Historical Perspective
Historically, banks in the U.S. used to require down payments of between 20% to 25% of the home sale price. But financial deregulation that began in the late Clinton years [1997] and snowballed during the Bush years [2004] enabled many buyers and borrowers to avoid making any down payments at all, and many weren't required to verify their incomes. Hence many subprime 'No Doc' loans were made, which contributed to the current weakened state of the U.S.'s banking system.
Peter Koo, NYC City Council representative for Flushing is shown at right, while Kailin Zhu, Director of Public Relations for CAREA, is shown in the center of the photo wearing pastel green.
Back in 2010 one attendee quipped, "During the boom years the government would ask the banks, "Why didn't you approve that loan – meaning there was the possibility of bias in denying the loan." The attendee went on, and said "Now the government asks, why did you approve that loan – meaning why wasn't there more thorough documentation and verification." Good bankers could easily justify both questions in both eras, but the point was that the regulatory pendulum has swung back to a more conservative stance. Most attendees seemed to understand why the government was tightening up the regulations, but they expressed concern that the government and the banks might tighten up lending more than necessary, which would choke off what appears to be a tepid recovery.
Fast forward from 2010, and things have loosened up considerably, relatively speaking that is. Money is available at competitive interest rates, but borrowers need to have good jobs, income and a solid credit record.
Federal Housing Authority – FHA Loans In Manhattan NYC
The government's FHA [Federal Housing Authority] insurance program is the second factor [in addition to the $8,000 tax credit] that has mitigated the impact of the higher down payment requirements. The FHA was created to enable America to become a nation of homeowners and has grown to become the largest insurer of home loans in the world [34 million homes]. It has operated entirely out of the revenue it receives for the services it provides, since its inception in 1934.
The FHA works with certain lenders to insure loans and this has the effect of reducing the down payment requirements, and in some cases the payments as well. The FHA loan insurance fees are incorporated into the loan payments made by the borrower. And typically, after five years, these payments begin to decline probably due to far lower risk of default by the borrower.
Manhattan Real Estate Lending – Condos & Apartments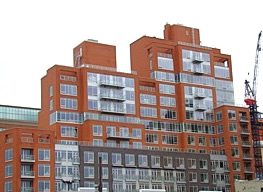 The FHA is also helping / enabling new building owners to sell their units. Banks / lenders typically shy away from lending to borrowers who wish to buy units in new buildings with low occupancy rates [50% or below]. This makes it harder for a new building to sell units until it reaches that occupancy threshold, as financing holds buyers / banks back from stepping in too quickly, lest they get burnt by a financially failed building. So when a building gets FHA approval, lenders are then able to share the risk with the FHA. Hence they have more flexibility in structuring down payments and loan payments, thus expanding the potential market which has the effect of enabling buildings with lower occupancy rates to sell their units to buyers who qualify for FHA insured financing.
Manhattan Real Estate – Loan Documentation NYC
The other thing that has slowed down the real estate closing process is that banks now verify the documentation provided to them by the borrower. Hence a borrower's pay stubs are cross referenced with their employer's records, and borrowers' federal tax returns are cross referenced with the IRS database.
All tolled, while things have slowed and it takes more time and effort to move a property, it seems that the Queens real estate market has continued to chug along, albeit at a far slower pace. There are concerns about what happens after the government ends the $8,000 real estate tax credit at the end of June 2010.
Euro Crisis Impact On Manhattan Mortgage Rates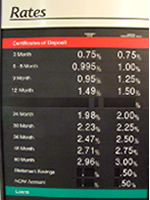 A last note, is that back in 2010 the European crisis had helped lower rates in the U.S. real estate lending market. One lender told me that Manhattan real estate mortgage rates fell this week to 5% and even lower. But they quickly added that they didn't know how long such rates would last.
Many thanks to the Chinese American Real Estate Association [CAREA], President Bill Seto and Board Member / PR Director Kailin Zhu as well as the numerous mortgage and real estate professionals who took the time to be interviewed for this story.
---
Manhattan Real Estate - Related Stories
Click here to view a story about Manhattan Real Estate in general with links to stories about real estate on the Upper East Side of NYC.
---
Manhattan Realtors - Links
Click here to go to the home page of TBD.
---
Manhattan Real Estate - Related Links
Mortgage Lenders in Manhattan. Click here to go to the home page of TBD.
---
$element(adman,groupads,Sectional Ad)$
---
Small Businesses In Manhattan - Neighborhood Info
$element(adman,groupad,Catgry Realestate)$
Click this link for promotions and discounts by merchants in Manhattan in the neighborhoods of Midtown, the Upper East Side and the Village in NYC.
---
$element(adman,groupad,Catgry Finance)$
Site Search Tips. 1) For best results, when typing in more than one word, use quotation marks - eg "Astoria Park". 2) Also try either singular or plural words when searching for a specific item such as "gym" or "gyms".
$element(bwcore,insert_search,N)$
Click this link to search for something in our Manhattan Business Directory.
---
$element(adman,groupads,Sectional2 Ad)$
---
Click the log in link below to create an ID and post an opinion.
Or send this story to a friend by filling in the appropriate box below.
---