Columbus Day Parade NYC
Upper East Side Welcomes Celebration of Italian Heritage in America
October 13, 2015 / Upper East Side Neighborhood / Manhattan Parades / Manhattan Buzz NYC / by Michael Wood.
Columbus Citizen Foundation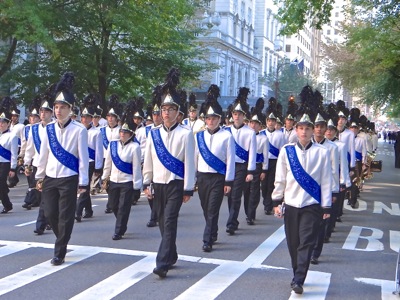 It was a near perfect day as I made my way to the Upper East Side to watch the Columbus Day Parade in Manhattan. The parade is organized by the Columbus Citizen Foundation. The Columbus Citizen Foundation was formed in 1944 under the leadership of Judge S. Samuel Di Falco and Generoso Pope.
Generoso Pope
Generoso Pope's life was one of those American success stories. He came to America just after the turn of the century and died a mega millionaire, having made his money in construction. He was also the publisher of a number of Italian language newspapers and a strong supporter of FDR. In 1934 FDR made Columbus Day a national holiday, which some believed was at Generoso Pope's urging.
Columbus Monument & Columbus Circle on the Upper West Side UWS
Pope and Di Falco established the Columbus Citizen Foundation in 1944 which, as mentioned above, is the organizer of the Columbus Day Parade event. According to the Columbus Citizen Foundation website, the parade had been institutionalized in 1929. Prior to the institution of the parade there was a wreath laying ceremony at Columbus Circle to commemorate the anniversary of Columbus's discovery. Columbus Monument in Columbus Circle was erected in Manhattan in 1892 to celebrate the 400th anniversary of Columbus' discovery.
Click here for more about the history of the Columbus Day Parade in NYC, including photos and a video of it along the Upper East Side.
---
Columbus Day Parade NYC
Upper East Side Welcomes Celebration of Italian Heritage in America
October 13, 2015 / Upper East Side Neighborhood / Manhattan Parades / Gotham Buzz. Continued.
Brief History - Columbus sets out to Discover a Shorter Route to Asia
Columbus set sail in early August of 1492 and is said to have spotted land on October 12th of that same year, which is why we celebrate Columbus Day on the second Monday of October every year. The land Columbus had discovered was actually an island in the Caribbean and Columbus believed it to be a part of Asia. Columbus's voyage had been funded by the King and Queen of Spain, as they were beginning to compete with other European nations for overseas trade.
Discovery of America - Italian Style - 1492 to 1510
Columbus made four round trips to the Americas, but technically never set foot in North America. All the time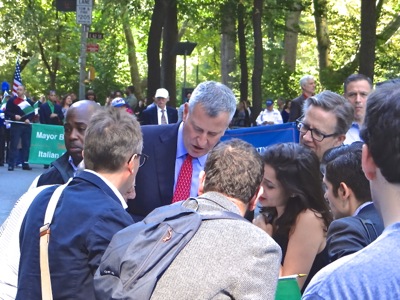 Columbus believed that he had found a quicker passage to Asia, rather than having discovered something completely new. It was another Italian, Amerigo Vespucci, who put forth the idea that the lands Columbus had first discovered were hitherto unknown to the western world and something completely new: The New World.
Countryman Amerigo Vespucci Wins The Name Designation
Vespucci, like Columbus, also made four round trips to the New World in the latter part of the last decade of the 1400's and the early part of the first decade of the 1500's. It was during these trips that Vespucci made the claim that these were undiscovered lands and hence they were named using the Latin translation of Amerigo Vespucci's first name, Americus.
Italians in NYC & NYS Government Today
Currently both New York City and New York State are governed by two Italians: Mayor Bill de Blasio and Governor Andrew Cuomo. Both men were in attendance at the parade and I captured small snippets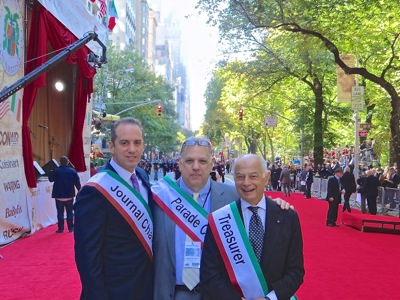 of each in the video below.
Columbus Day Parade NYC 2015 - along the Upper East Side UES
I walked up 5th Avenue to the where the reviewing stand was located. The area was closed off, as ABC was conducting its broadcast from there. So I made my way down the avenue taking photos and video along the way, which you can view below.
Please note that this is only a small video sampling of the parade, as according to the organizers, there were an estimated 35,000 marchers and they expected far larger numbers in the audience.
Click here for photos and video of the Columbus Day Parade on the Upper East Side NYC.
You may need to Click the Refresh Button to Make The Video Appear
---
---
---
$element(adman,groupad,NhoodUES)$
$element(adman,groupad,Catgry ManWmn)$
---
Upper East Side NYC - Manhattan Related Info
$element(adman,groupad,Catgry Rest)$
Click this link for promotions, discounts and coupons in Manhattan.
Upper East Side Neighborhood Related Links - NYC
Click for Manhattan Restaurants
Click for Manhattan Things To Do
Click for Gramercy Park Restaurants
Click for New Years Parties & Restaurants
Click for Manhattan Farmers Markets
---
Archives - TBD
---
$element(adman,groupad,Catgry Foodwine)$
Site Search Tips. 1) For best results, when typing in more than one word, use quotation marks - eg "Astoria Park". 2) Also try either singular or plural words when searching for a specific item such as "gym" or "gyms".
---
$element(bwcore,insert_search,N)$
Click this link to search for something in our Manhattan Business Directory.
---
$element(adman,groupad,Sectional2 Ad)$
Click the log in link below to create an ID and post an opinion.
Or send this story to a friend by filling in the appropriate box below.
---