Indian Restaurants in Manhattan Midtown
Curry in a Hurry Delivers Sumptuous Meals for the Budget Diner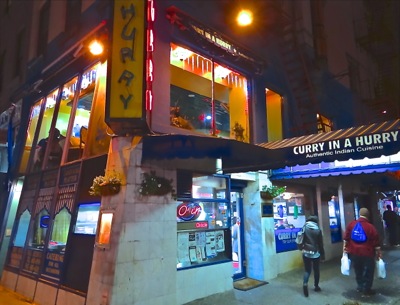 November 22, 2015 / Midtown Neighborhood / Midtown Restaurants NYC / Manhattan Restaurants NYC / Manhattan Buzz NYC.
I made my way up from the 28th Street & Park Avenue subway on a warm November evening. I was running a bit late to meet a friend for a quick bite to eat at Curry in a Hurry. Curry in a Hurry is an Indian restaurant located only one block east of Park Avenue on Lexington Avenue at 28th Street.
My friend was waiting outside, enjoying the quirky ambiance of the 49 year-old restaurant [opened in 1976]. We had both spent time traveling in India [separately] and Curry in a Hurry is a restaurant, which still emanates a late 20th century Indian vibe. The exterior, as mentioned, is a bit unique and quietly & visually tells passerbys that what awaits inside, is a trip to south Asia. Curry in a Hurry is shown in the photo at right.
Curry in a Hurry Indian Restaurant Midtown Manhattan NYC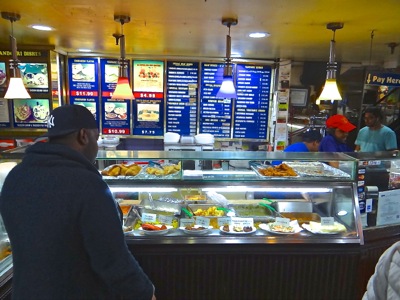 We entered the restaurant for the first time in many, many years. I had moved out of the Gramercy Park neighborhood nearly 15 years ago, and it might possibly have been that long ago since either of us had visited the restaurant. In fact, while scheduling the get-together, neither of us was sure whether Curry in a Hurry would still be there, given how quickly things had been changing in Manhattan … but like the flag that still stood at Fort McHenry during the War of 1812 - made legendary by Francis Scott Key's dedication in the 'Star Spangled Banner' – Curry in a Hurry was still standing.
As if walking through a time warp, we entered facing the counter, where a cafeteria style selection of Indian dishes was laid out before us [see photo at right]. The aromatic culinary flavors of India wafted in the air while behind the counter stood a couple of Indian men ready to serve up the delicacies of our choosing. They don't call it Curry in a Hurry for nothing because the servers are ready to go ...
Click here to read the rest of the story including photos of one of the leading budget Indian restaurants in Manhattan NYC.
---
Indian Restaurants in Manhattan Midtown
Curry in a Hurry Delivers Sumptuous Meals for the Budget Diner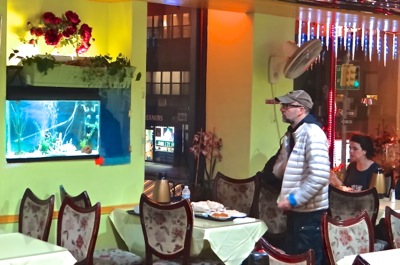 November 22, 2015 / Midtown Neighborhood / Midtown Restaurants NYC / Manhattan Restaurants NYC / Manhattan Buzz NYC. Continued.
A first time visitor [or in our case, visitors after a long hiatus] might not be ready to make their selection immediately, so just as you'd do if you were standing in line at a McDonald's, you step aside while pondering the selection.
Thankfully on this night, at the time we arrived, there were only a few folks in front of us, and only a couple of folks behind us, so we asked a few questions about the different serving packages they offer, and about the different dishes from which to choose before making our choices. I settled on the Kadai Chicken and my dining companion selected the Chicken Tikka Masala and the Sag Paneer. The total for both meals was about $25 including water, which we paid before heading upstairs into the dining room with our trays.
Given how unchanged the entrance and serving area were, it came as no surprise that the second floor retained its authentic Indian ambiance. We were both already on our way to being whisked back in time to our respective, passages to India, a long, long time ago.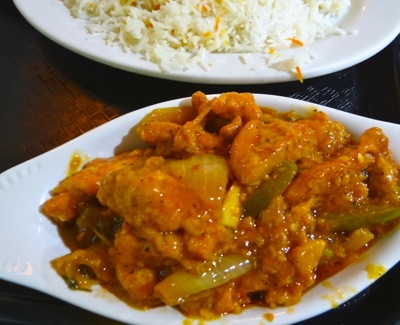 I have always been able to find a comfortable seat in the dining area upstairs, although I imagine there must be times when that's not the case. There are tall backed, cloth-covered wooden chairs that stand beside about a dozen tables set out upon the carpeted dining room. At the top of the stairs you'll find napkins and flatware and the dining area has numerous windows looking out into the Baruch College neighborhood of Midtown on the Manhattan Midtown east side.
The walls are painted a yellow pastel and there are a few Indian scenes found in the wall hangings that adorn the room. There's also an aquarium, which gives the dining room a je ne c'est quoi flair. Demographically you'll find Indians, Baruch college students and people from just about everywhere else, excepting those high rollers who prefer to pay five to ten times more for their Indian fare and who prefer a more refined dining experience and ambiance. But for the students, taxi drivers, vagabond travelers and Manhattan working class who love Indian food and real Indian ambiance, Curry in a Hurry is a rare treat in Midtown Manhattan.
We sat down next to the aquarium and began catching up with each other over the Indian fare. The Chicken Kadai is also spelled Chicken Kadhai and it contained a savory, well cooked, tender chicken cut into pieces and cooked with onions, green peppers, tomatoes and a host of spices including turmeric, coriander, chili, masala, cumin and lemon juice. It was every bit as good as it sounds, although not as spicy as what one might find in India because, in some measure, Curry in a Hurry has adapted its cuisine to suit the less spicy American tastes.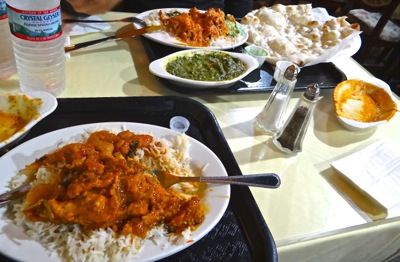 My dining companion wasted little time in devouring his Sag Paneer which is Indian style creamed spinach which is made with a number of spices including onion, ginger, garlic, masala, turmeric, tomato and ginger mixed with a light fresh curd. It's thoroughly cooked and has the texture of a hearty stew and the taste of a delicious medley of a very lightly spiced leaf vegetable with cream – a perfect means of getting young and old alike to 'eat their spinach' or vegetables.
He also had the Chicken Tikka Masala, which is a modern day, fusion dish with its culinary influences traced back to India and Bangladesh. Like the Chicken Kadhai, the Chicken Masala centers around the well-cooked tender chicken, then complemented with spices, mixed with yogurt and a very lightly flavored tomato [paneer] cream sauce.
The meal was great accompaniment to the conversation, wherein we had a relaxing couple of hours to catch up with one another on the passage of time, rather than the reminisces of our respective passages to India.
But alas, all good things must come to an end, and after finishing the dishes, the rice that accompanied it and the freshly made Naan bread we stepped back through the time warp, as we exited the Indian restaurant, and safely arrived back in Midtown Manhattan near Baruch College.
It wasn't hard to find a taxi with an Indian driver, so we could resume our respective passages to India on our voyages home.
As they say in India - कृपया भोजन का आनंद लीजिये (pronounced - kripyā bhojan kā ānnaṅd lijīyai) or in Engish, please enjoy your meal.
---
$element(adman,groupad,NhoodMidtown)$
$element(adman,groupad,Catgry Rest)$
---
Midtown NYC - Manhattan Related Info
$element(adman,groupad,Catgry ManWmn)$
Click this link for promotions, discounts and coupons in Manhattan.
Midtown Manhattan Neighborhood Related Links - NYC
Click for Manhattan Restaurants
Click for Manhattan Things To Do
Click for Gramercy Park Restaurants
Click for New Years Parties & Restaurants
Click for Manhattan Farmers Markets
---
Archives - TBD
---
$element(adman,groupad,Catgry Foodwine)$
Site Search Tips. 1) For best results, when typing in more than one word, use quotation marks - eg "Astoria Park". 2) Also try either singular or plural words when searching for a specific item such as "gym" or "gyms".
---
$element(bwcore,insert_search,N)$
Click this link to search for something in our Manhattan Business Directory.
---
$element(adman,groupad,Sectional2 Ad)$
Click the log in link below to create an ID and post an opinion.
Or send this story to a friend by filling in the appropriate box below.
---