A Titan In Our Midst
Titan & Optima Foods - Greek Food Wholesaler & Retailer Serving Manhattan NYC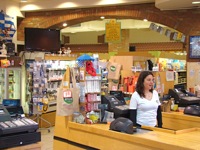 Food Shops In Manhattan NYC / Manhattan Buzz NYC.
Astoria has long been known as the Greek section of Queens and NYC. And for nearly 30 years Titan Foods has been serving the Greek section of Queens and NYC with imported Greek food. In 1991 Optima Foods, which is owned by the same folks as Titan, began operating as a mid sized importer and since that time has grown to become one of the leading distributors of Greek food along the eastern seaboard of the United States.
Click this link to read the full story about Titan Foods - Greek food stores near Manhattan NYC.
---
A Titan In Our Midst
Titan & Optima Foods - Greek Food Wholesaler & Retailer Serving Manhattan NYC
Continued. Food Shops In Manhattan NYC / Manhattan Buzz NYC.
Titan was founded in 1982 by a couple of partners. While the entity has undergone significant economic and structural changes since its origination, Costas and Roula Mastoras have remained Titan's and Optima's constants. The husband and wife team applies the separation of duties to their business, as Costas manages the sales and marketing functions while Roula handles the financial and administrative functions, and together they manage Titan's and Optima's operations.
I had occasion to meet with Costas for an exclusive interview as well as to see him in action at the 19th Hermes Expo hosted by the Queens Chamber of Commerce. Let's start with Titan Foods, the local Greek grocery store on 31s Street and then work our way from there into the national and global perspectives.
Greek Food Stores In NYC - Astoria Retailer Of Greek Foods Serving Greek Food Stores & Restaurants In Manhattan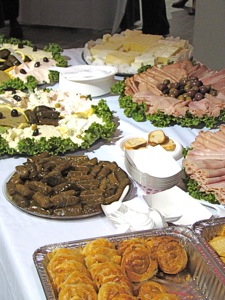 Titan Foods is a modern Greek grocery store. They carry a numerous assortment of Greek packaged goods ranging from dry goods such as Greek crackers, rice, beer, soaps and canned Greek spinach, to containers of Greek fruits, an extensive offering of Greek olive oils, fresh cheeses from around Greece, as well as an entire Olive Bar containing a wide assortment of fresh olives. I was informed that they carry a number of other goods, such as American cereals and cold cuts to round out the mostly Greek offerings. At the Hermes Expo, Titan catered a small spread of cheeses, crackers, dips, rice rolled in grape leaves and cold cuts - all of which was warmly received.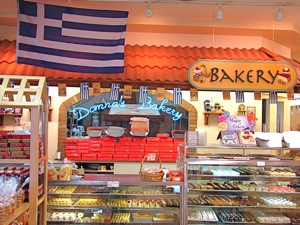 Titan Foods also has a full line of baked goods, including numerous desserts, pastries and cakes. These are baked daily at an Optima owned bakery which sells the baked goods to Titan Foods as well as many other stores within the area. The Optima bakery is about to undergo changes, as they've been fortunate to have more demand than they can supply. Hence, to that end, Optima Foods is in the process of setting up a more modern, larger bakery at their facility in Deer Park out on Long Island. Costas informed me that many of the recipes used by the bakery had come from his mother Domna, and hence the new bakery would be named in her honor. Domna Bakery is expected to begin operations sometime during the summer.
19th Hermes Expo Hosted By Queens Chamber Of Commerce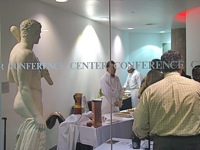 At the Queens Chamber of Commerce Hermes Expo I had occasion to talk with some of the representatives from Greece. In spite of the Greek nation's financial crisis, the representatives were optimistic about Greece's long-term future. As I understand things, the U.S. imports Greek food and exports American technology.
I asked what impact the current Greek crisis might have on Titan / Optima's business. I was informed that it was possible the Greek debt crisis, which along with the debt crisis of both Portugal and Spain, could bring down the trading levels of the Euro vis a vis the American dollar. The net effect could possibly make the dollar stronger which would be good for U.S. importers such as Optima.
Optima Foods - Leading Importer Of Greek Food For NYC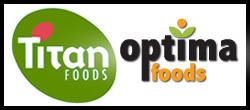 Optima, while junior to Titan in years; has grown far larger than Titan in scale and scope. Optima has grown to become one of the largest distributors of Greek food products along the eastern seaboard of the U.S. Optima services three additional market areas besides the New York Metro area [which includes New Jersey] including Florida, Virginia [D.C. included] and Boston. In the New York area Optima has direct relationships with many of the clients it services, including Titan Foods, while in the other market areas Optima works through representatives. Optima sells to grocery stores, supermarkets, restaurants and delis.



Optima's facility in Deer Park on Long Island includes 46,000 square feet, complete with loading docks, industrial sized refrigerators and coolers, and state of the art inventory management equipment. Optima imports primarily from Greece but products also come in from neighboring Bulgaria and Romania. Optima's operations are intelligently managed, as they also have offices in Greece where they closely coordinate and manage shipments, filling entire cargo containers at a time. To keep his pulse on operations on both continents, Costas and Roula make routine trips back and forth, working out of Optima offices in both nations.
Synergies Of Titan Foods & Optima Foods - Serving NYC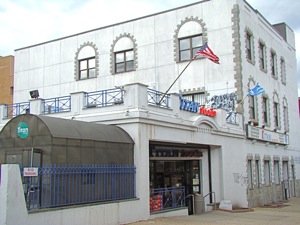 In many respects Titan Foods becomes a sort of working test market, providing Optima with the ability to keep its pulse on the changing tastes of Greeks, Greek Americans and Americans who love to eat Greek food. Over the past three decades, Costas told me that Titan's customer base has changed with the neighborhood, going from an almost entirely Greek client base to what is now a fairly even mix of Greeks and native born Americans [many are also the American born children of Greek immigrants].
In many respects Greek food in the nineties [1990's] went mainstream, much like Italian food did back in the seventies [1970's]. There appears to be a growing appetite for Greek salads, Greek goat cheeses and Greek olives. These are Titan and Optima staples along with their assortment of olive oils.
Greek Food Business Near Manhattan In Astoria NYC
Costas appears to work a job he made for himself. He mixes readily in both the Greek and American business worlds, as was evident in watching him at the Queens Chamber's Hermes Expo.
I asked him how he'd come to this and he told me that long ago, while growing up in Thessaloniki, Greece; his father, a barber, had encouraged him to work for himself / run his own business. Costas, while studying economics in college and business in graduate school, never forgot that advice and five years after he graduated, a Titan began emerging in Astoria.
---
All Natural Food Stores In Manhattan - Related Links
$element(adman,groupad,Catgry Foodwine)$
Click this link for promotional offers by merchants in Manhattan.
Manhattan NYC Related Links
Click for Manhattan Restaurants NYC
Click for Manhattan NeighborhoodS NYC
Click for Manhattan Things To DO NYC
Click for Gramercy Park Restaurants NYC
Click for Manhattan Hotels NYC
Click for New Years Parties & Restaurants NYC
Click for Manhattan Furniture Stores NYC
Click for Manhattan Street Fairs NYC
Click for Manhattan Professional Services NYC
Click for Manhattan Farmers Markets NYC
Click for Manhattan Real Estate - Upper East Side NYC.
Click for Food & Wine Stores Upper East Side & Midtown NYC
---
$element(adman,groupad,Catgry Wedding)$
Site Search Tips. 1) For best results, when typing in more than one word, use quotation marks - eg "Astoria Park". 2) Also try either singular or plural words when searching for a specific item such as "gym" or "gyms".
$element(bwcore,insert_search,N)$
Click this link to search for something in ourManhattan Business Directory.
---
$element(adman,groupads,Sectional Ad)$
---
Click the log in link below to create an ID and post an opinion.
Or send this story to a friend by filling in the appropriate box below.
---