NYC & NYS Government & Politics 2015 & Prior
---
Brewer Gives State of the Borough Address
Manhattan Borough President Gale Brewer Talks About Manhattan 2016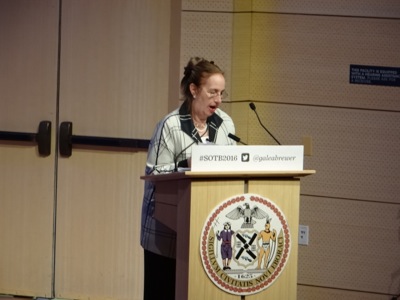 February 1, 2016 / Village Neighborhood / Manhattan Politics & Government NYC / Manhattan Neighborhoods / News Analysis & Opinion / Manhattan Buzz NYC.
I attended Manhattan Borough President Gale A. Brewer's State of the Borough Address on Sunday afternoon. The event was held at the New School at 63 5th Avenue just south of 14th Street in the Village neighborhood. Last year Gale Brewer gave her State of the Borough Address up at Columbia University, followed by a forum where she discussed general issues facing the borough. This year, at the New School, the forum topic was about engaging Manhattan borough youth through school and after-school activities.
Gale Brewer's State of the Borough Address
Brewer began her address by thanking all of the other government officials in attendance, as well as members of her family. She encouraged folks to keep out their phones and use Twitter to comment on the forum as it proceeded. The Twitter posts were shown on a big screen behind her, which is something I found more a distraction / nuisance than helpful - but I don't have Attention Deficit Disorder - so my opinion may not reflect the general populace.
Social & Economic Issues Facing Manhattan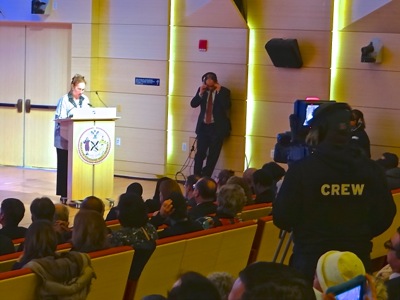 Brewer focused on about four topics: 1) affordable housing, 2) small business, 3) urban gardening, 4) police / community relations and 5) public schools.
She told us that she introduced 32 pieces of legislation this year, 8 of which were passed by the NYC City Council. The bills included: 1) shielding applicants arrest records from employers so they can't discriminate against people who had conflicts with the police, 2) the passage of paid sick leave for employees where she claimed that she did all the work to get the bill passed, while the Mayor got the credit, rezoning bills for 3) Midtown that she worked on with NYCCM Garodnick and NY City Planning for Midtown East and 4) rezoning for the South Street Seaport with NYCCM Chin wherein the real estate developer finally withdrew their plans for a large tower along the East River near the Brooklyn Bridge. She mentioned something about the Zoning legislation set forth by the de Blasio Administration to enable development of affordable housing, which didn't pass, but I didn't catch the gist of it.
Manhattan Borough President's Community Efforts in 2015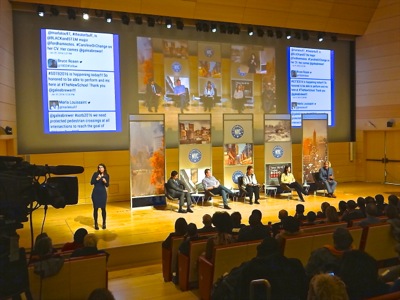 There were other things that Manhattan Borough President Gale Brewer talked about that she and her staff had done last year including, a) working with the police and the community to improve relations [not sure what], b) hosting small business round tables and an urban gardening symposium, c) organizing two mixers with teachers and private businesses in the arts and technology, and d) something about presenting a large scale map of Manhattan on the 19th floor gallery.
Manhattan Borough President Gale Brewer noted that the Upper West Side was heralded as the second most livable communities for the 50 plus crowd by some organization or magazine, which also cited New York City as the 5th most livable city for the 50 plus crowd in the larger cities category. Manhattan Borough President Gale A. Brewer noted that the age to serve on Community Boards had been lowered to 16 years and that applications to serve on the Community Boards must be submitted by February 1, 2016 [now closed].
[Editor's Comment: One has to question the wisdom of allowing 16 year olds to represent a community as there's a great deal of life's lessons that one doesn't have at that age which leaves them susceptible to manipulation by powerful people and politicians. Isn't 18 or 21 young enough?]
Manhattan Borough President Hosts Panel Discussion About Youth at the New School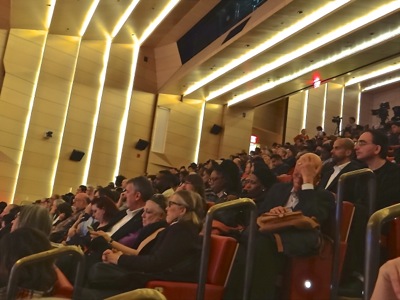 Then the panel began which featured: 1) an African American Khary Lazarre-White of the Brotherhood / Sister Sol, 2) an Asian Sumie Okazaki of the NYU Steinhardt School, 3) a Hispanic Francisco J. Nunez of Young Peoples Chorus of NYC and 4) a Caucasian Marc Murphy who is a chef / restaurateur.
The topic of the discussion was how to engage youth. They talked about: 1) income / opportuity inequality and discrimination, 2) that not everyone is able or interested in being a Rhodes Scholar and hence need to be engaged with in other endeavors or they become lost, 3) that music, farming and food are several of such avenues, 4) that income segregated housing isn't good for society, 5) that immigrant parents' language capabilities limit their ability to help their children evolve, 6) that ethics should be a part of the school curriculum because it's not always taught and reinforced in the home, and 7) that managing the impact of social media on kids complicates educators and parents ability to manage social situations that go awry.
Unfortunately I could not stay for the entire discussion, but I think you can get a flavor of the event from what I've reported above. Have a good year.
---
Which Manhattan 'Democratic' Pols Support $8 Tolls To Cross 60th Street & East River Bridges?
Borough President Brewer, NYS Assemblyman Rodriguez, Cuomo's Deputy of Legislative Affairs Weprin & Many Manhattan CCM's Support $8 Tolls to Raise Capital for the MTA
NYS Governor Cuomo Supported Congestion Traffic Pricing in the Past & Cuomo's Deputy of Legislative Affairs Mark Weprin Is Supporting It
March 29, 2016 / Manhattan Neighborhoods / Manhattan Politics / News Analysis & Opinion / Gotham Buzz NYC.
The new Congestion Traffic Pricing Plan has been making its way into the legislative process over the past year. Just last week NYS Assemblyman Robert Rodriguez, a Democrat from Manhattan introduced the bill on March 23, 2016. The Move NY Congestion Traffic Pricing Plan is being sold into the legislature as a means to raise revenue to fund MTA Capital projects.
Manhattan Borough President Gale Brewer, NYS Assemblyman Robert Rodriguez, Cuomo's Deputy of Legislative Affairs Mark Weprin, CCM's Ydanis Rodriguez, Margaret Chin, Mark Levine & Corey Johnson support installing $8 tolls on 60th Street & East River bridges to raise capital for the MTA.
Governor Cuomo's Words Are ...
Governor Andrew Cuomo supported the Congestion Pricing Plan put forth years ago, which wasn't popular with many of the voters in Brooklyn & Queens. The two boroughs have a combined population which rounds to 5 million or 25% of the 20 million people who live in New York State.
Cuomo was quoted as making the following statement by the Observer in an article published a year ago on March 15, 2015,
"It's not, 'Can I support it?' Will the people support it? Can you get it done? Can you get a congestion plan passed and we've gone through this a couple of times and it was an overwhelming 'no' and I haven't seen anything happen that would change my opinion,"

The Governor has essentially been repeating this position publicly ever since.

Inconsistent with Governor Cuomo's Staff Actions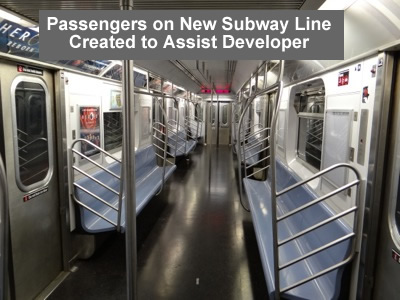 But while the Governor is publicly distancing himself from the measure which is unpopular in Queens and Brooklyn, former NY City Councilmember Mark Weprin, who is now Cuomo's Deputy of Legislative Affairs, has supported the Move NY Congestion Traffic Pricing Plan.
Weprin vehemently oppposed Congestion Traffic Pricing in 2008 when he was a NY City Councilmember, but in 2015 Weprin began publicly supporting the revised Congestion Traffic Pricing Plan as he transitioned from NY City Councilmember to becoming Cuomo's Deputy of Legislative Affairs. NYS Assemblyman David Weprin, Mark's brother, continues to publicly oppose the plan.
It's worth mentioning that the Weprins and the Cuomos have had close family political ties spanning two generations.
Move NY's 'New & Improved' Congestion Traffic Pricing Plan
We studied the Move NY Traffic Congestion Pricing proposal by first taking a closer look at what groups are pushing the plan [follow the money]. Gridlock Sam Schwartz Consulting LLC is one of the primary promoters of the plan, and the consulting company is owned in part by a large, multi-national, transit infrastructure contractor. We also evaluated the assumptions they used to create the estimates provided in the plan, which we found to be inconsistent with fairly recent independent studies by respectable institutions, and we also looked at what happened in one of the other cities around the world that implemented the plan.
In essence the plan retrofits [re-prices] the fossil fuel infrastructure, by making a significant investment to install and operate tolling around the center of Manhattan. The remaining proceeds would then go to fund other MTA capital projects [in London this was about half the proceeds]. The pricing would require those who can't afford the $8 tolls [each way] to either use mass transit [recent NYC metro studies have shown this switching doesn't happen] or to cross the bridge at other times at which time the tolls would cost less. The proponents say this would enable those who can afford the tolls to cross the East River bridges and 60th Street more quickly and move around mid Manhattan more easily [less traffic congestion with the rest of the community priced out of their way]. How 'democratic' is this?
Previously MTA Invests Billion$ in New Subways Appearing to Accommodate Billionaire Manhattan Developer(s) & Now Pols Want Metro Residents & Employees to Fund a System to Toll Tax Them to Fund MTA Capital Budget
The MTA during the Bloomberg (Republican) Administration made approximately $8 billion in MTA capital investments for about 30 to 40 blocks of Manhattan subway lines. One line travels from Times Square to the Javits Center [$2.4 billion mostly paid by city] and the other, which was strongly supported by NYC Comptroller Scott Stringer, is expected to travel along Second Avenue from
about East 60th Street to about East 86th Street when it is completed [ran way past budget and time estimates - currently about $5.2 billion].
The latter subway line has been called the 'subway to nowhere', while the other isn't much different - as it terminates at the Javits Center and billionaire real estate developer Steven Ross' & Related Companies' new Hudson Yards development - without any other subway connections. Pundits have opined that one [new #7 Hudson Yards station] and possibly both of these multi-billion dollar investments were made to accommodate Manhattan real estate developers [such as Ross], more than to facilitate transit for commuters and residents of New York City.
When I confronted an MTA spokesperson with this perspective, they told me that the Q line extension would alleviate a considerable amount of the congestion on the north / south east side Manhattan subway line, but made no comment regarding the Hudson Yards station.
The photos above show no passengers on the Javits subway [at an admittedly random time and not long after it was installed], while the second photo shows the #6 subway along the Upper East Side, also at a random time. The map to your right shows the new #7 subway line extension ending as an unconnected spur.
Perhaps if the MTA and the government officals who oversee MTA capital project spending were more judicious in their selection of multi-billion dollar projects and allocation of funds, they wouldn't need to make a huge investment of the public's money in the creation and operation of an expensive new tolling system which they plan to use to charge taxpayers $8 tolls to cross 60th Street and the East River Bridges.
This plan essentially aids the wealthy by making their lives easier, while economically discriminating against those with less wherewithal, by making their lives harder. This doesn't strike me as a solution that's 'democratic' at all. There must be less costly, more fair ways to raise additional revenue for transit that NYC commuters - not Manhattan real estate developers - really need.
CLICK HERE TO SCAN / READ THE FULL REPORT on the Move NY Congestion Traffic Pricing Plan.
---
$element(bwcore,article_picker,1324,Y,N,page_title_home,N)$
Albany Legislative Session To End Friday
Pending Bills: Public School Funding & Rent Stabilization Law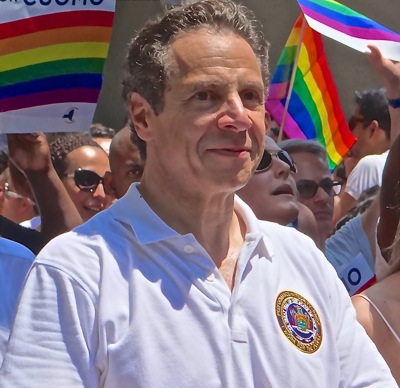 June 15, 2015 / Manhattan Neighborhoods / Manhattan Politics / Manhattan Buzz NYC.
There are two important bills expected to be finalized by the New York State Legislature this week: 1) one having to do with taxation and funding for the public schools and 2) the second having to do with NYC rent stabilization law.
I've been paying some modest measure of attention to both of these bills, and the following is a brief snapshot of a critical talking point in each bill.
Use Public Money To Fund Private Education?
From what I can gather, perhaps the most contentious item in the public education funding bill is the provision for sizeable tax deductions for those who choose to send their children to private, not public schools.
As I understand it, these tax deductions would be included as part of the funding for the public schools budget and therefore will reduce what's left for the NYS / NYC public school systems.
It's worth noting that private school tuition in NYC can cost in the range of about $5,000 to $30,000 per year per student. And that there are about 900 private schools in NYC alone, so depending on how these proposed deductions are ultimately structured, the funds reallocated from the public schools to private individuals would be in the tens to hundreds of millions of dollars and possibly more.
You might want to contact Governor Cuomo's office at 1.518.474.8390 to let him know you support or oppose the measure, since we understand that he's been the major force pushing for this public school funding change. You can also send him an email via the Governor's contact form.
Albany & Expiring Rent Stabilization Laws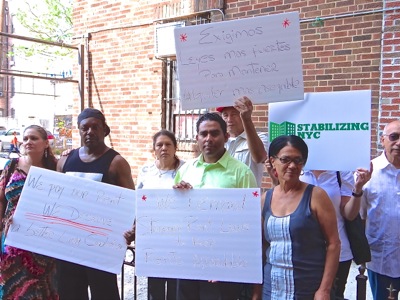 The Rent Stabilization Laws are due to expire tonight, June 15, 2015.
There was talk earlier this year that there would be a push to expand or strengthen the Rent Stabilization Laws given the rapid growth in homelessness in New York City. The NYC homeless population is currently estimated at over 60,000 or nearly 1% of the entire NYC population. About 70% of New York City residents are renters, of which about two million of less than eight and a half million residents, live in rent stabilized apartments.
Over the past decade or so, the Rent Stabilization Laws have been curtailed in the favor of the free market and landlords. The curtailment of rent price control legislation is believed to have spurred additional real estate development investment, as the profits of most new buildings are no longer affected by rent stabilization laws.
Much of the rapid growth in homelessness over the past decade is believed to be the result of tenants losing their rent stabilized apartments, as new owners of buildings have found ways to circumvent the laws. A recent NYU Furman Center Study has shown the loss of over 330,000 unsubsidized affordable apartments since 2002, due in part to the rent stabilization legislative changes referenced above.
NYS legislative insiders told me that tenants rights supporters were hoping to make legislative gains this year, but that the NYS Assemblypeople and NYS Senators opposing the changes, were going to allow the rent stabilization laws to expire as a negotiating tactic.
Vicki Been, Commissioner of NYC Department of Housing Preservation and Development, informed us that the current rent stabilization laws remain in effect through the term of existing leases and leases up for renewal that are already in the hands of the tenants. She also said that tenants should call 311 with any questions or problems.
Cuomo & NYS Officials - Quinnipiac Poll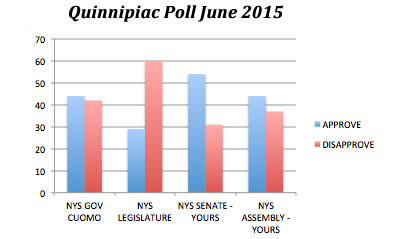 On June 3, 2015 Quinnipiac released a poll showing voters are feeling negatively about the NYS Legislature as a whole, while continuing to favor their local representatives. In the poll Governor Cuomo has only a 2% margin of those favoring him.
Governor Cuomo had a 44% approval rating versus 42% disapproval rating, as voters are not satisfied with his handling of the corruption scandals that have plagued Albany this year. In February 2015 Assembly Speaker Sheldon Silver [Democrat Manhattan] was indicted on federal corruption charges. And in May 2015 NYS Senate Leader Dean Skelos [Republican Long Island] was indicted by a federal Grand Jury.
Less than a year ago, NYS gubernatorial candidate Zephyr Teachout, a law professor at Fordham University surprised polls by garnering nearly 2 votes for every 3 won by the governor in the NYS Democratic primary. Ms. Teachout did not have much in the way of significant private backing or union support, but won nearly 40% of the vote waging an online campaign.
According to the Quinnipiac poll, voters by a margin of 52% - 32% said that with respect to Albany's corruption problem:
"... the Governor is part of the problem, not part of the solution."
As for the NYS Assemblymembers and NYS Senators the Quinnipiac Poll reported the following:
"Voters disapprove 60 - 26 percent of the job the State Legislature is doing, but approve 44 - 37 percent of their own Assembly member and approve 54 - 31 percent of their own state senator."
"At the same time, 45 percent of voters say their state senator should be thrown out in a general house-cleaning, while 40 percent say their senator deserves reelection."
"Voters are divided 41 - 41 percent on whether their Assembly member should be reelected or thrown out."
As you can see, the sentiments collected in the Quinnipiac poll seem a bit contradictory, as the answers received depend on how the questions are stated. Nonetheless, this looks to be an interesting legislative week as things wind down in Albany, and as the 2016 election cycle begins to ramp up.
---
New York City Makes 'Budget Handshake'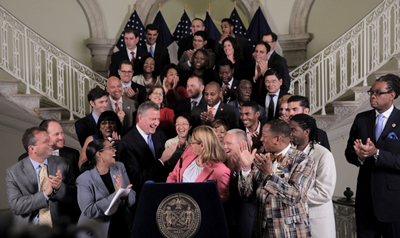 June 23, 2015 / Manhattan Neigbhorhoods / Manhattan Politics / Manhattan Buzz NYC.
We received this missive from New York City Councilmember Helen Rosenthal of the Upper West Side. We've made few edits, but the text is essentially a reprint of her email.
Over 100 hours of budget hearings revealed much information that helped to shape the final agreement. [Helen Rosenthal said that] As a member of the City Council's Finance Committee and the Budget Negotiating Team, I can honestly say that all 51 members of the Council had input to ensure that New Yorkers in every borough will get the services they need. In addition to major investments in neighborhood police, there is additional funding for mental health services, veterans, and Vision Zero education.

Photo Credit: William Alatriste for the New York City Council
Education and Youth
• There will be an increase of 80 school crossing guards citywide, and the Upper West Side will gain more crossing guards. Renewed focus on recruitment and retention will happen in discussions over the summer.
• There are unprecedented amounts of funding for our young adults from summer jobs and year-round jobs to support for City University of New York (CUNY) students to keep them in college and help them graduate. 
• The additional $39 million for libraries will yield 6-7 day a week service in every borough. 
• The free lunch program in middle schools will continue, and there will be an expansion of the "breakfast after the bell" program, so that all elementary schools will offer it by 2018.
• Teachers will receive up to $125 in reimbursement for school supplies that they bring into the classroom. While this is an improvement, it is not enough. We must give teachers all the tools they need to teach well, and I will continue to work to improve this system in the next fiscal year.
Tenant Protections
• Over $35 million for lawyers, clinics, and advocacy to support tenants who experience harassment by landlords - the largest the City has ever dedicated to this issue.
• Dedicated legal advice for public housing (NYCHA) residents in housing court at 250 Broadway.
• Dedicated team of inspectors to investigate particularly egregious landlords.
Seniors and Safety Net
• Elimination of the wait list for seniors needing home care services.
• Commitment to build 5,000 new units of senior affordable housing over the next five years with dedicated on-site social services.
• Additional funding for the emergency food program and local food banks.
• The largest investment in addressing elder abuse through outreach and social services.
Small Business Support
• Dedicated funds to local Business Improvement Districts (BIDs) and civic associations. Council members will be able to designate money to support small business in their area.
• Double the investments in worker cooperative support yielding an additional 30-40 new worker-owned businesses throughout the City.
Contract Services 
• Community-based organizations providing EarlyLearn NYC services will receive wage parity with DOE employees providing that service.
• Increase of the minimum wage of "Human Service" contract workers to $11.50/hour with targeted career ladder support.
• Funding to continue providing local services from small, community non-profits that lost contracts through the citywide process. 
The City Council will formally "adopt" the City's budget at a Stated meeting later this week. At that time, we will have additional information about my dedicated funding for the Upper West Side. 
Again, this a reprint of an email from New York City Councilmember Helen Rosenthal of the Upper West Side.
---
$element(bwcore,article_picker,1132,Y,N,page_title_home,N)$
---
De Blasio's State Of The City Address
NYC Mayor Maps Out A Framework To Tackle NYC's Affordable Housing Crisis
Real Estate Lobbyist: "Zoning Is The Equivalent Of Minting Money"
February 9, 2015 / Midtown Manhattan Neigbhorhood / Manhattan Government & Politics / Manhattan Buzz NYC.
Mayor Bill de Blasio sent the NYC political, media and real estate worlds abuzz on Tuesday, February 3rd, 2015 when he laid out his administration's plan to solve one of the severest shortages of affordable housing in the history of New York City. It seems everyone had something to say in response to it - from the folks on the street to the NYS Governor. NYC Mayor Bill de Blasio is shown standing in the bottom left corner of the photo, after giving his first State of the City Address.
The housing crisis in New York City reached crisis proportions during the Bloomberg Administration. Former Mayor Bloomberg's approach to the issue was to let rent regulated apartments expire or become transformed to encourage investment, provide generous tax incentives and city land deals to real estate developers to build luxury high rise apartments, and build more homeless shelters.
A severe shortage of affordable housing was lurking in the background, as candidate Bill de Blasio began running for the office of mayor with the theme of "the tale of two cities". His campaign keyed into the pinch being felt by the 70% of New Yorkers who rent.
Thus one year later, while giving his first State of the City Address, the 109th Mayor of New York City put the affordable housing problem front and center for his Administration in a manner similar to what he had done on the campaign trail.
And in doing so, the Mayor set afire talk about affordable housing by city and state pols, the media and city real estate developers.
Click here later in the week to read the rest of our report about Mayor Bill de Blasio's State of the City Address, including reactions by banking and real estate executives, members of labor unions and other government officials. By Michael Wood.
---
Tuesday - Primary Elections
The Real 'Choice' Is In The Primaries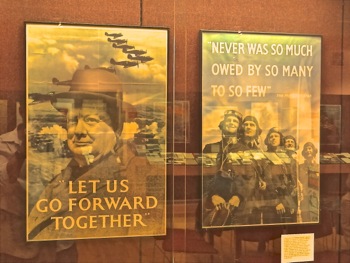 September 8, 2014 / Manhattan Neighborhoods / Manhattan Politics / Manhattan Buzz NYC.
Tuesday, September 9th, is an important election day as most Manhattan races are decided at that time given the borough of Manhattan is comprised of about 80% Democrats.
On Tuesday the polls open at 6 am and close at 9 pm for the primary elections for New York state and federal offices. The polls are primarily staffed by civic volunteers.
The number of people who vote in the primaries is about 10 - 25% of the electorate, generally ending up on the lower end of that range. Hence, every vote carries far more weight than in the general election.
Knowing who the candidates are, what they really stand for and voting for them is one of the key pillars of our democracy. Many of our ancestors died fighting for this right and almost all of our early American ancestors took great risks to come here to exercise that right.
One of my favorite quotes of Thomas Jefferson is, "If a nation expects to be ignorant and free . . . it expects what never was and never will be".
I know you're busy with all kinds of other responsibilities. But I hope you'll do your best to stay informed about who the candidates are and make the effort to vote for those who best represent your point of view. It's a small investment to make to ensure we maintain our rights and freedoms. You needn't look far around the world to see what life is like in places that don't enjoy the right to elect / choose those who govern them.
Click here to find your Manhattan polling place - and again polls are open from 6 am - 9 pm.
---
De Blasio Wins Primary But May Face Runoff, Stringer Edges Out Spitzer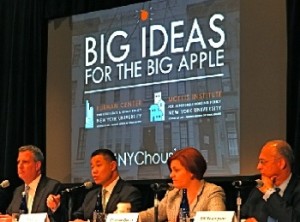 September 11, 2013 / Manhattan Politics / Manhattan Neighborhoods / Manhattan Buzz NYC.
Scott Stringer, outgoing Manhattan Borough President, edged out Elliot Spitzer in the Democratic primary. Bill De Blasio won the Democratic NYC Mayoral primary with about 40% of the vote. A tabulation of some paper ballots may determine whether there will be a runoff later this month.
And Gale Brewer, City Council Member of the Upper West Side inManhattan District 6 won nearly 40% of the vote in the race for Manhattan Borough President. Jessica Lappin, formerly Community Board One Chair won nearly 24% of the vote and City Council Member Robert Jackson of District 7 of Morningside Heights and West Harlem won 29% of the vote. In District 5 Ben Kallos won nearly 46% of the vote, while Assemblyman Micah Kellner won nearly 40% of the vote. And in District 4 there wasn't any primary as the candidates went uncontested.
---
Stringer Conditionally Approves Midtown East Development
September 12, 2013 / Manhattan Politics & Government / Murray Hill Neighborhood / Manhattan Buzz NYC.
We attended the Community Board 6 Meeting in Manhattan on Wednesday following the election and heard the announcement that outgoing Manhattan Borough President Scott Stringer had conditionally approved the large scale development in the eastern section of Midtown Manhattan.
We'll have more about the Midtown East real estate development, including residents' and businesses' concerns about it in a future report.
---
Borough Presidents Race September 10th
July 2013 / Manhattan Neighborhoods / Manhattan Politics / Manhattan Buzz NYC.
The primary election for Manhattan Borough President will come to a close on September 10th. Click here to find your NYC polling place.
---
Midtown / UES / UWS - Manhattan NYC
$element(adman,groupad,Catgry Rest)$
Click here to go to the Arts & Culture section of this site.
Click these links for promotions by advertisers in Manhattan.
Click this link to go to the Midtown Neighborhood.
---
$element(adman,groupad,Catgry Finance)$
Site Search Tips. 1) For best results, when typing in more than one word, use quotation marks - eg "Midtown Neighborhood". 2) Also try either singular or plural words when searching for a specific item such as "gym" or "gyms".
$element(bwcore,insert_search,N)$
Click this link to search for something in our Manhattan Business Directory which will soon contain hundreds of listings.
---
Click the log in link below to create an ID and post an opinion. Or send this story to a friend by filling in the appropriate box below.
---
---
$element(adman,groupads,Sectional2 Ad)$
---
Click the log in link below to create an ID and post an opinion.
Or send this story to a friend by filling in the appropriate box below.
---
---
$element(adman,groupad,Catgry Realestate)$
Midtown NYC Related Links
Click for Manhattan Restaurants NYC
Click for Manhattan NeighborhoodS NYC
Click for Manhattan Things To DO NYC
Click for Gramercy Park Restaurants NYC
Click for Manhattan Hotels NYC
Click for New Years Parties & Restaurants NYC
Click for Manhattan Furniture Stores NYC
Click for Manhattan Street Fairs NYC
Click for Manhattan Professional Services NYC
Click for Manhattan Farmers Markets NYC
---