Has The Pulitzer Prize Committee - Like the Corporate Media - Lost its Way?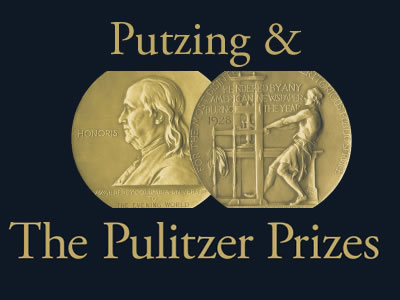 Updated February 21, 2018 / NYC Neighborhoods / NYC Government & Politics / News Analysis & Opinion / Gotham Buzz NYC.
The following is an open letter that I sent to the Pultizer Prize Committee on January 25th, 2018 along with a journalistic series I had written in 2017 and sent to them in 2018 entitled Rupert Murdoch and the Rise of the 21st Century Propaganda Press. The series, which you can view by clicking the link, tells the story about how multi-billionaire Rupert Murdoch appears to use his media outlets as propaganda machines in order to promote pols who will grant him favorable tax legislation, favorable executive rulings and favorable industry regulatory legislation.
Murdoch also appears to be able to manipulate the course of governments and public policy. He appears to have done exactly this in the case of the Iraq War, whereby Murdoch appears to have sent three English-speaking democracies to war - not only for oil - but for his cable network TV ratings too. In Britain in 2016, regarding the Brexit referendum, Murdoch appears to have hijacked public policy in his favor - not the nation's - by pushing through a seismic policy change that enables Murdoch to have greater autonomy over how he conducts his multi-national media business - free from any meaningful government interference - and the Brexit referendum vote also gave Murdoch a huge purchase price discount, because of a devalued British currency.
While the Corporate Media obsesses over the Russian Collusion Investigation - they are distracted from putting in the spotlight what appears to be the REAL 2016 PRESIDENTIAL ELECTION STORY - which is Rupert Murdoch's election meddling to further empower and enrich himself at the expense of the republic and its institutions.
In Trump's first year, Murdoch was the recipient of numerous tax breaks, and breath-taking deregulatory actions in Murdoch's industry via FCC Rulings and telecommunications legislative changes. All of this has received scant news coverage, as the Pulitzer Prize Award winning corporate media, were too busy covering Donald Trump's Tweet distractions. By giving preferential treatment to Trump's tweets, which the American public is able to directly access on their own, the corporate media has failed the American public by regurgitating and hence amplifying the President's shock jock statements - instead of doing their job of providing the American public with context-based news reports about the important issues of the day.
---
Has The Pulitzer Prize Committee - Like the Corporate Media - Lost its Way?
Updated February 21, 2018 / NYC Neighborhoods / NYC Government & Politics / News Analysis & Opinion / Gotham Buzz NYC. Continued.
To: The Pulitzer Prize Committee
I am making what I expect will be my final submission to this committee for consideration of an award. What follows explains why I will likely discontinue making submissions to this committee - which I think should be mandatory reading for all committee members now, and perhaps for some good measure of time into the future.
I no longer see the Pulitzer Prize Committee as a part of the solution to the disintegration of journalism in America, but rather I am increasingly beginning to view the Pulitzer Prize Committee as part of a systemic problem. The problem is that those who should be among the keepers and protectors of our nation's First Amendment rights are either flailing or failing to do their jobs. And some, in what has become something out of a Superman comic book, have become the leaders of a 'bizarro' press movement, where everything gets turned upside down. The fake news becomes the real news, and the real news becomes the fake news.
Good Governance Begins with an Honest Look in the Mirror
Let's start with holding up a mirror to the Pulitzer Prize Committee, which is comprised of about a third of people who live and work in the academic world, nearly a quarter of whom work for the billionaire / millionaire owned or supported press, and over a quarter of whom work for the branded print press – two [10%] of which originate in Texas.
Composition of the Pulitzer Committee is not Representative
My point here is that the Pulitzer Committee Board is comprised of people who are by definition living in an ivory tower world [academia], or in a patronage world [wealthy-owned or sponsored organizations], or in a world of the past [print]. Here we are two decades into the 21st century, and only one member of the committee is associated with a pure online information company, and it [Pro Publica] is funded with millions annually by a billionaire. There is not even ONE person on the Pulitzer Prize Committee who has any idea what it's like to work in the burgeoning, economically challenged, pure online news world, which suffered two major casualties this past year – the closure of DNA Info and the Gothamist [owned by the same billionaire].
Demographically the committee has checked the boxes of ensuring women and minorities are represented on the committee, but they fail miserably in geographic representation as there is a huge East Coast urban bias, which parallels the mainstream / corporate media - which is why they got the 2016 presidential race so wrong. And the committee does even worse when it comes to socio-economic representation, as the committee members appear to be middle / upper middle class people, or as they say in France – petite bourgeoisie.
Yes the Pulitzer Committee is ethnically and gender correct - but in the 21st century modern day world where socio-economic class has become one of the fault lines and at least as important a lens through which to see the world – the composition of the Pulitzer Committee is oh, so demographically out of touch.
In fact the committee and its corporate alumni friends are so disconnected from the American masses, that I'm not sure they even really realize it.
Pulitzers: Rigged System & Trump-Style, Self-Congratulatory News Awards?
The result of a skewed representation on the Pulitzer Committee, is that over half of the Pulitzer Awards this past year [about 60% of the awards - 8 of 14] went to news organizations that were represented on the Committee by one of their alumni. I can't help but see parallels to Donald Trump's awards to himself. Are they really any better?
I. Corrupt Use of the Media: NY Daily News & the Queens Library
In 2015, I submitted for consideration a series of reports I published regarding how it appeared the Billionaire Real Estate Developer and Publisher of the NY Daily News was abusing the power the press, in tandem with two local NYC pols, to oust the President and Board of the non-profit Queens Library. Based on circumstantial evidence, it appeared to be an attempt to take control of the non-profit organization [which they did] and it appeared to be an attempt to start monetizing the prime real estate upon which the Queens Library branches stood … as the Brooklyn Library was in the process of doing.
In the Fall of 2016 the Queens Library President won an out of court settlement sum of $7 million [reportedly] and was not found guilty of any of the allegations made by the pols and NY Daily News, following investigations by the FBI, the NYC Department of Investigations, and an intensive year-long audit by NYC Comptroller Scott Stringer's Office [he was one of the pols and Queens Borough President Melinda Katz was the other].
I was not recognized by the Pulitzer Committee for carving out an independent narrative which captured how Mortimer Zuckerman appeared to be misusing the power of the press, perhaps because at the time I submitted the story, it was unclear whether the President and Board were actually innocent of the allegations and innuendo put forth by the NY Daily News. Prior to doing this series, which I considered Pulitzer-worthy journalism [even the NY Times got it wrong by essentially blessing the NY Daily News narrative], I had never considered competing for a Pulitzer Prize. Until three years ago, for the most part a Pulitzer Prize meant nothing to me.
II. Corrupt Use of the Media by Rupert Murdoch: Attacking Mayor de Blasio & the 2016 Presidential Campaign
Rupert Murdoch's Fox News, Wall St Journal and NY Post replaced Mortimer Zuckerman's NY Daily News as the central figures of the second series I began in 2016 that I submitted for consideration to the Pulitzer Committee last year [2017]. In this series I took an unprecedented deep dive into four decades of Rupert Murdoch's past, digging up material from around the globe [primarily Australia and Britain] and here at home, where I unearthed a whole cesspool of circumstantial and hard evidence demonstrating that Murdoch uses his media outlets to promote pols, who then appear to favor him with executive rulings and legislative changes, while attacking and undermining those pols who do not.
As in my 2015 awards submission, I was reporting a narrative that ran ahead of the public's awareness, as writing about Murdoch's use of his media properties as propaganda outlets in 2016 [submitted in early 2017] may have seemed a bit harsh.
The Corporate / Mainstream Media is Finally Catching On
But here we are one year later and today calling Fox News, the Wall Street Journal or the NY Post Murdoch propaganda outlets doesn't seem harsh at all. In fact the Washington Post, New York Times and late night comedy shows [which have become, in part, political satire] are doing the same. So why the change?
No doubt in part because Trump is now president and Murdoch's 'news' outlets have reached a new level of shrill in defending him. But also in part because I published a decades-long database of information cataloguing what seems to be Murdoch's abuses and uses of his outlets as propaganda machines. This abuse of the power of the press appears to have greatly enriched him with tax breaks, favorable government rulings and legislative changes.
In my reports I cite reliable and verifiable sources, which the other media outlets can use to verify my narrative, and thus it enables them to get legal clearance within their own corporate organizations, and perhaps most importantly giving them the confidence to know they are telling the truth about individual events that fit into a lifelong pattern.
Last year I showed how nearly every major news organization was surfing on my sites. Since I began these stories just over a year and a half ago, over 15,000 visitors have clicked into them, and likely over (a) hundred(s) of thousands have been exposed to the story introductions which I post when the stories break on my four sites. For what one colleague of mine called stories with a narrow appeal, these stories have received an enormous level of public interest. Part of that interest was likely generated by the graphics I include, which I call the tabloidization or sensationalism of the truth.
My Regard for the Pulitzer Prize has Diminished Significantly
This year I decided to take a closer look at the Pulitzer Prize Committee and their work. What I found led me to question whether the Pulitzer Prize Awards have any meaning anymore – or whether they have devolved into some sort of pseudo news awards process.
The Committee's choices as exemplified by the two examples below, have to be in part why the Pulitzer Prizes get so little public press, in spite of the fact that the Pulitzers are media awards. I have come to the conclusion that they get little press because they don't actually DO anything – because the committee recognizes corporate sycophants publishing dribble about nothing meaningful - while failing to bring recognition to journalists who are NOT members of Pulitzer Prize Committee alumni organizations and the nationally branded media - who put in the hard work, make the economic sacrifices, and go to great lengths to inform the public about some of the most important issues of the day.
A. Pulitzer Prize for Political Press Releases Published as Editorials goes to Peggy Noonan of the WSJ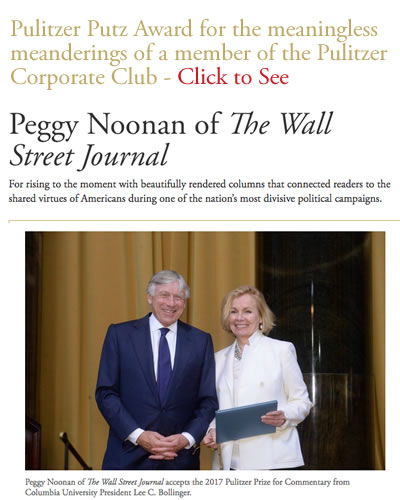 The committee's award to Peggy Noonan, Reagan's former Speech Writer and currently a paid contributor on Rupert Murdoch's Wall Street Journal, made me gag. Her Pulitzer Prize winning pieces were the dribble of a corporate press release, fashioned as an editorial series.
Yet on the Pulitzer Prize website you tell the world, that Peggy rose,
"… to the moment with beautifully rendered columns that connected readers to the shared virtues of Americans during one of the nation's most divisive political campaigns …"
And yet a year later the headline in a November 1, 2017 Vanity Fair story reads,
"A Different Level of Crazy": Is Civil War Breaking out in the Wall Street Journal over the Editorial Board's Coverage of Mueller?"
Yes, Peggy's work was so meaningless, that it didn't even have an impact on the people working in the offices next to hers. If the committee were stock pickers, not story pickers, they'd be out of a job by now.
It's worth noting that Peggy Noonan works for Rupert Murdoch's Wall Street Journal, as it has been controlled by Rupert Murdoch since it was acquired in 2007.
Click the image to your right to go to the Pulitzer Prize website showing Peggy's work to decide for yourself and then compare that with our series about Rupert Murdoch and the Rise of the 21st Century Propaganda Press.
B. Pulitzer Prize for Ideological Rationalization goes to WSJ Paul Gigot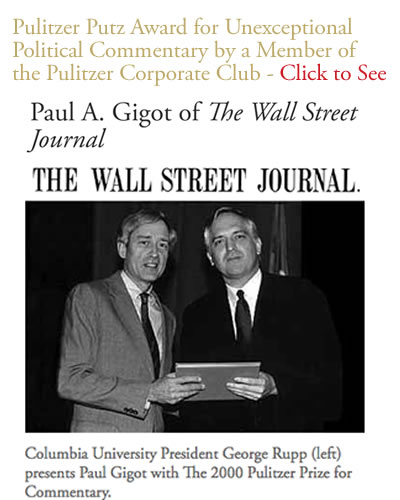 The Committee awarded Paul Gigot of the Wall St. Journal with a Pulitzer in 2000 for his editorials surrounding the presidential campaign of that year. In Paul's Pulitzer Prize winning editorials he advised Republicans to wait to coronate George W. Bush until after he won the primaries. Again I found this series to consist of meaningless dribble that one could easily pick up at one of the local watering holes. But today this is what the Pulitizer Committee recognizes as Pulitzer worthy work – neither persuasive nor insightful.
Since Paul's Pulitzer Prize win, he has gone on to become the current Wall St Journal Editorial Page Editor where he's been accused of leading a 'fatwa' against Mitt Romney's 2012 presidential bid, failing to make important disclosures in the Op Ed section regarding Karl Rove's ties to Republican fundraisers, and most disturbing of all - of suppressing a story about Trump's mob ties shortly before the November 2016 presidential election. A December 20, 2017 Vanity Fair story is headlined,
"Wall Street Journal Killed Editorial on Trump's Mob Ties"
I have to congratulate the Pulitzer Committee - you really know how to pick 'em. Incidentally, Paul was a senior reporter, while I was the junior editor, of the Abbott Pennings Lance in DePere, Wisconsin back in the early 1970's. If I recall correctly he was a rabid Nixon backer [this was around the time of the Watergate scandal] and it appears he hasn't changed a bit.
Click the image to your right to go to the Pulitzer Prize website showing Paul's work to decide for yourself and then compare that with our series about Rupert Murdoch and the Rise of the 21st Century Propaganda Press.
Pulitzer Prize Awards: Is The New Key Criteria Who You Know, Not What You Know?
Thus it appears that to win a Pulitzer Prize, it's more important to be associated with a large branded media outlet, and especially a Pulitzer Committee member alumni company, than it is to devote yourself to truly outstanding journalism.
Pulitzer Prize Awards: Out with the Old Criteria?
Have the days of Peter Dunne's mantra for journalists to,
"comfort the afflicted [and to] afflict the comfortable"
ended at the Pulitzer Prize Committee?
The committee needs to know that they are part of the problem. And for the most part, that is why I am likely making this my last submission – because I want the committee to know what they really look like to anyone who bothers to do their homework.
Modern Day Journalism: What You Reap Is What You Sow
So, where we are today in American journalism? Few of the reporters seem to do anything bordering on serious study of the important issues confronting the nation. They look like a pack of poodle weenies nipping at the heels of the Great Dane [Trump] as he kicks them away when they become too much of a nuisance, or barks loudly to scare them away when they truly annoy him.
What You've Sewn Are a Bunch of Empty Suits
Why have media companies and journalists descended in the eyes of the public? Because modern day reporters represent a socio-demographic group very much like the committee. They appear risk averse in their reporting, appear to have attended the same types of schools, and regardless of ethnicity and gender - they appear to be largely from the same socio-economic class - a class that is increasingly disconnected from the working, middle and lower classes. As mentioned before that's why literally ALL of the corporate media outlets missed the election of 2016. Only one California pollster and filmmaker Michael Moore did not.
What makes the Pulitzer Prize Committee's performance even more pathetic is that the committee evaluates stories and journalists AFTER the year has ended.
American News Organizations are Regurgitating Gossip NOT providing REAL NEWS
The corporate media and journalists that the committee patronizes with their awards have lost their way. They spend far more time regurgitating and discussing Trump tweets, than they do anything else.
Journalists are known to be lazy and few of them have done the research required to publish reports on important issues of the day, even though so much of the information lies at their fingertips.
Here's a Small Sample of the Real News Largely NOT REPORTED this Past Year.
With all of the Trump publicized deregulation this past year, how many stories have you seen that describes, details or analyzes the impact?
Trump's tweet storms attacking Kim Jong-un have been most thoroughly covered. But what there hasn't been much coverage of has been China expanding its sphere of influence in the South China Sea.
Where are the stories regarding Trump's missteps with the Koreas, which have the U.S. left out of a potential Korean peninsula relations warming?
Trump campaigned as a fiscal Conservative, yet pushed through a tax cut that increases America's national debt by over $1 trillion, at a time when the nation's economy is adding jobs and increasing wages.
Trump's Tax Cut was the part of the beginning of a new American Oligarchy that steals wealth from America's children. The Trump Tax Cut funding comes from debt shifted onto future generations and the immediate wealth benefits skew greatly to the richest of us all.
I could go on, but please consider one last issue which has received less press than any single major Trump tweet storm this past year. Why hasn't anyone in the media publicized the First Amendment atrocities going on at the FCC under Ajit Pai [whose name is pronounced 'a shit pie' by detractors]? The entire nation's online privacy rights were rescinded, Net Neutrality was overturned, and there's been a huge rollback of ownership limits, and likely new permissiveness in media mergers.

The public has traded stories about these important issues in exchange for increasing our knowledge about Trump's love of cheeseburgers, NFL kneeling, Trump's bedtime, the revolving door at the White House, Ivanka's weird relationship with her father, Melania's hand slapping and so forth.
Repercussions of the Ongoing Degradation of the Fourth Estate
The consolidation of the American media [six companies control 80% plus versus 50 companies controlling the same amount in the 1980's] is collapsing our nation's ability to entertain real diversity and an honest discussion of the important issues and elected leaders that we need as a nation. And this shrinking of media ownership is like Orwell's Newsspeak, a collapse of our ability to understand phenomena, learn new things and evolve as a society. It debases the conversation, enabling only a few – like Rupert Murdoch and Mortimer Zuckerman – to be heard.
Having a First Amendment right is meaningless if only a few people own the mass media.
This critical transition into darkness is going on right now, in front of our very eyes. And you – the Pulitzer Committee – are one of the primary contributors to the problem because you are awarding prizes to rats in the media factories for their meaningless mental masturbations.
Edmund Burke, a 17th century Irish English Parliamentarian said,
"All that evil needs to succeed is for enough good [wo]men to do nothing."
So go ahead. Do nothing.
I am trying to do something, which is why – if you don't help me make this narrative known this year - I won't be submitting any more of my work for your review ever again.
Go ahead. Laugh. But it's not funny.
Sincerely,
Michael Wood
Author - Rupert Murdoch and the Rise of the 21st Century Propaganda Press
---
Site Search. To find restaurants, shopping or other things to do in any of the neighborhoods, use the search function. For best results, when typing in more than one word, use quotation marks - eg "Astoria Park". Also try either singular or plural words when searching for a specific item such as "gym" or "gyms".
$element(bwcore,insert_search,N)$
---
Click the log in link below to create an ID and post an opinion. Or send this story to a friend by filling in the appropriate box below.