Bill's Townhouse for a Night on the Town
Bill's Townhouse Restaurant in Midtown Manhattan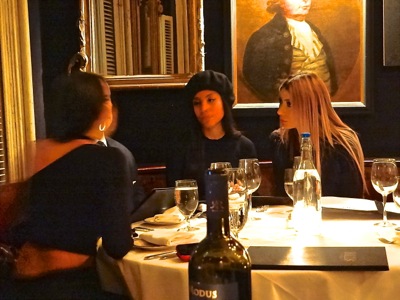 March 12, 2018 / Midtown Manhattan Neighborhood / Midtown Restaurants / Manhattan Restaurants / Manhattan Buzz NYC.
In late December, just before the holidays, I had the opportunity to spend an evening dining out at Bill's Townhouse in Midtown Manhattan. Bill's is something of a legendary institution, as it has been around for about a century.
Bill's Townhouse is a beautiful four story building [literally what used to be a townhouse] which is located between Madison Avenue and Park Avenue along 54th Street. One of the things Bill's Townhouse is noted for are their steaks.
In the photo at right, guests at Bill's Townhouse, engaged in conversation prior to being served their dinner.
I had made reservations earlier in the week for a Tuesday night out - the week before the Christmas holiday. New York City, and particularly Manhattan, is a busy place this time of year because people from around the world come to shop, dine and visit, and many folks also come to the city to spend time with family and friends.
Restaurants with Ambiance Midtown Manhattan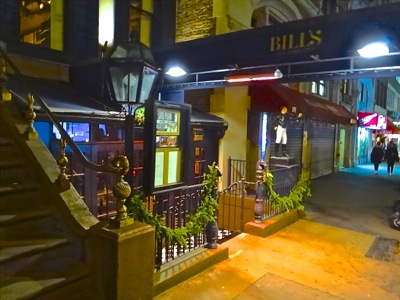 We had an eight o'clock reservation and arrived right on time. The reception desk is located in the lower level, where there's a bar that, tonight, was full. The walls are filled with memorabilia representing Bill's Townhouse past, which includes time spent as a brothel, speakeasy and gathering space for theatrical folks. I'll add a bit more about Bill's Townhouse history later.
After a short wait we made our way to the second floor, which is the main dining area. The room extends all the way back and opens up to the left, filling the width of the building that in the front part of the townhouse is used to accommodate the stairwell. There's a half door at the top of the stairs that opens up into the back section of the main floor, allowing you to get a glimpse of some of your distant dining companions.
Inside the main room there's a grand century old fireplace that was in use. We were seated at one of the front windows which gave us a nice view of the room and a peak at the street below. Surrounding us were tables of men and women in couples and foursomes, with the larger groups seated more toward the back in the area that opened up to the full width of Bill's Townhouse.
---
Bill's Townhouse for a Night on the Town
Bill's Townhouse Restaurant in Midtown Manhattan
March 12, 2018 / Midtown Manhattan Neighborhood / Midtown Restaurants / Manhattan Restaurants / Manhattan Buzz NYC. Continued.
Bill's Townhouse Midtown Manhattan Party Space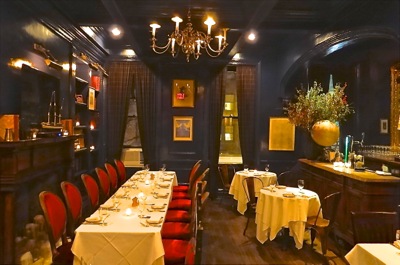 I had inquired about and took a few photos of the third floor on an prior afternoon visit, when the room was not in use. It's used to host private parties, and was generally booked through the holidays. Bill's Townhouse is a popular place to host weddings, graduations and various corporate and family gatherings like anniversaries throughout the year. My first visit to Bill's Townhouse occurred in the late 1980's or early 1990's, when I attended a Unilever corporate gathering. And that visit had left me with a fond memory of the visit.
The cost seemed reasonable for such a unique personal space, as I was told the room runs about $500 per night plus $150 per guest with some minimum number of guests and some negotiation involved for alcoholic drinks.
Great Steak Restaurants in Manhattan - Bill's Townhouse NYC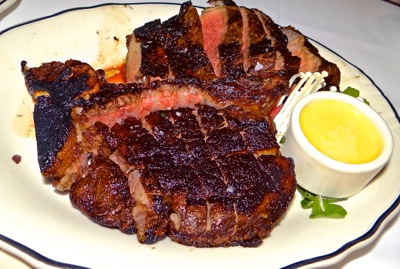 Shortly after the maître d had seated us, our waiter arrived. My two dining companions decided to split Bill's Townhouse Porterhouse steak for two, recollecting a shared family experience they had had, many decades ago, while traveling in what was at the time, the nation of Yugoslavia.
I was also in the mood for beef and went with the Kobe burger, which was served with a side of au gratin potatoes, and creamed spinach. I ordered the Kobe burger topped with bacon, mushrooms and cheese. We also ordered a bottle of wine, which was followed by a second as the conversation flowed as easily as the wine.
The Kobe burger was a generous, succulent paddy of beef. The cheese, bacon and mushrooms satisfied my desire to satiate my taste buds and satisfy my hunger, which I had earned from walking around all day. The au gratin potatoes had a tender density, and fusion taste of dairy and carb. And the creamed spinach was worth fighting for, which almost happened, but we were saved by the ample portions of beef and frequent savorings of wine.
The Porterhouse kept my dining companions mostly quiet as they fed themselves what they claimed to be one of the best porterhouses of their lives. I asked and received permission to snare a piece without injury, and found their claim entirely believable. The porterhouse was cooked about medium, brown on the outside and pink inside. It was a juicy, flavorful … memorable piece of meat.
Bill's Townhouse Has a History, Character & Warmth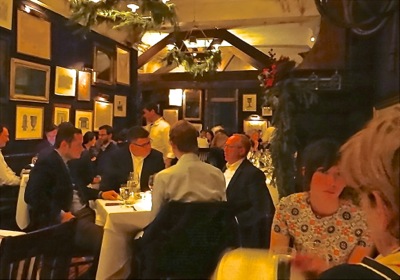 Meanwhile all around us the conversations flowed. The warm, charming room with high ceilings and fireplace, lent itself well to opening up the holiday spirit. We were surrounded by what appeared to be historic painted portraits of prominent 19th century businessmen, prints of objects and scenes, and an old mounted Texas style steer head. The soft lighting from the 19th century chandeliers, the thick hundred year old wooden beams, and the provision of ample space all add to the good feeling one gets from spending a bit of time dining at Bill's Townhouse.
On a prior visit I had met Tim Flynn who is the Manager at Bill's Townhouse. Tim gave me a brief history of the grand old restaurant. If I recall correctly, Tim told me that Bill's Townhouse was originally built sometime in the last couple decades of the 19th century [1880's or 1890's]. I knew that around that time, many of the richest men in America were moving into Midtown Manhattan, which was the northern part of New York City. For example Cornelius Vanderbilt erected a mansion at 57th and 5th Avenue in 1878 [it's now Bergdorf Goodman], and other wealthy millionaires, like Andrew Carnegie, were doing the same.
Tim said that in the early part of the 19th century Bill's Townhouse was turned into a restaurant and bar that was called Bill's Gay Nineties. When Prohibition began [1920 - 1933] it sparked the roaring 1920's, during which time Bill's was turned into a speakeasy with a brothel on the third floor. When Prohibition ended, Bill's Gay Nineties returned to being a restaurant and became a gathering place for theater people after the Broadway shows.
Tim told me that there used to be a piano in the front room of the main floor [2nd] and that folks would gather around the piano and sing show tunes after their shows, partying late into the night. It's worth mentioning that the 21 Club, which became a party place for the rich and famous, is nearby on 52nd Street between 5th and 6th Avenue. Bill's changed its name from Bill's Gay Nineties to Bill's Townhouse sometime in the 1990's and is now a destination with an historic and colorful past.
Bill's Townhouse - Midtown Restaurant Prices NYC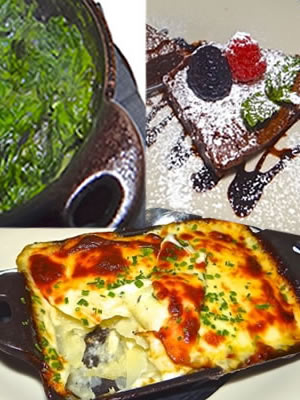 We ended the evening with a chocolate brownie, topped with powdered sugar and a raspberry. Like the beef, it was cooked just right, a wee bit hard on the outside and a very soft, moist, chocolaty inside. As for prices, the Kobe burger was topped with bacon, mushrooms and cheese, which together added $10 to the cost of the $19 burger. And the side of spinach also cost $10. The bottles of wine were about $75 apiece, and I'm guessing the chocolate brownie cost about $10, so that means the porterhouse for two cost about $50 - $60, as the whole bill came to a bit over $300 including a 20% gratuity.
No, not inexpensive, but a very satisfying and memorable outing, at a place that has a comfortable, disarming atmosphere, that will charm your guests as you dine with them in a place, that for a few hours, will feel like your very own inviting Midtown townhouse, situated right in the middle of Manhattan.
Bill's Townhouse is open Monday through Friday from 11.30 am to 11 pm and on Saturday from 5 pm to 11 pm. Bill's Townhouse is closed on Sundays, but likely open for rentals on Sunday. They are located between Park and Madison Avenues on 57 East 54th Street in Midtown. You can reach them by calling 212.518.2727.
---
$element(adman,groupad,NhoodMidtown)$
$element(adman,groupad,Catgry Rest)$
---
Midtown NYC - Manhattan Related Info
$element(adman,groupad,Catgry ManWmn)$
Click this link for promotions, discounts and coupons in Manhattan.
Midtown Manhattan Neighborhood Related Links - NYC
Click for Manhattan Restaurants
Click for Manhattan Things To Do
Click for Gramercy Park Restaurants
Click for New Years Parties & Restaurants
Click for Manhattan Farmers Markets
---
Archives - TBD
---
$element(adman,groupad,Catgry Foodwine)$
Site Search Tips. 1) For best results, when typing in more than one word, use quotation marks - eg "Astoria Park". 2) Also try either singular or plural words when searching for a specific item such as "gym" or "gyms".
---
$element(bwcore,insert_search,N)$
Click this link to search for something in our Manhattan Business Directory.
---
$element(adman,groupad,Sectional2 Ad)$
Click the log in link below to create an ID and post an opinion.
Or send this story to a friend by filling in the appropriate box below.
---