NYC March For Our Lives in Manhattan
Tens of Thousands Protest the NRA & Gun Violence
March 27, 2018 / Midtown Manhattan Neighborhood / Manhattan Social Issues / Manhattan Neighborhoods / News Analysis & Opinion / Manhattan Buzz NYC. By Michael Wood.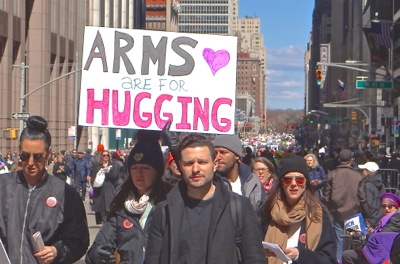 The March For Our Lives protest started at 11 am on the Upper West Side of Manhattan at 72nd Street and Central Park West. Not coincidentally, this was just steps away from the Strawberry Fields Memorial in Central Park honoring musician / poet John Lennon of the Beatles, who was murdered by a lunatic with a gun.
The March For Our Lives protests were organized and led by students around the nation, with support from a wide range of people in all other age segments of the population. Frequently the Columbine shooting in Littleton, Colorado on April 20, 1999 is cited as the first of these sorts of mass shootings in schools, although a check into mass shootings in Wikipedia, shows that America has a 200 year history of mass shootings, including some of which took place in schools before Columbine.
Fox Fake News Appears to try Discrediting Protesters with False Narrative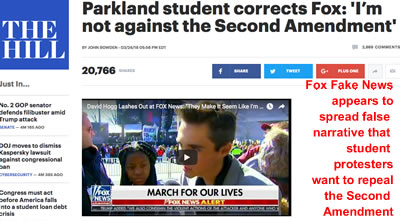 If you watch Rupert Murdoch's Fox News you might come away with the impression that the students are trying to revoke the Second Amendment. But based on conversations with some of the marchers and in reviewing other media accounts, this seems to be another Murdoch Mouthpiece Fox Fake News narrative.
But while the students and the March For Our Lives protest wasn't about repealing the Second Amendment, some members of the left, such as Bret Stephens of the NY Times did make a call for Second Amendment repeal in two editorials - one dated October 5, 2017 and the other dated February 16, 2018. Murdoch's Fox Fake News mouthpieces torch the possibility of a national conversation by misinforming their ill-informed audience that the NY Times and Op Ed writer Bret Stephens speak for everyone. What they don't realize is that the America that gets their information outside of the Murdoch Fake News FoxHole is intelligent enough, and adult enough, to have a real conversation about gun ownership and the Second Amendment.
Is the NRA Lobby Out of Control & In Control?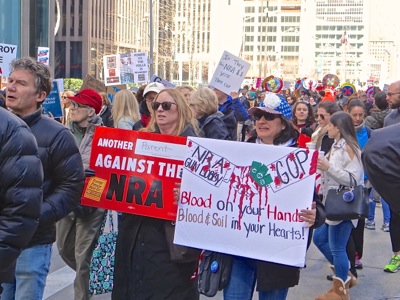 From what I could gather the students seem to have identified and coalesced around tangible changes to reigning in what appears to be an out-of-control gun lobby - the NRA. The firearms industry used bump stock technology to circumvent the unlawful possession of machine guns by providing stocks. And the gun lobby as recently as a few months ago, was pushing to 'deregulate' silencers on guns. Both of these laws - regulating machine guns and silencers - began with the National Firearms Act of 1934. At that time criminal violence by mobster gangs was the order of the day. And it appears that it's just as true today as it was back then - that if you allow guns to be put guns in the hands of lunatics, then murders and criminal violence is what you get.
A mid 2017 poll by Gallup showed that 60% of Americans were in favor of making gun control laws more strict, 33% were in favor of keeping them about the same and 5% wanted to make them less strict. The trend toward favoring more gun control has been going on since 2011 [see chart]. Apparently the politicians we send to Washington do not represent the majority so much as the NRA, and sending a swamp monster to clean up the swamp, is at best delusional. President Trump after opining that more gun control would be good, backtracked, appearing to have caved to the very powerful NRA lobby in Washington.
---
NYC March For Our Lives in Manhattan
Tens of Thousands Protest the NRA & Gun Violence
March 27, 2018 / Midtown Manhattan Neighborhood / Manhattan Social Issues / Manhattan Neighborhoods / News Analysis & Opinion / Manhattan Buzz NYC.
A Brief History of Gun Regulation in America - FDR's National Firearms Act 1934 & Reagan's Firearm Owners' Protection Act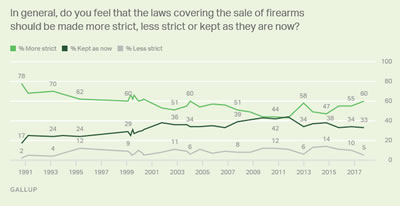 In the 1934 National Firearms Act, machine guns were regulated under a set of strict laws which many claim essentially banned them, until the Reagan Administration deregulated them - making ownership of machine guns legal again. According to an October 4, 2017 report in Vox,
"Under federal law, fully automatic weapons are technically legal only if made before 1986, when Congress passed the Firearm Owners' Protection Act."
You have to appreciate the deceptiveness inherent in the names given to these bills. What's more important? Protecting firearm owners or protecting the general public? We have a pretty fair idea as to what the NRA and Fox 'News' Sean Hannity think.
Snapshot of Gun Regulation in America in 2018 - State Bans on Assault Weapons & Push for Deregulating Silencers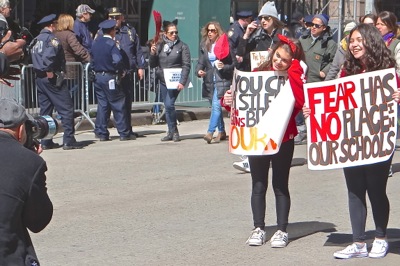 A June 20, 2016 CBS report stated that the Law Center to Prevent Gun Violence notes that today there are only seven states [NY, CA, CT, MD, MA, NJ & HI] with assault weapons bans, plus the District of Columbia, and that two states [VA & MN] regulate them.
In June 2017, the legalization or deregulation of silencers bill was named the "Hearing Protection Act" because the sponsors claimed that silencers would protect the users of firearms from hearing the loud noise caused by their guns. This seems to ignore the collateral damage of letting murders murder without being heard, and uses what seems a phony argument as gun users can purchase headsets, like the construction workers who use jack hammers do, to shield them from a comparably loud noise. A Washington Post June 19, 2017 report indicated that ear muffs reduce the noise at least as much as silencers.
'March For Our Lives' Protesters' Issue is All About Safety
So what statements were the March For Our Lives people making? They were telling lawmakers to do the right thing and protect them. According to a March 26, 2018 Washington Post analysis,
"Nearly 200 people have died from gunfire at school since then [the April 1999 Columbine shooting], and more than 187,000 students attending at least 193 primary or secondary schools have experienced a shooting on campus during school hours ..."
America has spent hundreds of billions - if not over a trillion dollars - over the past decade defending the American people from foreign terrorists, who have killed far, far fewer people in America than these domestic terrorists have since 911. And yet lawmakers can't sit down and have an intelligent conversation about making some needed changes to update gun control regulations?
March For Our Lives Demands - Regulate War-like Guns & Weapons That Would Facilitate Murders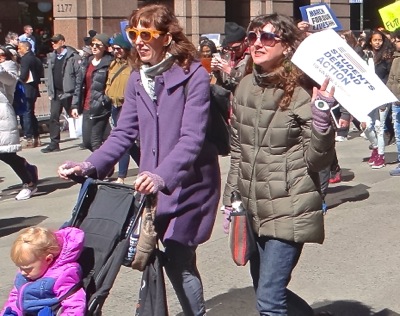 A March 24, 2018 report in the Washington Post states a few of the objectives sought by the March For Our Lives protesters.
"Among the reforms cited by the students taking the stage [in Washington, D.C.] Saturday and those carrying signs included: a ban on assault style weapons and large capacity magazines, expanded and universal background checks and raising the legal age to purchase a gun to 21."
While covering the March For Our Lives protest in Midtown Manhattan I heard similar comments as those noted in the Washington Post report.
The Second Amendment isn't the Issue
Changing Gun Regulation to Keep up with the Technology is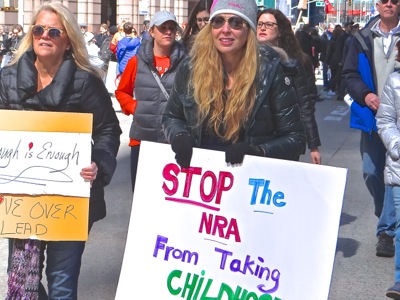 I am an advocate of the Second Amendment. And I cringe nearly everytime anyone says they want to change the U.S. Constitution, which has stood the test of time quite well these past 229 years. The U.S. Constitution 'went live' in 1789 and has continued operating uninterrupted since then. The American Founding Fathers didn't just throw the U.S. Constitution together like some flimsy Sean Hannity monologue, they labored over it for far longer than a decade, and gave great consideration to how a government by the people and for the people should operate.
The Founding Fathers put together the U.S. Constitution knowing that some voters were and would be absolute fools. And that greed and lust for power would continue to drive some powerful and clever manipulators, to try convincing these voting fools to see the world as their manipulators wanted them to see it, so that the greedy manipulators could fill their own pockets, and enrich themselves by using the power of the state to steal from their own countrymen.
See our report on Rupert Murdoch and the Rise of the 21st Century Propaganda Press to get an idea of how this scenario may be playing out before our very eyes. Or click into this one about the Trump Tax Reform bill signed into law in December 2017, for more of the same.
That's why America's Founding Fathers inserted checks and balances into the system - to slow the government process down - long enough for the aware people in democracy to identify mischief as it was happening, and to give them the tools to stall the thiefs long enough, so that they could wake up enough of their fellow country[wo]men, to stop the mass deception and plundering, before it became too late.
The Second Amendment Text
Repeal the Second Amendment? No. Regulate automatic, semi-automatic weapons and silencers? Yes. Have an honest discussion about who is in it for the money, and who is in it for the public safety, and find ways to balance these competing objectives and do the right thing for everyone concerned? Yes.
Lastly, the text of the Second Amendment is,
"A well regulated Militia, being necessary to the security of a free State, the right of the people to keep and bear Arms, shall not be infringed."
I have always marvelled at the succinct prose embedded in America's founding documents. The Founding Fathers demonstrated their vision and intelligence as much by what was not said, as by what is.
Update & Enhance Regulations Surrounding Gun Control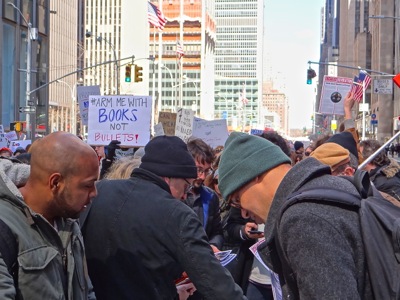 This Amendment seems primarily defensive in nature, and sensible too, because if only a few people controlled all the guns like in Russia or China, then those few people could usurp the rights of all others by using fear and intimidation. People should be allowed to protect themselves from intruders and invasion by unwelcome visitors. But they don't appear to need a machine gun, a semi-automatic weapon or a silencer to do so. And making claims to the contrary, is a discussion I would like to see held by reasonable [wo]men.
Fox Fake News Murdoch mouthpieces Sean Hannity, Tucker Carlson & Jeanine Pirro don't meet the 'reasonable' litmus test for having an 'intelligent' conversation, as far too often these Fox News Murdoch Mouthpieces appear to twist the public dialogue around to serve their master Rupert - not the public - and to keep their annual, multi-million dollar, Murdoch funded paychecks coming.
Did Fox News Try to Discredit Role Played by Teens in March?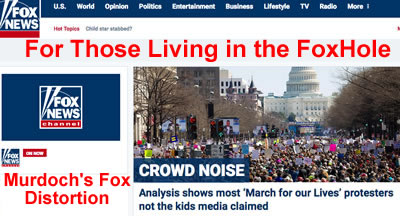 FOX NEWS DISTORTION ALERT 3.28.18. Today Fox News estimated that high school students made up only 10% of the protesters in the March For Our Lives last Saturday, in what appeared to be a reporting effort to downplay the teenage minors' influence in the March For Our Lives (see graphic at right - the red type is mine).
As is often enough the case, Fox News seemed to twist THEIR 10% ESTIMATE out of context, rather than to put it in context.
It's worth mentioning that in the 2017 school year, there were 15.1 million teens enrolled in public high schools across the nation, and an estimated 325 million people in the U.S. population. Thus teens in public high schools comprise about 4.6% of the U.S. population. So if I use the Fox News estimate, then teens came out to march in more than TWO TIMES their standard representation in the population.
In understanding the demographic composition of the NYC march, one must also factor in the human / family element of it. By this I mean I saw whole families out marching, which included parents, grandparents and non teen children including kids in strollers [see photos above]. So while covering the march I came away with the impression that whole families were involved in the March For Our Lives, and the high school teens - who are mostly minors - were present in numbers that significantly exceeded their representation in the overall population. And anyone, who knows anything about teens, would know that for TEENS this is a HUGE STATEMENT.
---
---
$element(adman,groupad,NhoodMidtown)$
Manhattan NYC Related Links
Click for Manhattan Restaurants
Click for Manhattan Neighborhoods
Click for Manhattan Things To Do
Click for Gramercy Park Restaurants
Click for Manhattan Hotels
Click for New Years Parties & Restaurants
Click for Manhattan Furniture Stores
Click for Manhattan Street Fairs
Click for Manhattan Professional Services
Click for Manhattan Farmers Markets
Click for Manhattan Real Estate
---
---
$element(adman,groupad,Catgry Rest)$
Site Search Tips. 1) For best results, when typing in more than one word, use quotation marks - eg "Astoria Park". 2) Also try either singular or plural words when searching for a specific item such as "gym" or "gyms".
$element(bwcore,insert_search,N)$
Click this link to search for something in our Manhattan Business Directory.
---
$element(adman,groupad,Sectional2 Ad)$
Click the log in link below to create an ID and post an opinion.
Or send this story to a friend by filling in the appropriate box below.
---