Manhattan French Restaurants on the UWS - Nice Matin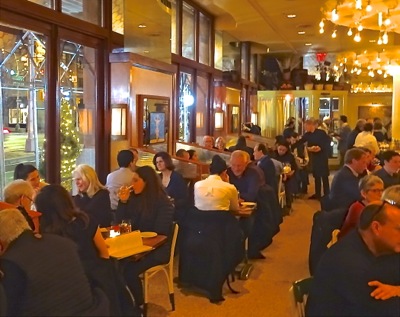 January 20, 2020 / Upper West Side Neighborhood NYC / UWS Restaurants Manhattan NYC / Manhattan Restaurants NYC / Manhattan Buzz NYC.
Nice Matin is the largest French regional newspaper covering the region of Nice and Provence in southern France. Nice Matin also means nice morning or good morning in French.
Nice Matin in Manhattan means nice meal or good meal at the French restaurant that goes by that name located on the street level floor of the old Lucerne Hotel at 201 West 79th Street at Amsterdam on the Upper West Side. The French restaurant is an Upper West Sider staple.
The photo at right shows the inside of Nice Matin French restaurant in the Lucerne Hotel on the Upper West Side, at street level in Manhattan.
I visited the restaurant with a few Upper West Siders in early January of 2020. We had a reservation, which is advised, as they keep pretty busy, especially on the weekends. We were seated shortly after our complete party had arrived and began perusing the menu.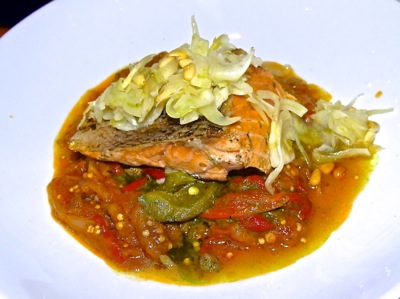 The first taste delight was the Cauliflower and Truffle Tortellini with cacio and pepper butter sauce. The latter is a modern Italian pasta sauce that includes black pepper and Pecorino Romano cheese. The texture was amazingly soft and slippery as it fell apart upon landing in my mouth, releasing a subtle symphony of succulent flavors.
The photo at right shows one of the main entrees, the Olive Crusted Salmon, which is talked about in the full review that follows.
Not to be outdone, the Escargot rose to the occasion. Nice Matin cooks the escargot in an enclosed pot [en cocotte] with tomato fondue, which is near dripping melted cheese, and served with garlic and bread crumbs. The cooking in the pot, combined with the cutting the escargot into small pieces, made this taste sensation just possibly one of the best experiences I've had with escargot in a long, long while.
A couple of members of our party were regulars and it became obvious that they knew their way around the menu, shortly after we started sampling the appetizers they ordered. Usually one of two appetizers turns out to be a hit and the others are … ok. But tonight we were treated to a royal flush of winners.
---
Manhattan French Restaurants on the UWS - Nice Matin
January 20, 2020 / Upper West Side Neighborhood NYC / UWS Restaurants Manhattan NYC / Manhattan Restaurants NYC / Manhattan Buzz NYC. Continued.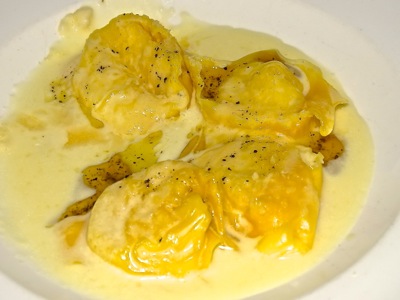 Last, but not least, I sampled the Risotto with radicchio, gorgonzola, walnuts, and orange blossom honey. This was comfort food at its best as the creamy risotto and melted gorgonzola cheese provide a gentle backdrop for the quiet flavor of the radicchio and the sweet effervescence of the blossom honey, which is made more interesting by the addition of the crunchy bits of walnut.
Nice Matin opened in 2003 and was quickly a success. Nice Matin's Executive Chef is Andy D'Amico, who partnered with restaurateur Simon Oren, to create the popular French dining destination on the Upper West Side. Oren traveled to France prior to opening the restaurant to do some research for the dishes to place on the menu, which are a mix of French traditional and modern, complete with Oren's and D'Amico's personal touches. Oren is also involved in Le Monde and Café D'Alsace, while D'Amico is also involved in 5 Napkin Burger and Marseille, and both also have other affiliations.
The entrees soon arrived, and once again, the Nice Matin regulars hit home runs. The first up was the Ravioli Nissarda which comprised of "braised short rib ravioli, red wine sauce, butter and parmesan". The medley of flavors comes together as an easy to eat … tasty treat. It was near poetry.
The Olive Crusted Salmon was complemented with "smoky eggplant ragu, piperade, fennel & pine nut slaw". This was a hearty, fully balanced meal in one, with the vegetables lending flavor and moisture to the salmon of the sea or sea farm. Who knows these days?
One member of the party ordered a Nice Matin staple for the less adventurous, but for those who know what they like and want. This was the Crispy Roast Chicken that was described on the menu as a "Goffle Road Farm all natural free ranging chicken, purée de pommes, grilled asparagus, orange, green olive - caper pan sauce".
I've had this dish before, when I wanted to get exactly what I wanted, and can tell you it's a near sure fire pleaser, for those who want to know exactly what they're gonna get.
I have the Chicken Paillard this evening. The dish includes, "red & yellow endive salad with haricots vert, fennel, grapefruit, tomatoes, creme fraiche vinaigrette". While it was quite good, I have to admit that as I looked around the table at what my dining companions had ordered, I felt a bit envious. But as they say in France, "C'est la vie."
It's worth mentioning a bit about the Lucerne Hotel, in which the street level dining establishment of Nice Matin is located. The Lucerne Hotel opened in 1904 and was designed by the American architects Mulliken and Moeller. The hotel is distinguishable not just from its neighbors, but from most other buildings in New York City as its exterior is done in a detailed terra cotta that is a warm brownish red, with interesting curves and details. The hotel is one of the great historic luxury hotels in NYC. Click here to read our report on historic and luxury Manhattan hotels including the Upper West Side Lucerne Hotel.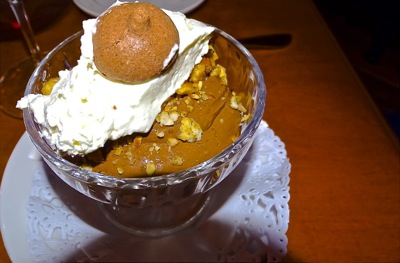 The desserts arrived. One of the members of our party was feeling decadent enough to order the Chocolate Mousse. Since chocolate mousse is a French creation, it's no wonder that the Nice Matin got it right. The sweet sensation included hazelnut praline and chocolate meringue.
Another ordered the Profiterole. The breaded cream puff included vanilla and coffee ice cream and a chocolate sauce. This dessert was popular, but the chocolate mousse was difficult to top.
And last, but not least, were the Sage and Coffee ice cream with pink sorbet. This dish proved to be the most interesting palate performer, although relatively speaking, not nearly as indulgent.
And we accompanied the meal with wine and a cocktail. I'm generally a consumer of wine, but the report on the cocktail caused pause to reconsider.
Nice Matin – nice in the morning [see UWS restaurants in Manhattan section for a brunch review] and nice in the evening. Bon Appetit.
Click here for a map showing the location of Cesca one of the leading Italian restaurants on the Upper West Side UWS or here for the contact information including website link for Cesca Italian restaurant on the Upper West Side.
If you liked this review, you might also like our review of D'Orsay, a French restaurant on the Upper East Side.
---
---
$element(adman,groupad,NhoodUES)$
$element(adman,groupad,Catgry ManWmn)$
---
Upper West Side NYC - Manhattan Related Info
$element(adman,groupad,Catgry Rest)$
Click this link for promotions, discounts and coupons in Manhattan.
Upper West Side Neighborhood Related Links - NYC
Click for Manhattan Restaurants
Click for Manhattan Things To Do
Click for Gramercy Park Restaurants
Click for New Years Parties & Restaurants
Click for Manhattan Farmers Markets
---
Archives - TBD
---
$element(adman,groupad,Catgry Foodwine)$
Site Search Tips. 1) For best results, when typing in more than one word, use quotation marks - eg "Astoria Park". 2) Also try either singular or plural words when searching for a specific item such as "gym" or "gyms".
---
$element(bwcore,insert_search,N)$
Click this link to search for something in our Manhattan Business Directory.
---
$element(adman,groupad,Sectional2 Ad)$
Click the log in link below to create an ID and post an opinion.
Or send this story to a friend by filling in the appropriate box below.
---