Men's Styles For Fall
Men's Fashions In Astoria & Queens
Fall Season / Manhattan & NYC Shopping / Manhattan Buzz NYC.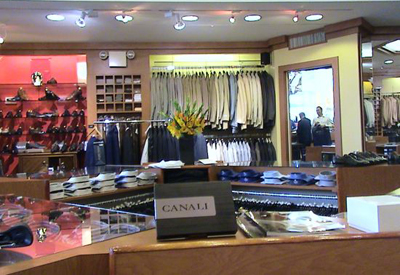 I recently stopped in to visit Frank Adhami the owner and manager of Esquire Men's Clothing Store to get the buzz on what's happening in men's designer clothing for the summer and fall.
Frank and Esquire have been selling men's designer clothing on Steinway Street in Astoria dating back to 1982. Esquire started carrying the Canali brand of men's suits as early as 1984, when the Canali brand was just making inroads into the American market. And Esquire has introduced many other European designers into the Astoria, Queens market since then, such as Hugo Boss in 1990, Versace in 1994 and Burberry in 2003.
Pal Zileri and Canali Men's Business And Designer Suits
The style in men's business suits and designer sport coats seems to be moving toward a slimmer, trimmer cut that plays off of the man's silhouette. Some fashion houses, such as Burberry are tightening the shoulders and waists, while other fashion houses such as Hugo Boss are providing a more flexible structure that becomes more defined by the man's body. Each approach has its own strengths, and Esquire tries to capitalize on that by employing professional full time tailors who strive to modify the suit to give the look the customer seeks.
Stylized lapels are also in vogue. The winged lapel on the pin-striped suit by designer Pal Zileri in the adjacent photo shows such a flair, while the smaller more closely cut lapel shown on a Canali suit I saw provides another lapel choice.
Men's Designer Jeans in Queens, NY
Hugo Boss has been having great success with its Orange sub brand. The Boss Orange brand was designed with a youthful spirit by Andrea Cannellone who has crafted the clothes to blend seamlessly in with the Boss Orange brand of jeans. While blue jeans are the predominant color in jeans, other color shades have been selling well too, including softer blues and grays, as well as some with muted patterns.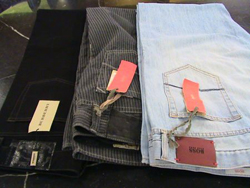 The trend in men's designer jeans has been moving away from the very low cut, tight jeans to something with a bit higher waist and greater comfort. Ironically, this trend is nearly the opposite of what is happening in designer suits, although it's important to note that suits have generally been worn loosely, while jeans have generally been worn tightly. I guess you could say there's convergence toward the mean going on in men's fashions, which is a concept generally employed in the financial markets. That said, there's a certain asymmetry between the fashion and financial worlds when it comes to damage. Specifically, I'm referring to the worn look in jeans, which has been 'fading away', while damage in the financial markets seems to be on the rise.
Men's Designer Shirts In Astoria NY
The trend in men's shirts is ongoing toward more vibrant, attention-grabbing colors. This may be part of what's going on generally along the urban landscape as American men have been moving away from the cowboy look toward a more intelligent, refined and gentrified appearance which fits in with the modern times and more urban landscape. It seems women are looking for a little less cave man and a bit more style in their men. Nonetheless, the time-tested fabrics carried by Esquire seem to remain all natural and all cotton, particularly when it comes to shirts.
Men's Fashion Footwear In Queens NY
We didn't get a chance to discuss footwear, but I did manage to get a couple of photos of some of the classics he had on display. It's worth mentioning that the Esquire men's clothing store provides a warm, relaxed, boutique shopping atmosphere, and Frank is frequently on site to help those who may need a quick download of fashion info.
Men's Designer Clothing Shopping Tips
In closing I would say, watch for the summer clothing sales which provide an arbitrage opportunity to get items at a discount to their real value, although you won't get the opportunity to wear them for much of the season. And keep an eye out for the introduction of the fall inventory which provides an opportunity to find clothing for the next season in your size and color before the season begins so that you can wear them while they're still hot. Ciao.
---
Astoria Neighborhood Links
$element(adman,groupad,Catgry Rest)$
Click on these advertisements for promotions, discounts and coupons by retailers and restaurateurs in Astoria and nearby Queens.
Click this link to go to the:
---
$element(adman,groupad,Catgry Foodwine)$
Site Search Tips. 1) For best results, when typing in more than one word, use quotation marks - eg "Astoria Park". 2) Also try either singular or plural words when searching for a specific item such as "gym" or "gyms".
$element(bwcore,insert_search,N)$
---
$element(adman,groupad,Sectional2 Ad)$
Click the log in link below to create an ID and post an opinion.
Or send this story to a friend by filling in the appropriate box below.
---