Choosing Florists For Wedding Flowers In Manhattan & NYC

Wedding Flowers, Bridal Bouquets, Boutonnieres, Banquet Table Flowers In Midtown Manhattan

Manhattan Neighborhoods / Shopping Manhattan / Manhattan Buzz NYC.
As any Manhattan mother will tell you, planning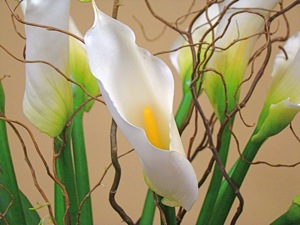 your wedding isn't an easy project. There are a mind-boggling number of details. And given your wedding is a once-in-a-lifetime event, great effort goes into making sure that every last detail is perfect.
Wedding flowers play an important role in the aesthetics of your wedding as they garnish the visual background of the event and present a lasting visual remembrance in the minds and hearts of your family and friends. The Manhattan bride's personal sense style are on display on her wedding day. The style reveals itself in the color of the bridesmaid dresses and and couture of the bridal gown, as well as through the ambient beauty of the decorative wedding floral arrangements chosen to decorate the wedding ceremony, wedding hall and wedding feast.
Click here to learn more about what to look for when choosing wedding flowers / wedding florists in Midtown Manhattan & Upper East Side NYC.
---
Choosing Florists For Wedding Flowers In Manhattan
Planning Wedding Flowers in Manhattan: Wedding Flowers, Bridal Bouquets, Boutonnieres, Banquet Table Flowers

Manhattan Neighborhoods / Shopping Manhattan / Manhattan Buzz NYC.
So I went to visit one of Queens florists, who has handled the intricacies and custom floral arrangements for numerous weddings and anniversaries, to find out what sort of choices need to be made when choosing flowers for your wedding in Manhattan. The photo to your left shows a boutonnier.
I was informed that when it comes to planning a wedding in 21st century Manhattan NYC, that almost anything goes. While many brides adhere to time honored cultural traditions, many others are deviating from tradition and customizing their wedding to suit the new couple's vision of their big day. In the Midtown & Upper East Side neighborhoods of Manhattan, wedding traditions and wedding flowers may be influenced by Greek, Hindu, Middle Eastern, Latin American, Asian and European traditions.
NYC & Wedding Florists - A Wedding Flowers Checklist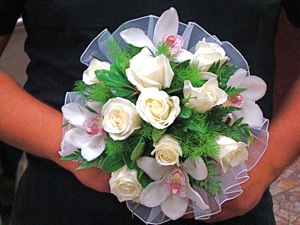 We looked at a Manhattan wedding flowers order form listing the traditional checklist of wedding flower choices. These ranged from once traditional bridal floral headpieces – which he informed me are rarely ordered these days – to bridal bouquets, bridesmaids bouquets, corsages, boutonnieres, church flowers and wedding reception table centerpieces. As one can see from this list alone, there are numerous aesthetic choices to be made, encompassing different locales, people and precious moments.


The photo to above right shows a bridesmaid bouquet.




Manhattan Bridal Bouquets & Bridesmaid Bouquets

The list is presented in a format that starts with the bridal party and family and then the wedding locations which may - or may not - be in Midtown Manhattan or on the Upper East Side of NYC. This list helps structure the thinking process, starting with the bride and bridesmaids, to whom the flowers are designed to decorate. As well as to provide telltale signs as to whom some of the other important people are, at this important familial function.


The bridal bouquet is the personal choice of the bride, while the bridesmaid bouquets should be chosen to complement the bridesmaids dresses - either by complementing them or by contrasting with them.
The photo above shows a bridal bouquet.



Corsages & Boutonnieres In Midtown & Upper East Side NYC

Corsages can be a bit more tricky, as they will be worn by women who will likely have different styles, be wearing different dresses and different personas. It's generally wise to pay attention to who will be wearing the corsages ahead of time, so while you're choosing them you have an idea of how the corsages will be worn. And in Queens, if it's a cross cultural marriage, it's wise early on to pay attention to cultural differences as well as similarities.


Boutonnieres are easier to choose, as generally the men will be dressed in black which usually works well with nearly anything. And, as we all know, the men don't pay much attention to these sorts of details anyhow.

The photo to your left shows a boutonnier.




Flowers For Wedding Banquets & Receptions In Manhattan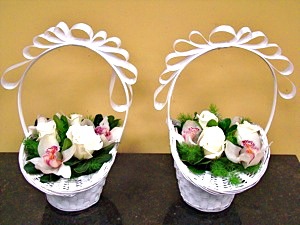 Wedding flowers in the form of bridal bouquets and bridesmaid bouquets are paid great attention during the wedding ceremony, and then gently fade into the background during the reception. But upon departing for home at the end of the evening, wedding flowers in the form of bridal bouquets, bridesmaid bouquets, boutonnieres and corsages are once again paid close attention, as a reminder of the events of the great day that has just passed.
Flowers For the Flower Girl
Some brides choose to include a flower girl in the ceremony. Generally flowers are chosen to complement the flower girl's dress which is chosen in tandem with the color scheme for the entire wedding. The flower girl floral arrangement is generally set in either a bouquet or basket.


Wedding Ceremonies In Midtown & Upper East Side NYC - Flowers


Two other choices must be made: flowers for the wedding ceremony and flowers for the wedding reception. Flowers for the wedding ceremony are generally used to adorn the church, temple or wedding ceremony location. They are used to beautify the location, signifying to all that this is an unusual and beautiful day.


Generally white is the theme, oftentimes augmented by subtle pastels. The number and type of floral arrangements for these locales will depend on the size and taste of the bride and bridegroom. The flowers to your right are about to be delivered to the wedding location.



Wedding Flowers For Wedding Receptions In Manhattan



The last choice to be made are the table centerpieces. To me this is the second most important floral choice to be made as it will affect the entire reception and generally table centerpieces are taken home as a days long or weeks long remembrance of the occasion.


Some of the considerations to be taken into account include what sort of impact will be made on your guests as they enter the reception hall. The table centerpieces will also affect interactions around the reception table by either adding mystery to, or interfering with, your guests' communication. The flowers chosen provide a suggestion of things to come as well as an important afternoon and evening aesthetic.


The table centerpieces to your right include time release water gels at the base.



Wedding Flowers & Florists In Midtown Manhattan & The Upper East Side NYC
Selecting a professional florist is an important choice in making your wedding day a memorable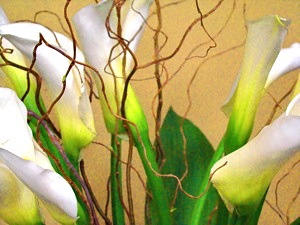 one. The flowers provide an important aesthetic and a lasting visual memory of the day not just in the minds of your guests, but in all of the photos and videos taken of it.
Professional florists generally deliver the flowers the morning of the wedding so that the flowers are fresh. A good florist will also buy freshly cut flowers that will last all day long, not sale flowers that will droop and die by midday. A professional florist also knows how to keep flowers fresh via new technologies that provide H2O to the flowers throughout the day.
Lastly, bear in mind, that even if you use an expensive florist, flowers are still one of the smaller line items in the wedding budget, but one of the most important remembrances of it. Choose wisely.
Special thanks to John & George Patrikis of Queens NYC.
---
Midtown & Upper East Side Neighborhood Links
$element(adman,groupad,NhoodAstoria)$
Click on these advertisements for promotions, discounts and coupons by retailers and restaurateurs in Midtown Manhattan, the Upper East Side NYC and Manhattan.
Manhattan NYC Related Links
Click for Manhattan Restaurants NYC
Click for Manhattan NeighborhoodS NYC
Click for Manhattan Things To DO NYC
Click for Gramercy Park Restaurants NYC
Click for Manhattan Hotels NYC
Click for New Years Parties & Restaurants NYC
Click for Manhattan Furniture Stores NYC
Click for Manhattan Street Fairs NYC
Click for Manhattan Professional Services NYC
Click for Manhattan Farmers Markets NYC
Click for Manhattan Real Estate - Upper East Side NYC.
---
$element(adman,groupad,Catgry Wedding)$
Site Search Tips. 1) For best results, when typing in more than one word, use quotation marks - eg "Astoria Park". 2) Also try either singular or plural words when searching for a specific item such as "gym" or "gyms".
$element(bwcore,insert_search,N)$
Click this link to search for something in our Manhattan Business Directory.
---
$element(adman,groupad,Sectional2 Ad)$
Click the log in link below to create an ID and post an opinion.
Or send this story to a friend by filling in the appropriate box below.
---