Jackson Heights Revisited
Poignant, Passionate & Personal Window Into Modern American Immigrant Life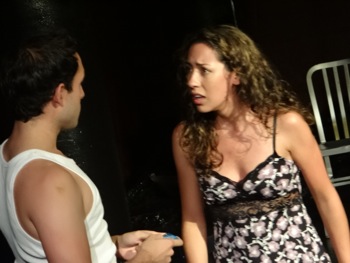 September 16, 2014 / West Village Neighborhood / Off Broadway Theater NYC / Manhattan Buzz NYC.
I arrived at the New Ohio Theatre in the west village of NYC. The theater is accessible at the ground level of a modern building at 154 Christopher Street near the Hudson River. The actors and production staff were ready to begin one of their last rehearsals before the opening of I Like To Be Here: Jackson Heights Revisited, or, This Is A Mango.
The lights dimmed, the theater darkened … and the show began.
There we were … in the middle of Jackson Heights … late at night.
There was a Latino girl of the streets talking to a cleaning woman of one of the local late night shops. The Latino girl was talking about escaping her current situation with one of the men who 'loves' her. She was young and somewhat innocent to the deceptions of the older men who came to see her. The cleaning woman and she talked about relationships and love. The cleaning woman was the target of the affections of an Indian man who seemed to take an interest in her. But they spoke different languages.
Click here to read the rest of our review of a new off Broadway show at the Ohio Theatre in the west village which is part of the theater: village festival.
---
Jackson Heights Revisited
Poignant, Passionate & Personal Window Into Modern American Immigrant Life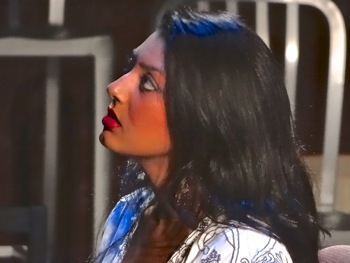 September 16, 2014 / West Village Neighborhood / Off Broadway Theater NYC / Manhattan Buzz NYC. Continued
Review of I Like To Be Here: Jackson Heights Revisited, or, This Is A Mango.
We see a young Irish American man is talking to his aunt about fixing up and selling her Jackson Heights coop. They both know it has greatly appreciated in value and the nephew urges her to sell while the prices and market are still good. He thinks his aunt is struggling with the payments, but she indicates he may be wrong. And besides she's happy where she is, so why move?
Vignettes From Around The World In One NYC Neighborhood
Our next stop on this round the world tour of Jackson Heights takes us into the operator booth of a taxi / limousine service. Two Indian women are taking calls and sending cabs for pick ups. A man keeps calling one of the opertors to charm her into going out on a date with him. The other operator seems to be married and she likes the idea of playing cupid and helping her friend fall in love.
It seems we are in the middle of the Jackson Heights neighborhood of Queens, late at night, where love is always in the air. Or so it seems. The set changes and the characters roll the furniture and props on and off the stage. The lighting dims in all the right places, so we're not too distracted by the changes of scene.
Dosas, Empanadas & Mangos In NYC Theater
There's a young father out walking his baby quite late at night. The night-time air seems to calm the baby. Or is it that it really calms the father? The father seems to have some things on his mind. He's from the midwest where there's a lot fewer people, a lot more space and and a lot more tranquility. And right now he's missing that. The police stop him for questioning as it seems odd that a father would be out walking his baby at this late hour. One of the policemen seems to have a chip on his shoulder.
The scene changes, as we step inside a gay bar on Roosevelt Avenue. A Latin gay man meets an off-duty Long Island cop. The off-duty officer is also gay and has come all the way to Jackson Heights to allow himself to 'step foot outside of his closet'. He feels totally invisible in the world in which he lives, and he feels so out-of-place and yet so visible here in Jackson Heights. There seems to be some attraction between the off duty cop and the fun loving Latino gay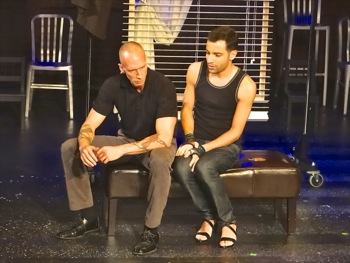 man, as the drama unfolds and the amorous Jackson Heights air seeps in.
How Does Our Community Define Us? Who Are We Anyhow?
Our next stop is a late night jogger who's half naked wearing a jock strap and a bandage around his hand and wrist. He strikes up a late night conversation with a Bangladeshi man, telling him he how much he 'loves' Indians. The Jogger goes on to talk about Hadji, the Indian sidekick on Johnny Quest, one of the animated cartoon characters from the 1960's. When the Bangladeshi man tells the jogger that he's not from India, but rather Bangladesh [once a part of India], the Jogger goes into a tirade and eventually leaves.
Inside the 24 / 7 Elmhurst Hospital there's a female Indian doctor discussing her marriage with another Indian doctor. She married an American from Ohio and while she enjoys living here in Jackson Heights, he's ready to return to his home state. She ponders if she
can bear the move into the interior of the country, far away from access to her own culture which is easily accessible in Jackson Heights - but she also wonders whether her husband can bear to stay here living amidst the urban jungle. The male doctor seems to like her and in one segment of the play he talks poetically of life in the old country [India] and of enjoying some of the traditions here, that remind him of being there.
There are two police officers on duty. One is the proverbial good cop, the other the proverbial bad cop. They accost several of the other characters in this play, besides the man walking the baby late at night. After a couple of exchanges between the two officers, we begin to peel back the layers of understanding, and start seeing who these characters really are.
Street Life As Theater - The World's A Stage
This play is a performance of life and love late at night in Jackson Heights. It includes vignettes of other characters including a single mom, her soccer playing daughter, a taxi driver and a dancing queen. The tale weaves a tapestry of ethnic immigrant life in modern America in the 21st century. It is mostly about the personal struggles of seemingly unconnected American and immigrant characters, moving randomly through life in a neighborhood only a couple of miles away from Manhattan.
Queens & Bees In Jackson Heights Queens
But just as the bees don't fly aimlessly around the hive, these human lives are in purposeful motion in Jackson Heights. They represent the swarm of humanity that comprises one whole: a connected world community living in one neighborhood. It all may seem random at first … but it's not.
The vignettes of these lives are like the particles circling within an atom. Round and round their lives go daily - like electrons and protons circling the nucleus – carrying different charges and energies, in pursuit of … In pursuit of what? A yogic attraction?
Locked in place by their responsibilities and obligations, the characters circle around one another consciously aware of some, while unconsciously aware of others. Many of the characters are confronted with personal obstacles to their happiness. For some it's the pursuit of love, for others it's the maintenance of love, some look for understanding, while others look to understand.
Ultimately It's A Love Story & Director Kreith Is Playing Cupid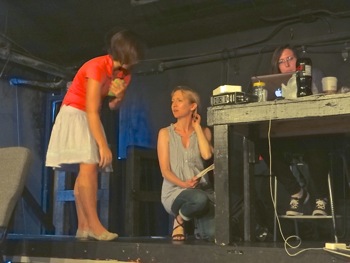 But in Jackson Heights, there seems to be a Jungian collective unconsciousness. Each one of these loveable characters – yes, even the crazy provides some measure of likeability - exhibits a dim awareness of and personal sensitivity to, a universal humanity. The awareness that we are all from the family of man and thus in some fashion, thereby all connected. Thus the play is not only a drama, also also a romance.
What will these characters find in their orbital journeys through the hood? With whom will they ultimately connect - if anyone? What will become of them and their daily struggles?
If you're interested in a drama that arouses the emotions; some playful insights into the lives of people from other cultures, and a peek into modern American immigrant life as it is right now, right here, in NYC - then you'll enjoy this play. The play includes drama, violence, comedy and romance.
The play was conceived and is directed by Ari Laura Kreith. It was co-written with Jenny Lyn Bader, J. Stephen Brantley, Ed Cardona Jr., Les Hunter, Tom Miller, Melisa Tien & Joy Tomasko. The play is one of four to be featured in the second annual theater:village.
---
Off Broadway Theater In Manhattan NYC
Click this link to go to a photo slide show of the New Ohio Theatre in the west village of Manhattan NYC.
$element(ophoto,photo_slideshow,264,660,,5.00,fade)$
---
Village NYC Related Links
Click for Manhattan Restaurants NYC
Click for Manhattan NeighborhoodS NYC
Click for Manhattan Things To DO NYC
Click for Gramercy Park Restaurants NYC
Click for Manhattan Hotels NYC
Click for New Years Parties & Restaurants NYC
Click for Manhattan Furniture Stores NYC
Click for Manhattan Street Fairs NYC
Click for Manhattan Professional Services NYC
Click for Manhattan Farmers Markets NYC
---
Midtown Dentists and Midtown Chiropractors