Things To Do Presidents Day Weekend Manhattan NYC
Things To Do In Manhattan NYC Over The Presidents Day Weekend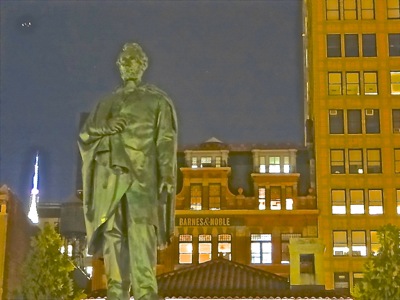 February 17, 2023 / Things To Do Manhattan / Manhattan Buzz NYC.
NYC Weather. The temperature highs Friday, Saturday and Sunday will range from the high 40's to the low 50's, before rising on Monday into the high 50's. The temperature lows will fall to 30 on Friday, rising to 35 on Saturday, to 45 on Sunday, before descending into the high 30's on Monday. No precipitation is forecast. It's going to be a fairly windy weekend, with the winds at 20 mph Friday, falling to 5 - 10 mph on Saturday and Sunday, and then rising again to about 10 mph on Monday. The humidity will be 50% - 60% on Friday, falling to 40% - 50% on Saturday, rising to 50% - 70% on Sunday, before falling back to about 50% on Monday. Click for Manhattan Weather.
The photo at right is a statue of Abraham Lincoln in Union Square Park in Manhattan. Lincoln struggled to keep the United States together, while striving to rid it of the immoral and inhumane enslavement of African Americans.
Presidents Day is a federal holiday when all local, state and federal government offices are closed, which generally includes public schools - unless the district uses the holiday to make up a snow day, which is highly unlikely this year since there hasn't been any measureable snow.
Presidents Day is a time to reflect on the performance of our current presidents and legislators, to see how they stack up versus their historical peers. And in that reflection it's worth asking ourselves what we've done to contribute or detract from the national conversation.
Brief History of Presidents Day Holiday in NYC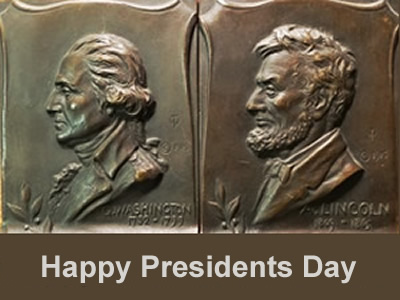 A day commemorating Lincoln's birthday was first passed in Buffalo, New York in the early 1870's. Presidents Day originated as Washington's Birthday which was a holiday narrowly prescribed for federal government offices in Washington, D.C. in 1879. The holiday was dedicated to honoring the memory of the first American president, George Washington who was born on February 22, 1732.
In 1885 the holiday was expanded to include all federal government offices around the nation. In 1951 there was a push to create a Presidents Day holiday [vs a George Washington's birthday holiday] to include President Lincoln whose birthday is February 12, 1809 and was also celebrated by localities, but it didn't pass.
In 1971 the holiday was moved off of George Washington's birth date to being the third Monday in February. Thus while it never falls upon Washington's birthday 2/22, the official name of the holiday remains Washington's Birthday. But today, most folks refer to it as Presidents Day and to recognize the presidents who honored the U.S. Constitution and served the interests of the American people.
Click here for Manhattan - things to do Presidents Day Weekend MHTN / events in Manhattan NYC.
---
Things To Do Presidents Day Weekend Manhattan NYC
Things To Do In Manhattan NYC Over The Presidents Day Weekend
February 17, 2023 / Things To Do Manhattan / Manhattan Buzz NYC. Continued.
Presidents Day Holiday Special Events in Manhattan NYC
The following are several specially scheduled Presidents Day events in Manhattan over the long weekend. Visit our front page on Friday for an update of special Presidents Day Weekend events in Manhattan.
You can go to the theater, visit the NYC art museums, and eat out at Manhattan restaurants NYC or go shopping in Manhattan stores including Midtown, the Upper West & East Sides & the Village.
ADDITION OF SOME MORE 2023 EVENTS COMING THIS WEEKEND _
Presidents Day Events In Manhattan - Skating & Train Show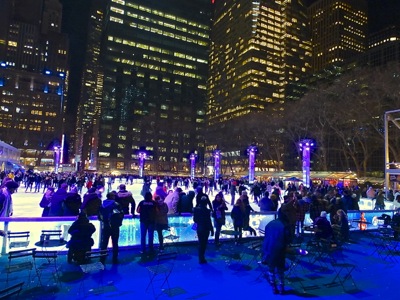 Click the first link [after 'Continued'] above to obtain information about things to do Presidents Day Weekend in Manhattan NYC, as well as throughout the month of February. This events calendar is updated monthly with about 100 different Manhattan fun / cultural events.
Skating in Bryant Park at 42nd Street between 5th & 6th Avenues returned the last weekend of October and generally continues into late Winter or early Spring. The rink is open from 8 am - 10 pm and admission is free, but skates, lockers, helmets et al are charged on a per item basis. You're advised to make an rsvp if you don't want to wait a long time in line - https://bryantpark.org/
The Rockefeller Center Skating Rink opens in late October between the hours of 8.30 am to 12 midnight daily through the Winter [generally ends mid March]. They charge $20 / $54 for admission and there's a $12 skating rental fee.
Normally the Holiday Train Show at Grand Central Station runs through Presidents Day Weekend at Grand Central Station at Park Avenue and 42nd Street. The train show is located near the northwest corner of the main floor and is open from 8 am - 8 pm weekdays and from 10 am - 6 pm weekends [FREE]. The holiday train show went virtual 2021 and you may still view it online. To view it see - https://www.nytransitmuseum.org/holidaysathome/
Upper East Side - Art Exhibits In Manhattan - Presidents Day Weekend Things To Do NYC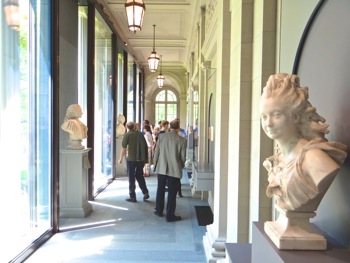 Generally you could click here to view some of the in-progress art exhibits in Manhattan this Presidents Day weekend. There are too many museums to showcase in this short space, but here are a few that are clustered along the Upper East and Upper West Sides.
Along the Upper East Side NYC, located along Fifth Avenue between 70th and 110th Streets, are most of the following museums.
The Frick was temporarily closed for part of last year as they were in the process of moving to the Breuer Building which once housed the Whitney Museum 945 Madison Avenue at East 75th Street. The old mansion at 1 East 70th Street is undergoing extensive renovations. The museum is expected to open Thursday through Sunday from 12 noon to 6 pm. Admission $22 / $12. For details and rsvp tickets see - www.frick.org.
In the photo to your right is one of the sculpture galleries in the Frick Museum at 70th Street and Fifth Avenue along Central Park East.
The Metropolitan Museum will be open through the Presidents Day weekend. They are open daily - except Wednesdays - from 10 am - 5 pm. Admission $25 / $12. For details and rsvp tickets see - www.metmuseum.org.
The Guggenheim Museum will also be open from 11 am - 6 pm as they are Thursday through Monday weekly. The Guggenheim operating hours are Thursday through Sunday from 11 am - 6 pm, but they will be extending the hours effective April 1, 2022. For details and rsvp tickets see - www.guggenheim.org.
The Museum of the City of New York is exactly that, focused on the 400 or so years of the history of this city. For details see - www.mcny.org
OLD SPECIAL EVENT - The Museum of the City of New York at 5th Avenue at 104th Street on the UES has some programming / exhibits dedicated to the celebration of Presidents Day in New York on exhibit through the weekend.
The Jewish Museum is focused on Jewish culture, which is very separate from the Holocaust Museum downtown, which focuses on the mid 20th centry horror. The museum traces Jewish culture back millenia. For details see - www.thejewishmuseum.org
And the Museo del Barrio is about Latino, Caribbean and Latin American cultures. For details see - www.elmuseo.org
The Africa Center at 1280 5th Avenue at 109th Street on the Upper East Side. This is an African centric museum, as opposed to African American museum and it is designed to foster engagement with contemporary African culture. For details see - www.theafricacenter.org
Cultural Institutions in Washington Heights & Inwood in Manhattan NYC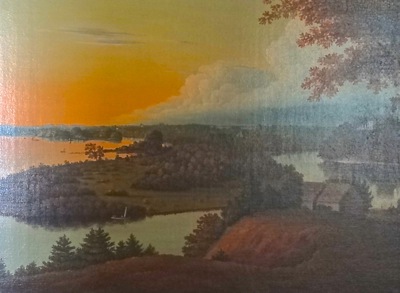 Manhattan is home to innumerable historic and cultural sites. Some of the most notable historic sites include the the Dykman Farmhouse, in Washington Heights. For details see - www.dyckmanfarmhouse.org
The Cloisters is operated by the Metropolitan Museum and is located in Fort Tryon Park in Inwood, but north of Washington Heights. For details and rsvp tickets see - www.metmuseum.org.
The Morris-Jumel Mansion is a Revolutionary War era home, atop a high hill overlooking Manhattan in Washington Heights. It was home to several famous historical people of the time. For details see - www.morrisjumel.org
The painting at right was found hanging in the Morris-Jumel Mansion, showing a scene from the Hudson River centuries ago.
Upper West Side - Dance, Theater & Music Manhattan - Presidents Day Weekend Things To Do in NYC
The American Museum of Natural History is located along Central Park West between 75th and 85th Streets on the Upper West Side. The museum houses the planetarium, a number of old, but magnificent dioramas - some still possibly from Theodore Roosevelt's time [he was one of their patrons], and all sorts of other interesting exhibits about the natural world that is vanishing around us. For details see - www.amnh.org
Along the Upper West Side there's the New York Historical Society is located along Central Park West at 75th Street. For details see - www.nyhistory.org.
OLD SPECIAL EVENT - The NY Historical Society at 170 Central Park West at 77th Street on the Upper West Side of Manhattan is hosting a Presidents Day event entitled Cocoa with the Founders from 1 - 4 pm. Cocoa was said to be as important a drink as coffee and tea back in colonial times, and the NY Historical Society will be visited by actors playing George & Martha Washington and Benjamin Franklin to bring you up to speed [free w/ admission which is $21 down to $6 and kids under 4 are free].
Lincoln Center is the home of many wonderful musical and dance performances and located just north of Columbus Circle. For details see - www.lincolncenter.org.
At the north end of the Upper West Side is Columbia University which largely operates in its own world, but has many cultural events going and frequently they're also available to the public. For details see - www.columbia.edu.
Midtown Manhattan - Dance, Theater & Music In NYC - Presidents Day Weekend Things To Do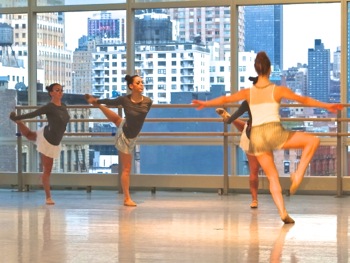 Click here to view the Theatre section of the Manhattan Events Calendar to see what's doing this Presidents Day weekend theater in Manhattan NYC.
An example of an interesting venue is shown are the Alvin Ailey Dance Studios in west Midtown NYC. The photo at right shows a dance performance by Neville Dance Theater at the studio in 2014. For details see - www.alvinailey.org.
In Midtown there's the Museum of Modern Art. MoMA is open daily from 10.30 am - 5.30 pm. For exhibits, details and to rsvp a time slot see - www.moma.org.
The Mount Vernon Hotel in East Midtown / the Upper East Side. This is a Revolutionary War era hotel which is now a museum. They are temporarily closed as of this post on 2.18.22. For details see - www.mvhm.org.
OLD SPECIAL EVENT - The Mount Vernon Hotel Museum at 421 East 61st Street on the Upper East Side is hosting its annual Washington Birthday Ball from 1 pm to 3 pm. Washington was said to be a good dancer [history / $15 / $10 for kids under 12].
The Morgan Library is where J.P. Morgan housed his private library and many related collectibles. For details see - www.themorgan.org
The Theodore Roosevelt Birthplace is located on 20th Street near the Flatiron District in Manhattan. For details see - www.nylandmarks.org/explore-ny/theodore-roosevelt-birthplace/
Carnegie Hall is located on 57th Street and home to many classical musical performances. The Theatre District center is at 42nd Street and Broadway, where you can fan out in directions north and then east or west and find many theaters that almost always have a production going. For details see - www.carnegiehall.org.
The Irish Arts Center, a performing arts institution with a focus on Irish culture, is located nearby at 553 West 51st Street. For details see - www.irishartscenter.org
And further downtown in Midtown south, Chelsea and the Village there are many modern privately run musical and theatrical venues. You need only browse along and off of the main streets to find something interesting.
Downtown Manhattan FiDi Neighborhood - Historical Sites & Museums - Presidents Day Weekend Things To Do NYC
Fraunces Tavern was here during Revolutionary War times and is where George Washington gave his Farewell Address to his men following the end of the war. Admission will be $1 during this time. Fraunces Tavern is also an active bar and restaurant. For details see - www.frauncestavernmuseum.org.
OLD SPECIAL EVENT - Fraunces Tavern at 54 Pearl Street in downtown Manhattan is hosting a museum open house from Saturday, February 16th beginning at 11 am to Monday, February 18th at 5 pm [note the museum opens and closes at those times each day].
The photo at right shows Fraunces Tavern, where Washington said farewell to his men following the end of the Revolutionary War. The tavern, which includes a museum, is located in Downtown Manhattan near Battery Park.
And the Tenement Museum on the Lower East Side carries the story of the lower classes in the East Village in the second half of the 1800's and first half of the 1900's. It's located just south of the East Village and east of SoHo. For details see - www.tenement.org
Presidents Day Weekend Shopping In Manhattan NYC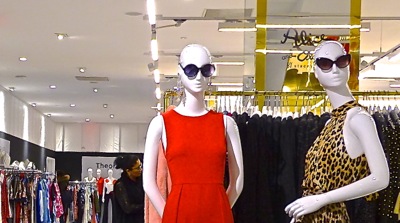 This is a great weekend to do a bit of shopping. Each of these shopping sections includes, or will include, links to home pages, which have slide shows of merchandise as well as maps, store hours, phone numbers and telephone numbers.
Click here to view ourshopping sections of the following neighborhoods: Upper East Side NYC Shopping, Midtown Shopping and coming soon - shopping in the Village NYC & Upper West Side NYC Shopping.
The photo at right of a couple of mannequins was taken inside one of the bricks and mortar retail establishments in Manhattan. Shopping can still be fun in Manhattan.
Oftentimes there's an art related Show at the Park Avenue Armory over the Presidents Day Weekend. This year is no exception and it looks interesting. It's entitled Assembly by Rashad Newsom and runs through March 6th. For details see - www.armoryonpark.org
Dining In Manhattan NYC - Presidents Day Weekend Things To Do
Manhattan Restaurants for Valentines Day. We recommend you check out our suggestions for dining on Valentines Day at restaurants in Manhattan. This has been updated to reflect individual Manhattan restaurant changes due to the CoVid pandemic.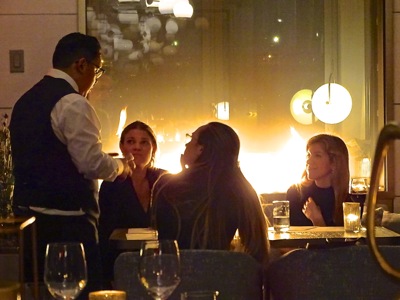 Food in Manhattan has always been good. The variety of restaurant choicesis difficult to match anywhere, and if you look carefully, you can find good food at reasonable prices too.
Click here to view the Manhattan Restaurants NYC section of the site, which includes reviews of the restaurants we've selected to review. As of this writing, we've identified some of our old favorites, but haven't done the deep dive yet.
We also generally provide an update on Friday of Presidents Day Weekend with things to do on the front page of this site.
The photo at right was taken at a downtown Manhattan restaurant in the Seaport district.
Golfing In Manhattan over the Presidents Day Weekend
Manhattan has a golf driving range at Chelsea Pier in the 20's on the west side along the Hudson River.
Presidents Day Things To Do Brooklyn / Queens / Staten Island / Bronx
And if you feel the urge to visit another borough, here's a list of:
---
Manhattan Presidents Day Weekend Things To Do - Manhattan Presidents Day Events NYC - Links
Use the Following Links to Learn More About Attractions in Manhattan NYC
Click for Manhattan Restaurants NYC
Click for Manhattan NeighborhoodS NYC
Click for Manhattan Things To DO NYC
Click for Gramercy Park Restaurants NYC
Click for Manhattan Hotels NYC
Click for New Years Parties & Restaurants NYC
Click for Manhattan Furniture Stores NYC
Click for Manhattan Street Fairs NYC
Click for Manhattan Professional Services NYC
Click for Manhattan Farmers Markets NYC
---
Site Search Tips. 1) For best results, when typing in more than one word, use quotation marks - eg "Astoria Park". 2) Also try either singular or plural words when searching for a specific item such as "gym" or "gyms".
SEARCH
Click this link to search for something in our Manhattan Business Directory.
---
Click the log in link below to create an ID and post an opinion.
Or send this story to a friend by filling in the appropriate box below.
---